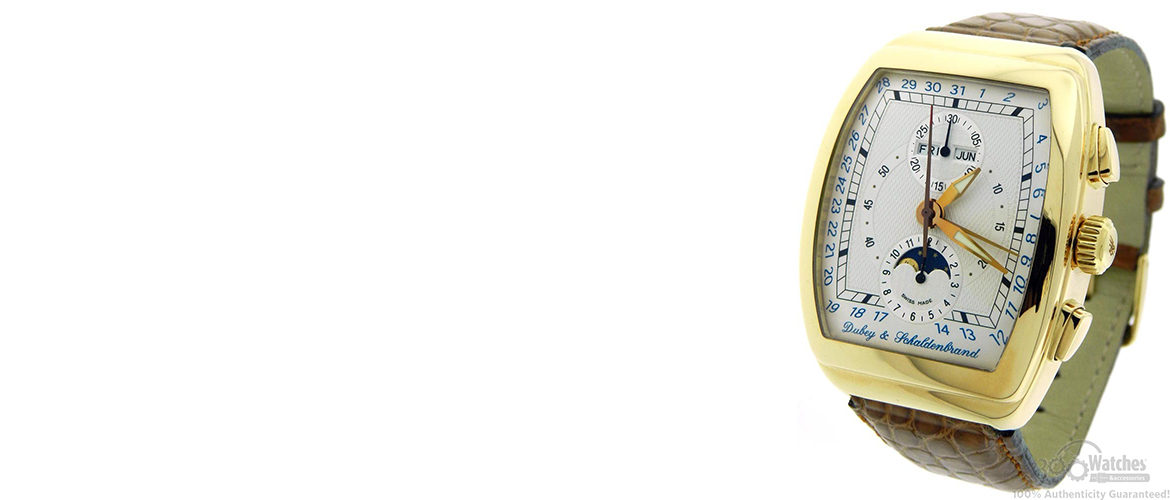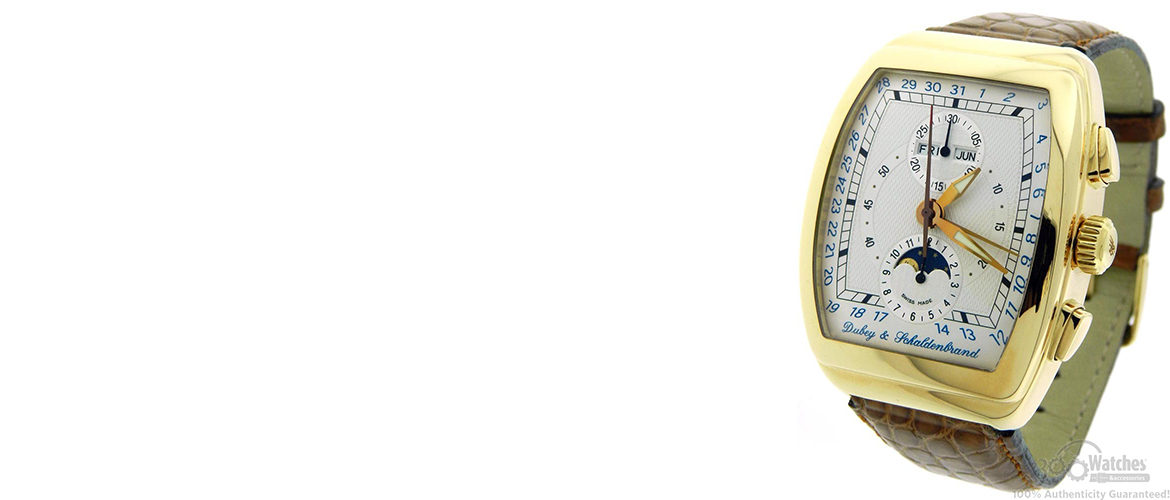 In the watchmaking industry Dubey & Schandelbrand are leaders in top of the line technology luxury watches.  Invention and creativity is a pleasure and a passion shown in every one of their watches.  The element that sets them apart from others is their unique engineering developed by the founders of the company.  The watches also deliver an elegant element in every timepiece produced in their workshop.
The innovation that set this company in motion was their flagship technology called "Index Mobile":  a one of a kind chronograph system that functions with extraordinary accuracy.  A spring connects the chronographs, allowing them synchronize the measurement of the seconds.  This chronograph technology is also called "Rattrapante".  This system was the brainchild of Georges Dubey who patented it in 1946 with the aid of his partner, Rene Schaldenbrand.
An academic at La Chaux de Fonds, the famous school of luxury watches, Georges Dubey founded his company in the same year he received the patent for his invention, when he went into business with Rene Schaldenbrand.  From that moment on he made sure to tell every customer that the watches were furnished with a chronograph with a Rattrapante motor, so much that he included the phrase "Index Mobile" on watch's dial.  Dubey & Schaldenbrand watches became a welcome addition to the luxury watch market with various collections.
ne of these was the 18 karat gold Caprice 03 series that had a unique and extremely precise movement.  After this, Dubey & Schaldenbrand timepieces saw a rise in sales, producing over 2000 watches annually in the 50s, 60s and 70s, all of them automatic chronographs.  After this the surge of quartz technology watches reduced the production of watches and forced the operation of the company to focus on restoring and repairing fine watches
It wasn't until the presidency of the company is given to Cinette Robert, with a 15-year experience in managing Tissot, that the company starts to emphasize in productivity & marketing, globalizing to a worldwide market to countries, including Japan, Italy and Germany, and today over 5000 watches are delivered to over 30 countries around the world.  The next owner of the company was Jonathan Gill, a man who followed in delivering these fine watches.
Among the collections that this company has launched we have the Aerodyn, rectangular faced gold watches with characteristic classical shape of hands and numbers; Gran Chrono, with movement complications such as minute repeater, moon phases and perpetual calendar; and the Grand Shar, made to be a watch designed to look great without losing comfort with leather bands.