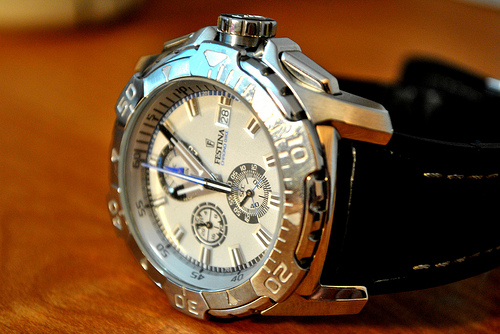 The company is founded in the 1980's within the Festina Lotus Group from Barcelona, Spain. Miguel Rodriguez , a businessman, is its Director.  This Group carries other famous luxury watch brands like Jaguar, Calypso and Lotus. One year after its inauguration, they presented their clients with stainless steel watches that included a perpetual lunar calendar.
After becoming successful in sales, they begin to make chronograph watches for sporting events including cycling, car racing, and athletic running.  They soon become the official brand of chronographs for the Tour de France.
The company soon becomes the sponsor timekeeper of two other prestigious cycling events.  The following decade they produced various models for men designed especially for cycling.  Stainless steel made watches with added chronographs. The following success leads the company expanding to 50 countries including some in the Asian continent.
After this the company creates a watch combining mechanic movement and quartz technology creating the "mecaquartz" which became very successful in many countries.  After this, the company decides to make quartz movements to be official movement for their watches.
Festina also creates their own cycling team for the Tour de France and wins the event in 1994. This brings worldwide recognition to the brand as supporters of professional cycling, their name appearing in all races.
In 2002 they buy a 60 year old Swiss watch company called Candino.
In 2010 Festina launches their popular series: "ChronoBike", confirming their commitment as the timekeeping sponsor of prestigious cycling events across Europe.  Made of titanium with stainless steel, these watches include a chronograph and are fashioned to emulate the parts of high competition bycicles.
Later they launch their first collection for women named "Ceramica" for their ceramic/stainless steel materials.
Currently, The Festina Group is a company that has an enviable stability.  It is a part of all fine watch and jewelry fairs.  Their annual financial turnover is in the millions (USD) which count for over 40 million