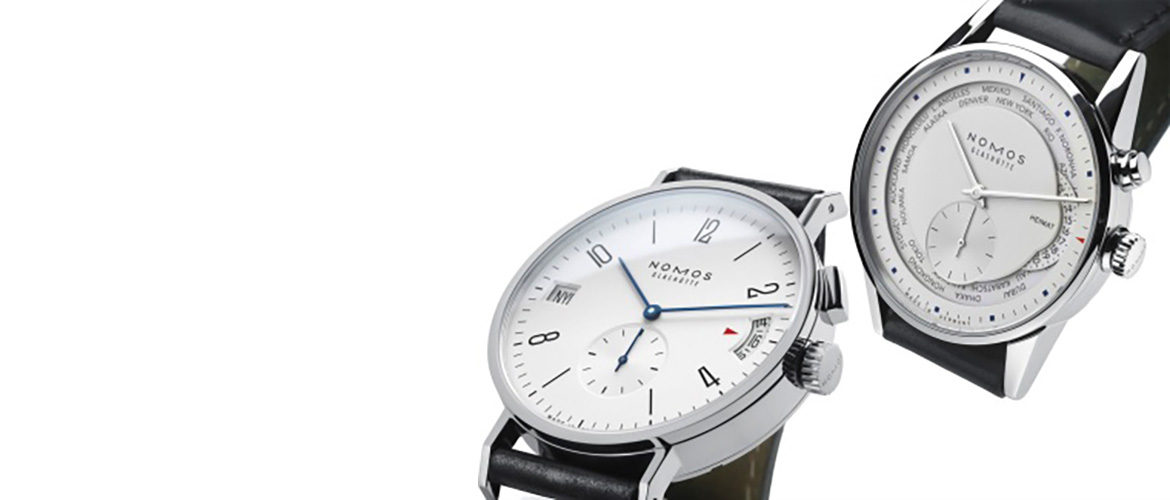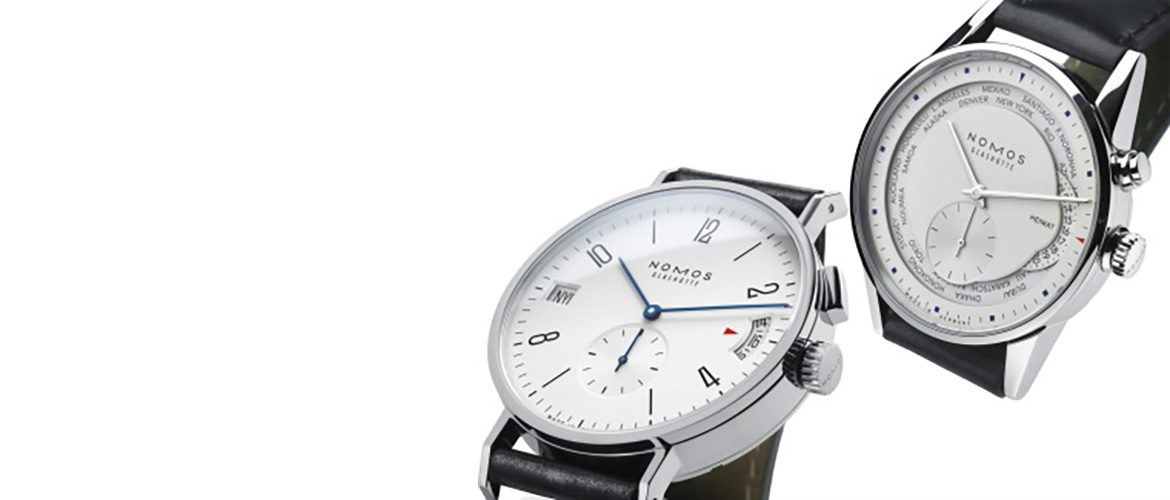 In a valley in Germany lies a tiny town where some of the best watches in the world are made. Nearly as famous as Switzerland's watch valley, Glashutte is or has been the home of the greatest German watchmakers. Nomos is one of these brands. Especially well known for making travel watches, they create beautiful timepieces, often with in-house movements, and always with a distinct look that sets them apart from other watches. Here are two examples of their travel pieces, the Tangomat GMT and the Tangomat GMT plus.
Looking at the Tangomat  GMT, even without the inscription on the dial, it's immediately obvious that it must be a Nomos watch, because of its incredibly plain (in a good way) dial. As travel watches go, this one has to have the most uncrowded, uncluttered face out of all of them, to such an extent that you just about can't tell it how it could be a travel watch at all. Its design is so simple and clean that you could easily overlook the subsidiary seconds sub-dial at six o'clock, the aperture at three o'clock for the hour in the second time zone, and the other aperture at nine o'clock that displays the time zone by showing the first three letters of the name of the city (that the time zone is associated with).  The bezel is slim and the case round like an old pocket watch, as with most watches made by Nomos.
The movement in these models, which is much the same for both of them, is an in-house creation called the Xi movement. Hidden beneath the wonderful simplicity and legibility of the dial are rotating plates that are visible in the two apertures, a small one for keeping track of the second time zone's hour and a much larger one, nearly the circumference of the watch, turns to display the city of the time zone. The movement is visible on the back of the watch, and especially so because of the skeletonized rotor. The finishing on the whole movement is absolutely gorgeous.
There isn't a great deal of different between the two Tangomat GMT models. The "plus" in GMT Plus doesn't refer to any added features, but rather the way in which the time zone is selected. On the Tangomat GMT, the time zone is indicated, as mentioned before, by the first three letters of the time zone's main city. On the GMT Plus model, this information is instead given in GMT time plus or minus the given amount of hours. That makes choosing between them a matter of preference. The cities might be easier to remember for some, but others might prefer to refer to GMT time.