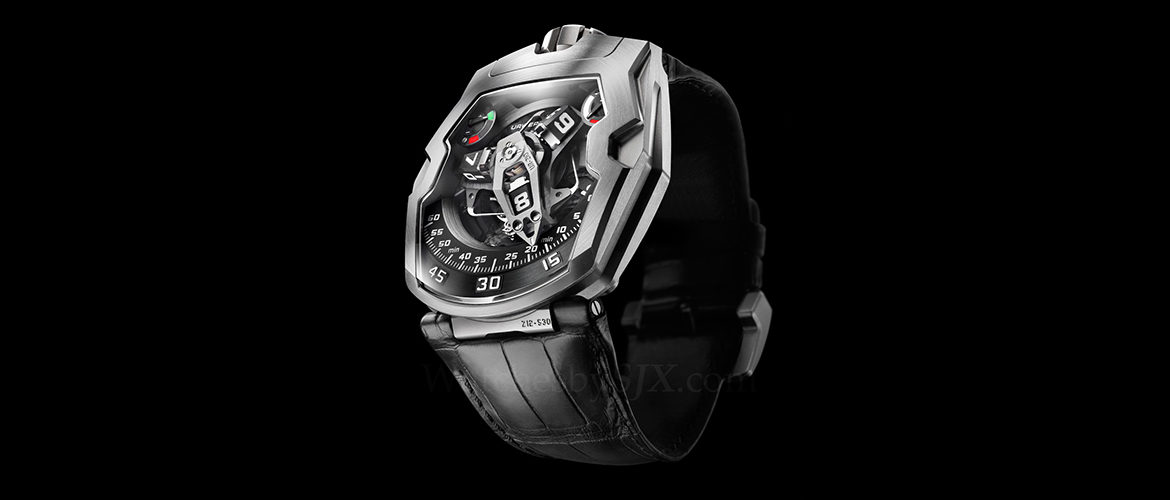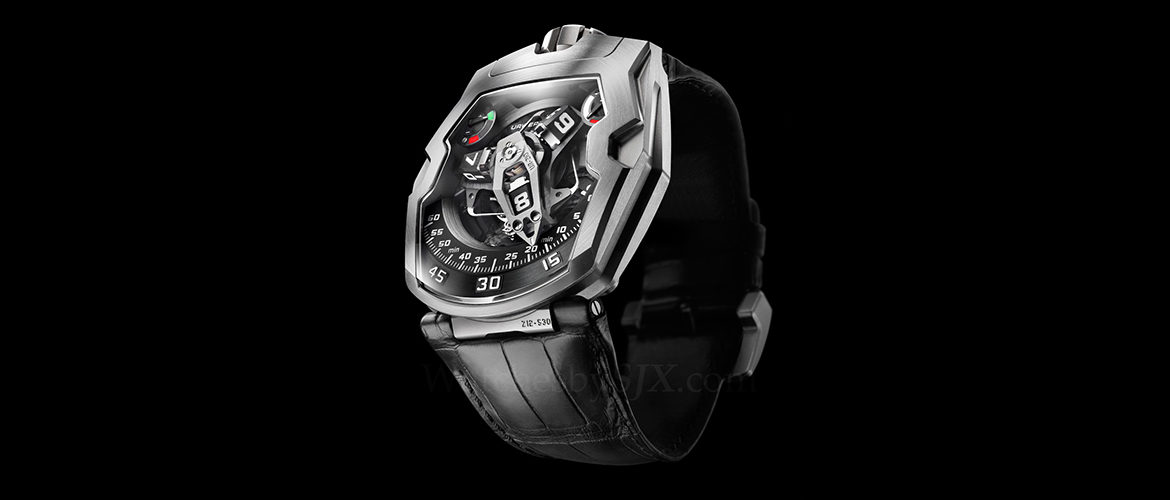 If you're looking for a simple, easy-to-read watch, Urwerk's UR-210 is definitely not it. For complications, exciting design, and uniqueness, however, this watch may well be a must-have. This is hardly surprising. Urwerk always delivers uncommon designs equipped with cutting-edge technology, making it one of the most exciting names in Haute Horlogerie. The UR-210 is no exception to this rule. Dubbed "Partly Human", this watch began with a simple and common idea- that people need more exercise- that generally isn't even associated with wristwatches. It has very few of the usual features you expect to find on a watch, and is instead equipped with strange or even unheard-of instruments.
This 43.8 millimeter wide timepiece comes in a case made of titanium and steel. It's 17.8 millimeters thick, which accentuates the width and ensures that this beauty of a watch catches attention. The watch glass is made of sapphire crystal, with a UR-7.10 caliber movement inside. The dial is a three-dimensional riot, with the revolving satellite complication that has had some bloggers saying that you need a PhD to read the time. The minute hand moves counter-clockwise around one side of the watch, while three satellites display the hour. When the minute hand reaches 60, it swings back to the beginning and catches the next hour satellite. There is an indicator that shows you how much is left in your power reserve, which lasts up to 39 hours.
Even with all of these interesting and complicated features, the most unique and new feature is the indicator that displays the efficiency of the automatic winding mechanism. Basically, it subtracts the energy consumed from the energy supplied by you, and it displays this with colored zones. If you're in the red, you probably haven't moved around in a while and little to no energy has been generated. If it's in the green zone, you have plenty of power in your reserve, and have probably been moving around for some time. In this way, it helps you see how much exercise you have had, and can almost force you to do at least a little bit of arm-waving. A founder of the firm, Mertin Frei, said that it could tell you a lot about yourself, perhaps more than anything else you own. Though it has the potential to become an irksome piece of machinery, the special indicator does provide information that could surprise you.
To minimize wear and tear to the winding system, the watch has a selector built in that allows you to select how much of your movement goes into winding the watch. Set on "Full", even the smallest movements will be converted into energy. Switch it to "Reduced", and it will capture only stronger movements, the perfect setting for athletic people. There is also a "Stop" setting for certain situations, which stops the rotors completely. In this case, the watch runs on its power reserve until either it runs out or you start winding it again.
Urwerk's UR-210 is a beautiful timepiece. The first of its kind, its odd design and human measurement feature make it a desirable addition to any collection, whether the collector wants to know how much exercise he is doing or not.