We Pay for Shipping, So You Don't Have To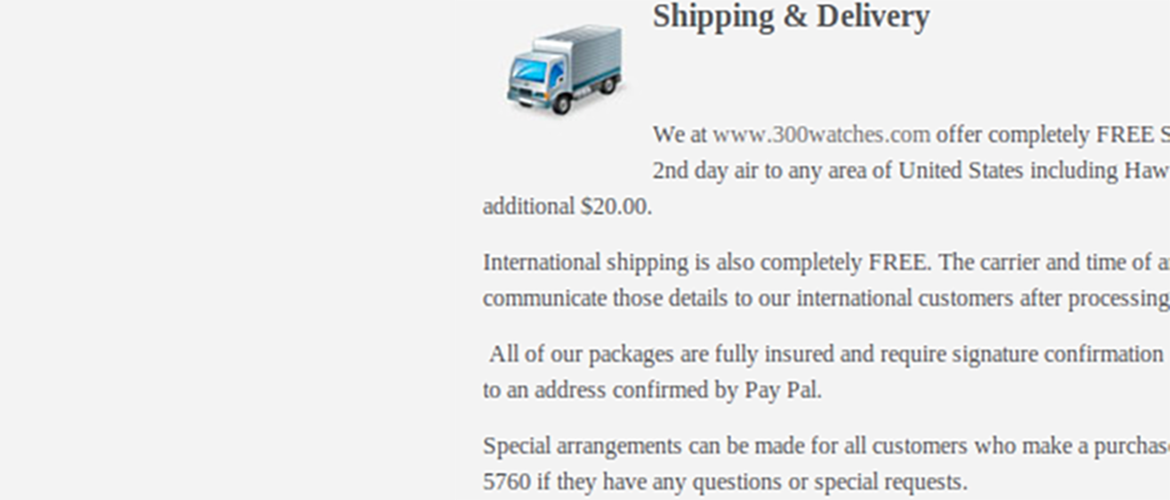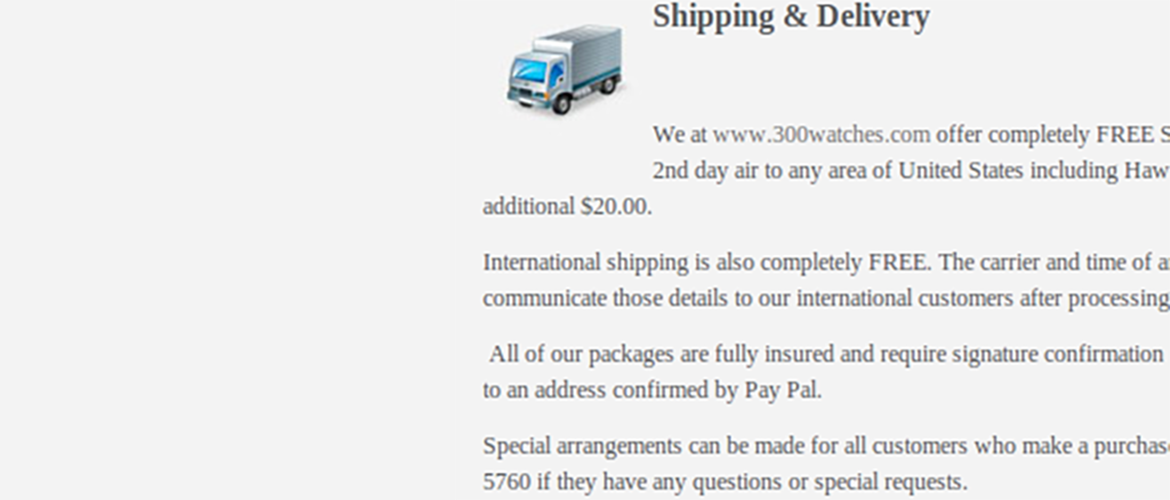 Yes, you read right.  Our main concern is that you are happy with both our products and our services; we aim to please!  You only have to choose the luxury watch or watches you want to purchase from our eBay store or from 300watches, and we'll pay for the shipping.
After you select the products you want from our websites you can make your payment. There are several payment methods we'll accept, but most of our customers choose to pay with a credit card or with PayPal.  In fact, you can feel confident about your payments as our online merchant account provider is PayPal. They actually validate our online transactions.
Once you make your purchase you are automatically covered by our insurance policy, so be advised we may ask for a physical address (different from your billing address). PayPal wants to make sure your new watch gets to you and that it is signed for without any problems, therefore if your idea is to purchase a luxury watch and then send it directly as a gift, then it is best if you pay via wire transfer. If you do this then we can easily check the recipient and your insurance will remain intact.  Also keep in mind that our offices are located in New York, and here there is a 8.625% sales tax.  This sales tax does not apply to orders that are shipped outside of New York.
We also like to send you your watch in the original box whenever possible, and we do our best to include the paperwork that verifies the authenticity of the watch.
We cover the shipping and handling charges anywhere in the world, and we send you your watch via UPS 2-day air within the United (Hawaii, Alaska and Puerto Rico included). Next day delivery will cost you $20.00 more.
On deliveries outside the Unites States, we have to include customs and/or additional shipping related fees. The ETD (estimated time of delivery) will be subjected to the rules and regulations of the destination.
We are happy to have done our best to make you feel secure and protected when you buy your luxury watch at 300watches.