A Renaissance Sculpture Was Attributed to Michelangelo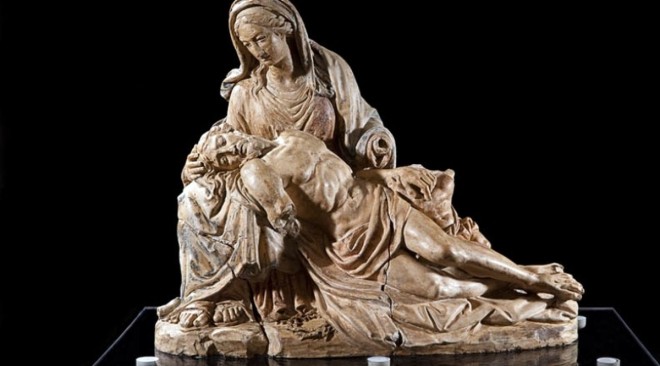 The terracotta pieta discovered two decades ago turned out to be a real treasure. Art critics, who have done a long detective work, proved that the exquisite terracotta figure of Mary with Christ in her arms is, indeed, the work by Michelangelo.
Experts believe that the little Renaissance sculpture was a model for one of the most famous artworks of the Italian master – a white marble statue, which is called "The Pieta (Mourning of Christ)." The artist took a bold step placing the body of the dead Jesus on the lap of his mother, Mary. The figure completed in 1499 is now kept in St. Peter's Basilica in Vatican City.
The terracotta statuette was discovered about 20 years ago – an antique dealer bought it in Northern Italy. Believing that it was a crude forgery made by a follower of the Neapolitan art school of the XIX century, he kept it in a moldy box and then sold it to the collector for pennies as a sample of the kitsch of the 1800s.
However, the new owner suspected that it was a Renaissance sculpture created by Michelangelo and contacted Roy Doliner, an American art critic, writer, and historian who specializes in Italian cultural heritage. He began a long study with Italian colleagues, during which experts painstakingly studied the archives of the Renaissance.
In the book describing their research, the authors gave detailed information that proves that Michelangelo created the statuette. Another confirmation was the striking similarity between the terracotta pieta and other – attributed – masterpieces of the Italian artist.
"It turned out to be the most documented terracotta statue of the Renaissance. We have a mountain of documents now. They were the last piece of the puzzle. The mystery is resolved," Roy Doliner told The Telegraph.
Initially, the Renaissance sculpture was covered with nine layers of bright paint, but during a meticulous three-year restoration experts removed them, revealing a simple terracotta original. Analysis of the art piece showed that it was created in the period from 1473 to 1496, which corresponds to the early period of Michelangelo's career.
The legendary sculptor often made terracotta models of statues that he planned to carve out of marble, and they were basically the same size. The figures corresponded to the old Florentine measure of length, "braccio fiorentino" or "Florentine hand," that is, 58 centimeters. The length of the terracotta model of Pieta is 58.3 cm.
Art critics have also found striking visual clues indicating the origin of the Renaissance sculpture. For example, Christ has a forked beard and almond-shaped eyes – this is how Michelangelo used to depict him in his statues. The pose and body of the cherub on the terracotta model also resembles the angels in other artworks of the famous sculptor.