Audemars Piguet Royal Oak Offshore Alinghi Team Carbon Watch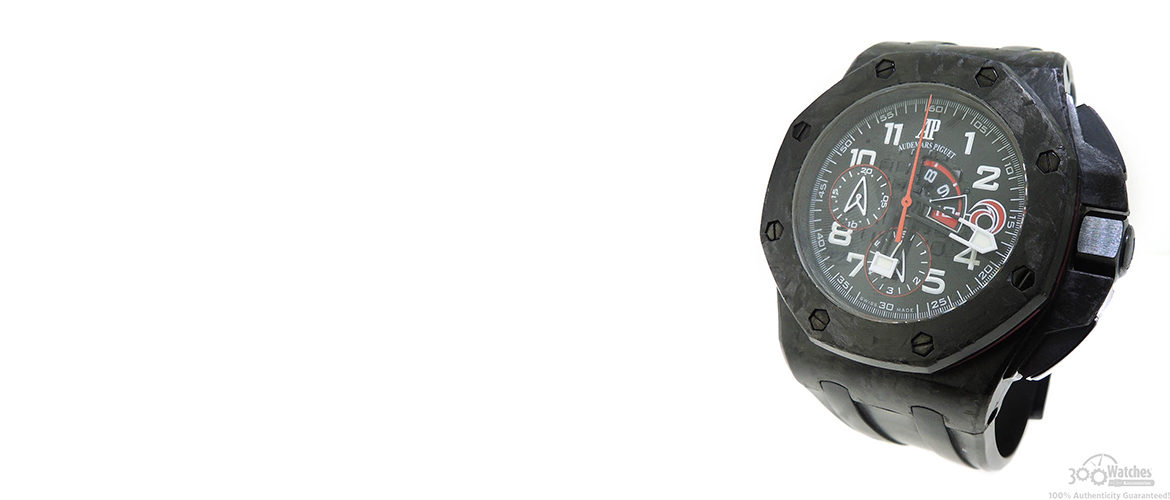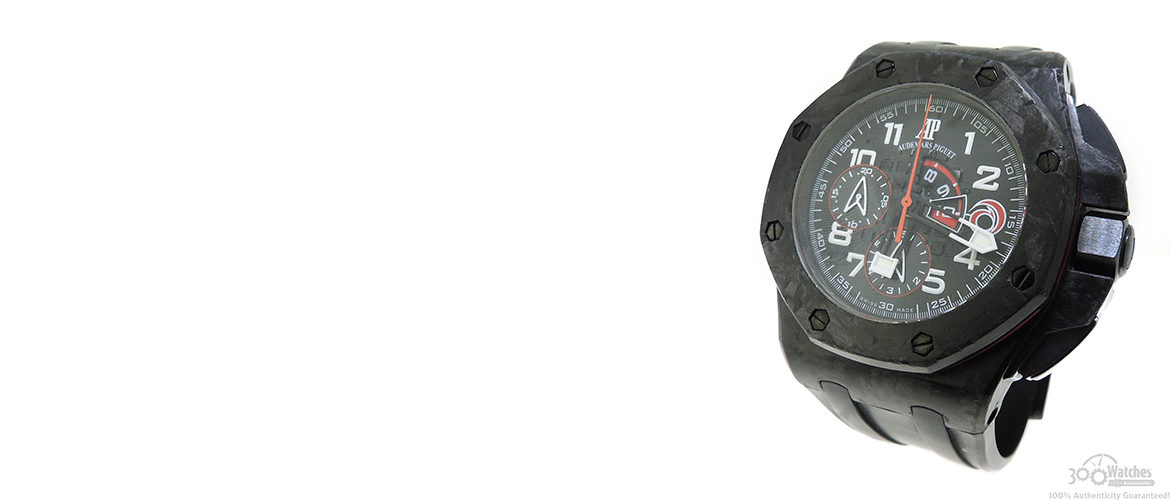 The brand name of Audemars Piguet may not be something first than one can chose for luxury watch brand. It's easier to remember Patek Philippe or Cartier brands. However in the watchmaking world the fame of Audemars Piguet stands among the top part of the market leaders. If we try to write down some top 10 or even top 5 – this brand will be in.
Together with always interesting design solutions this company has quite a great list of technological achievements. Such are the smallest minute repeater in the world industry, the thinnest pocket watch model and even the thinnest automatic movement, that was produced in an alliance with Jaeger-LeCoultre.
Every time piece from Audemars Piguet comes in a manual production mode after precise expert hands work.
Now let's take a look at the photo provided for this wrist watch. This is Audemars Piguet Royal Oak Offshore Alinghi Team, with model number of 26062FS.OO.A002CA.01. The photo shows actual condition of the real time piece. It's still quite new, all the functions work perfectly and it has a guarantee of 100% authenticity.
The watch case, lugs and bezel consist of carbon. The black dial with textured surface contains hour and minute hands of classical black-and-white color combination together with red color second hand. The watch crown is made of black ceramic material.
An automatic movement gives power to the main dial and to the three additional subdials. These subdials form the function set of chronograph. The first one is placed between 1 and 3 o'clock position and it shows sea race countdown, the second one is presented at at 6 o'clock with 6-hour counter and the third one comes at 9 o'clock with 20-minute counter.
What's the sense to get some sea race or regatta countdown subdial? The answer is in the word of "Alinghi" in the name of this wrist watch. This was a famous Swiss yachting team, it got a great list of victories and it is disbanded now. That's why this wrist watch model is an actual rarity, it has a direct connect with a history of very specific sport. The back plate of the watch shows some core information about Alinghi crew team.
The watch strap of black rubber with a tang clasp of black PVD titanium allow this watch to be fit up to 8.75 inches of man's wrist. General case dimensions are quite male also – these are 50mm of width (without the crown) and 14mm of thickness. Having a sea sport connection this watch model has a capable 100m level of water resistance.
So, if you need some wrist watch model that should be capable to show time and to demonstrate your success – this would be a good one.