Beyond SeaWorld – Underwater Vacations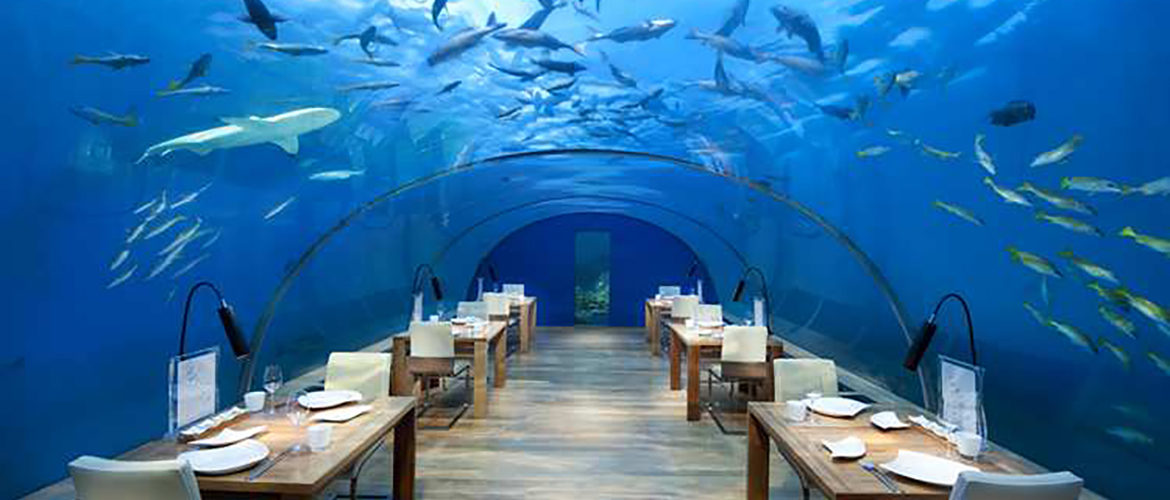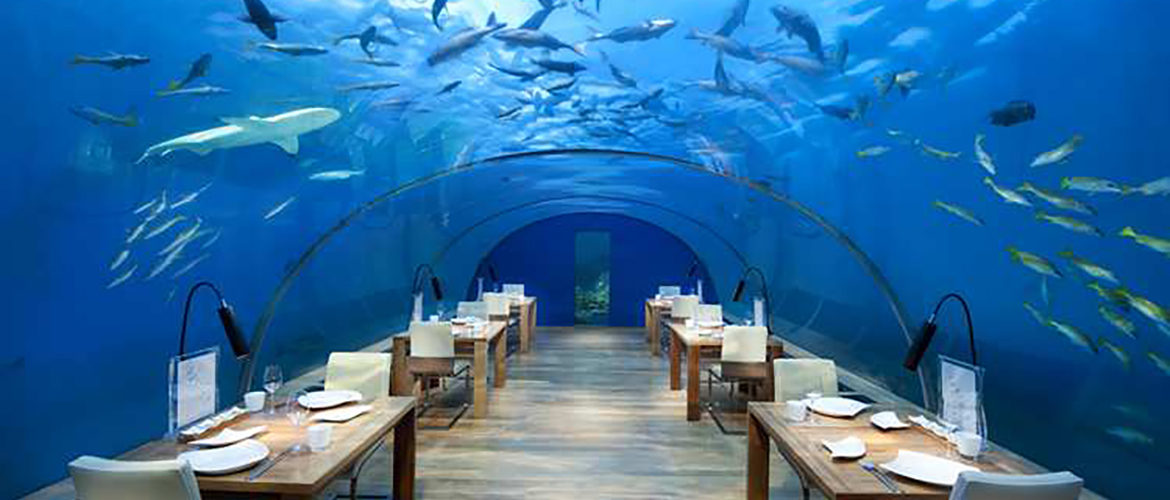 By Tim Mosso
So your holiday sizzle fizzled, you say? Then you forgot Valentine's Day. And you're batting less than a thousand in the birthday department. In short, you're in a doghouse of your own design, and only an act of God can extricate you.
If you don't mind archaic gods, Neptune may have your answer. The underwater vacation is an exhilarating getaway trend that has entered the mainstream travel lexicon. Opportunities to experience life and leisure from uncommon perspectives can mend the worst of strained relations, forge stronger bonds through mutual awe of nature, and sow the seeds of joyous new memories.
Join 300magazine for an overview of the underwater vacation phenomenon and three unique experiences sous la mer.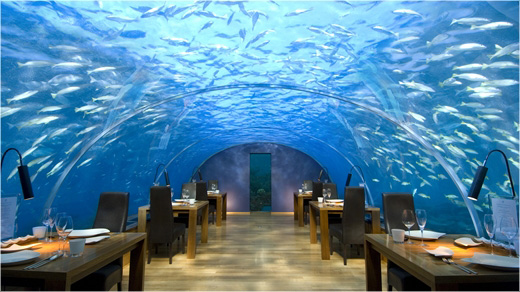 Hilton Worldwide's Conrad Maldives resort, on Rangali Island in the Republic of the Maldives, tops this list of underwater attractions. Although the resort's sub-surface attractions are limited to a single facility, the splendor and spectacle of that sole standout – the Ithaa Undersea Restaurant – render it a "must see" destination. Ithaa means "mother of pearl" in the native Dihevi tongue, and this gem of a venue does justice to the name.
Set seventeen feet below the churning waves of the Indian Ocean, the entire hall is enveloped by a wall-to-wall arch of azure radiance. Surrounding seas teem with fish, exotic flora, and a dazzling display of refracted light. Live coral reefs and ridges of white sand provide a suitable stage for this singular exhibition.
The Ithaa's menu is no less extraordinary. European chefs serve local surf with old-world turf, all prepared in a fusion style that blends Continental tradition with the finest of local culinary arts.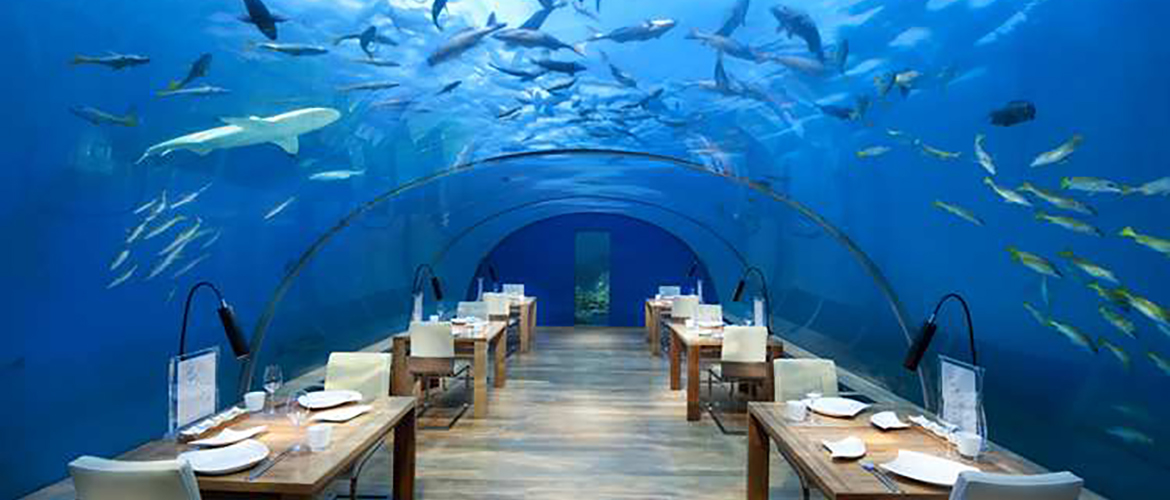 Decadent options including malossol imperial caviar, foie gras, Maldivian lobster carpaccio, and white chocolate praline grace the dinner menu. The facility also serves lunch and morning cocktails, but true high rollers will opt to rent the facility expressly for their personal galas.
Followers of luxury watch trends will be familiar the Maldives scene on the surface; it's the very image of a classical tropical vacation from romanticized dive watch ads. Ideal latitude and a continuous sea breeze ensure that highs rarely exceed the upper eighties even in July, and January lows still average above eighty.
Conrad Maldives offers a tremendous range of activities for visitors, and traditional Scuba diving is available for intrepid types who wish to put their premium dive watches to the test.
Half way around the world and an ocean removed from Rangali Island, Hawaii plays host to an underwater adventure of a more dynamic nature. Atlantis Submarines operates the only large-scale submarine tours in the United States. Atlantis' U.S. Coast Guard-certified underwater vessels cruise into the depths from their base in Lahaina Harbor, Maui, Hawaii.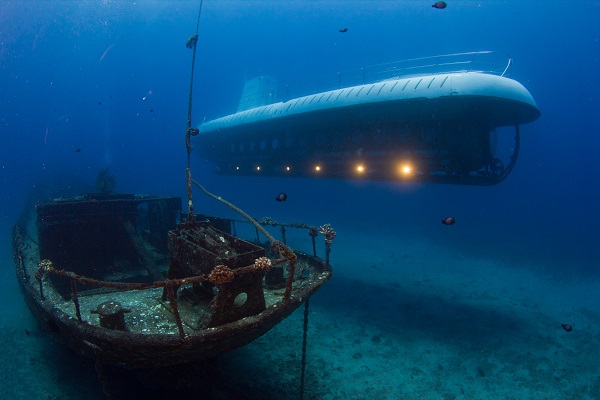 The 48 and 64-passenger submarines, which can reach depths of 100 feet, are state-of-the-art air-conditioned vessels with enormous viewing portholes; these are submarines the way they must have appeared in the dreams of Jules Verne.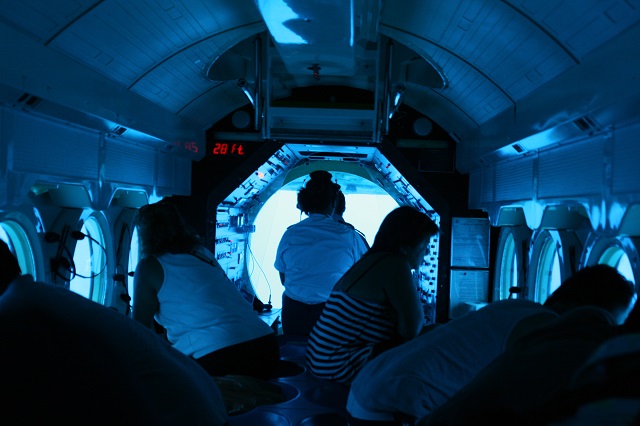 Passengers on the 1 hour, 45 minute tours are treated to an alien landscape of rolling dunes, natural reefs, "flying" schools of fish, and pods of whales, but the undoubted highlight of every tour is the shipwreck. Now an artificial reef, the S.S. Carthaginian has been sunk at anchor in order to provide a habitat for local marine life. Atlantis tours, which navigate within easy reach of surface sunlight, circle and showcase the dramatic wreckage of the stricken vessel.
On the surface, Lahaina Harbor offers vacationers the picturesque tropical sanctuary that is inextricably bound to fantasies of Hawaiian escapes. Local delicacies, world-class beaches, and warm weather await travellers after the submarine blows ballast. Atlantis also provides vacationers access to dinner cruises and whale watching tours on its luxury-oriented surface vessels.
For those whose vacation plans don't extend beyond the continental United States, the Jules Undersea Lodge in Key Largo, Fla. is the destination of choice. With firm roots in the languid vacation mentality of the mid-century Florida Keys, the Undersea Lodge lies at a crossroads between luxury modernity and the fading embers of Jimmy Buffet's Gulf Coast.
Jules Undersea Lodge lies 21 feet below the surface of the Key Largo's Emerald Lagoon. The edifice itself may be the most robust hotel structure ever created. Having begun its life in the 1970s as the La Chalupa Research Laboratory off Puerto Rico, the facility has survived the ravages of time, demands of science, and the countless margarita-powered parties of its second career.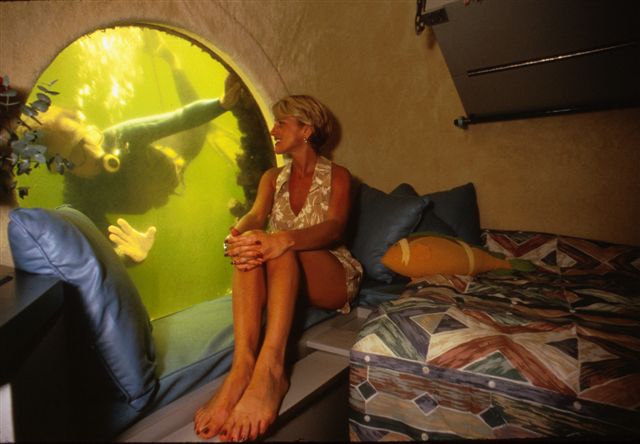 While the Lodge blends mid-century Florida kitsch with a small measure of "roughing it" (visitors must dive to and from the lodge), Jules does go the extra mile to make guests feel special. The motor-inn surroundings on the surface dissolve into to a phantasmagoria of fish, mangroves, marine mammals, and shifting light when viewed from cozy confines on the seabed.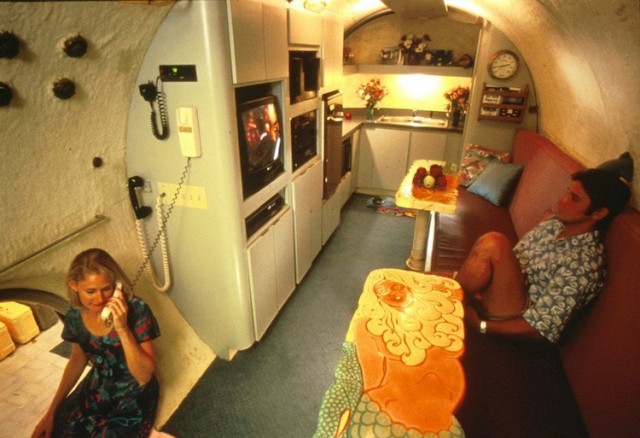 DVDs and videos (remember those?) take on a new dimension when enjoyed in the soft glow of surface light streaming through expansive ocean view ports.  Followers of luxury watch trends might use the opportunity to impress with their nascent French; Hublot means "porthole," after all. Use it as a cue to kick-off a maritime movie marathon with this recent Oscar winner.
The Lodge is well stocked with goodies, a kitchen, and hot showers for recent arrivals, but the real thrill comes from ordering out. A 24-hour concierge will deploy a Scuba chef to cook a romantic meal or guilty-pleasure indulgences to taste. If takeout is the ticket, Jules offers what may be the world's only underwater pizza delivery.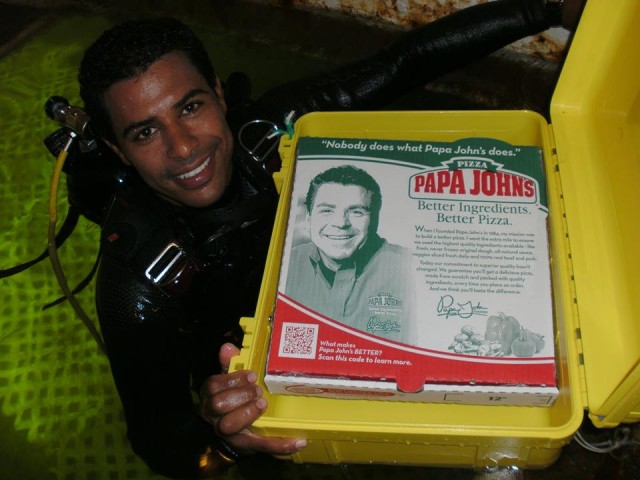 Jules does require basic Scuba dive certification for all guests, so consider this vacation as a two-stage maritime "voyage," and let sub-surface margaritas enjoyed over margherita slices be your final port of call.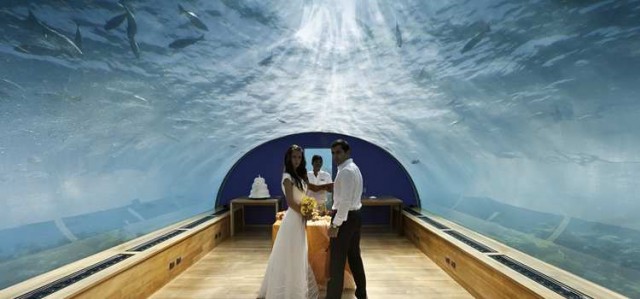 Whichever underwater vacation one selects, adventures, new perspectives, and – if necessary – remedial romance are assured.