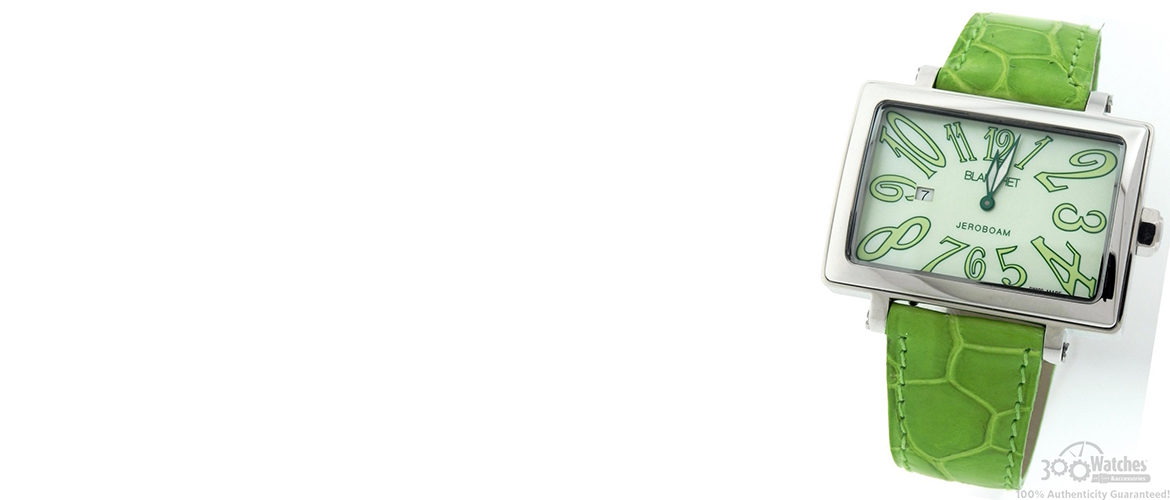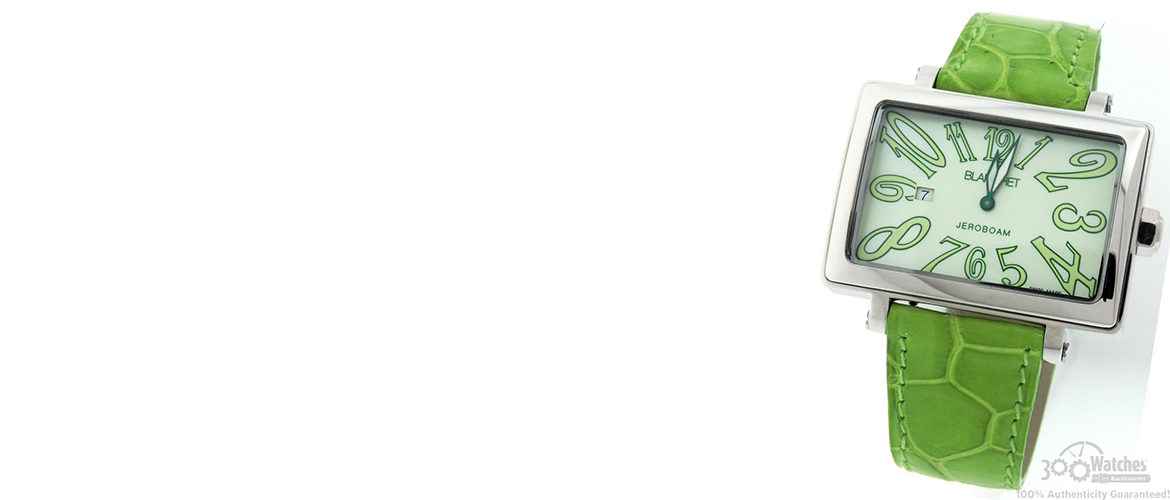 When it comes to design, art and color, Blanchet is a master, and thanks to its high quality and rigorous watchmaking standards, its style is unmistakable.  In addition, the evident originality of its elegant contemporary style reflects a perfect balance in each piece, which makes luxury watch lovers choose Blanchet when they want to wear a good watch on their wrist.
The Jeroboam collection is part of Blanchet's latest creation.  These watches possess a sleek, high-tech design, with exclusive materials that define their refined aesthetics, making an impact with a Curvex anatomical shape that completely adjusts to the wrist and a Swiss movement called ETA, considered one of the most accurate in the world.
This fantastic line of watches comes with an alligator strap, handmade in Italy, with a French cut and an original multipurpose case.
This case is a lacquered wooden box that is lined on the inside with weaved fabric that can hold six watches or other objects such as rings and earrings, to offer more uses for the innovative Blanchet creation. All this wrapped in thin French paper and on top of the warranty, undoubtedly an extraordinary selection of materials to offer customers a unique watch.
For the preparation of the straps, Blanchet uses exclusive leathers and materials handled with strict and special procedures to achieve the cut, the softness, the sewing, dyeing and buckle clasp; these are elements that are handmade in the oldest French and Italian artisan factories.  This is why Blanchet is an artisan brand with unparalleled originality.
The straps are interchangeable, thanks to the "quick loop" system, and can be replaced with a simple pressure, without special tools.  They also have a special hypoallergenic lining.
Blanchet goes hand in hand with the originality of its designs, which is why they have straps with different styles. The crocodile skin ones are entirely handmade from Australian leather by Italian craftsmen and tanned in Japan.
The stingray ones are made by French craftsmen, with skins that come from Thailand, where they are also painted.
Then there are also the ostrich ones, also handmade and tanned by Italian craftsmen with skins of South African origin.
For the discerning tastes, Blanchet presents the straps with a combination of two materials, such as Australian crocodile leather, tanned and painted in Japan, and raw cotton satin from Italy; materials which are then manually crafted by Italian artisans for the final result.
It is noteworthy to mention that all the watches from the Jeroboam collection are water resistant to 50 meters; however, more care must be given to those with crocodile, ostrich or stingray leather as their texture is more sensitive to the wear caused by water.
It is fascinating to wear a Blanchet watch on your wrist, as it represents prestige and status. This is precisely what has led this company to position itself in the luxury watch market, where lovers of good taste choose this renowned brand to take with them wherever they go.