Breguet Tradition 7047 Tourbillon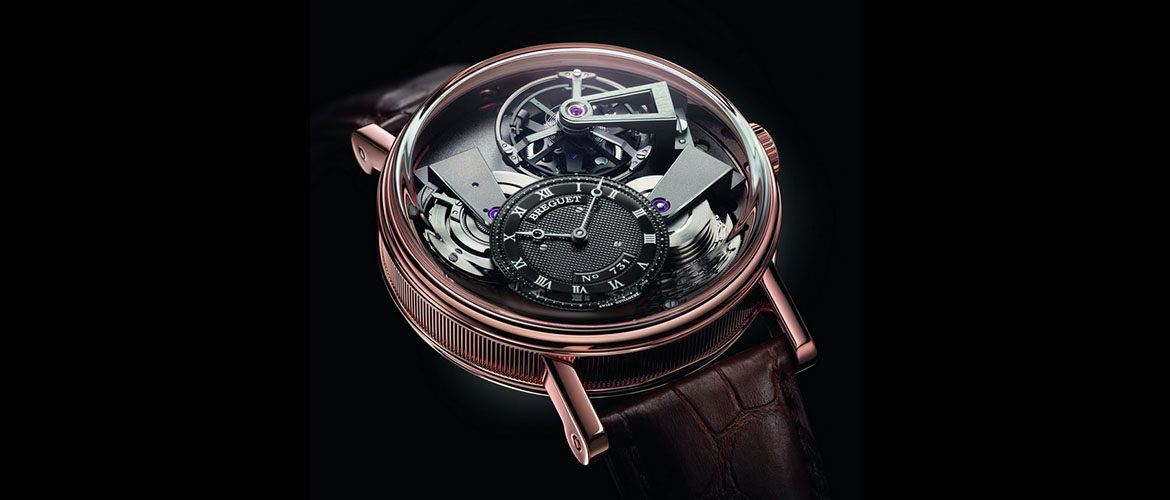 Breguet is one of the most popular luxury wristwatch brands and the oldest. In fact, it is considered the oldest known manufacturer. Breguet is known for superior technological innovation, extreme complications, and of course, the luxury factor.
The Breguet Tradition 7047 Tourbillion wristwatch for men will delight fans of the brand. It incorporates many tried and true aspects of watchmaking in an open case style complete will a complicated tourbillion movement. At first glance you will notice the 3D looking open case style. In reality, it isn't entirely open case. There is a dial background in a grey finish. The complications were constructed in a 3D style adding to the curiosity of this piece. The fuse and chain mechanism is also featured in this piece, hence the name "Tradition".
How does one tell the time with such a complicated dial? Interestingly enough, the actual time telling display is located at the 7 o'clock position in a separate silver subdial. Black Roman numerals represent the hours and traditional blue steel dial hands are apparent. The platinum dial features an engraved pattern going around the crown.
To tone the Tradition 7047 Tourbillion down and keep it elegant a black alligator leather strap accompanies the dial. The watch features a manual wound movement and Breguet logo on the dial along with number of the watch adding to the exclusive factor of it.
Breguet continues to reign supreme in the world of horology. The Tradition 7047 Tourbillion is a fine timepiece that would excite any collector. The high-luxury price factor makes this piece rare and desirable. For a truly superiorly crafted wristwatch backed by age-old tradition, don't hesitate to check out Breguet's Tradition 7047 Tourbillion.