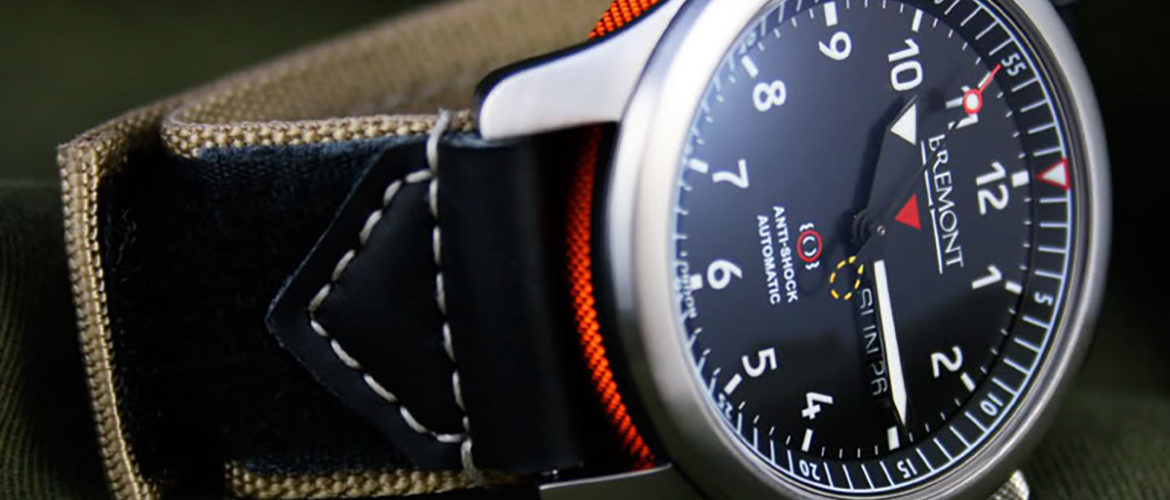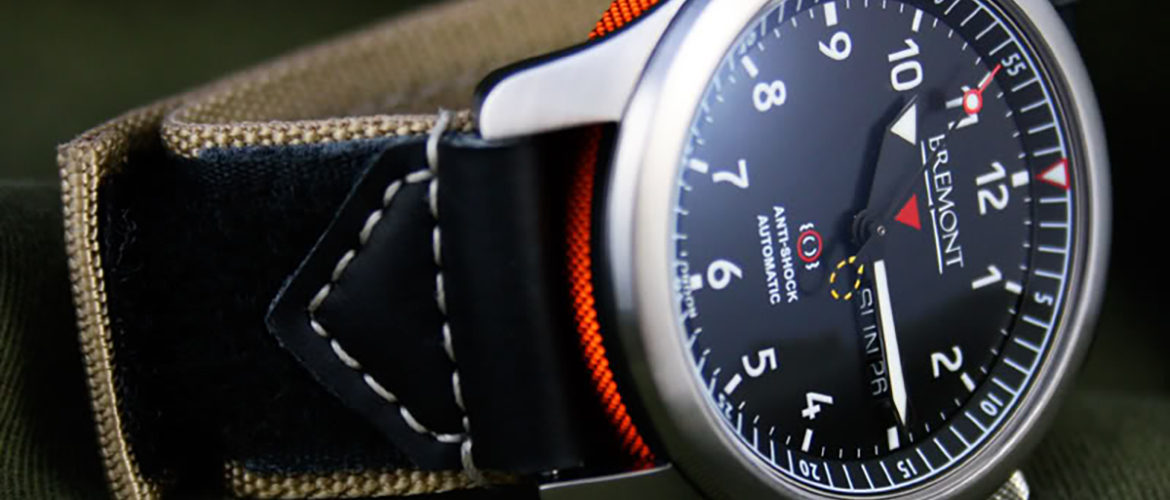 Haute Horlogerie has long been closely associated with the highly accurate watches needed for travel by sea and air. Bremont has been making better and better aviation timepieces, and they wanted to create a super limited edition. From their Martin Baker range comes the MBII, and its extremely limited version, the MBII/TWG. Martin Baker is a British company that makes products used in aviation, such as the seats that eject from planes. In fact that's the only way to get the Bremont MBI- you have to be ejected from an airplane! The seat also has to be made by Martin Baker.
At 43 millimeters wide, this is not really a small watch, but it isn't a huge one either. Like all of Bremont's watches, it is made with their Trip-Tick style of case. Basically, this means that the case is built out of three main parts (like a triptych, which is where they got the name of the style), the back, the barrel, which is midnight blue in these models, a trademark of the Watch Gallery in London, and the front of the case. On this watch, the caseback has a sapphire crystal window through which you can see the insides of the watch.
The automatic, anti-shock movement, tested by the COSC, is exquisite, and exposing it has made this watch just that much more interesting. "BREMONT" is etched the rotor inside, an embellishment that adds to the formal beauty of the watch. The jewels in the movement really shine, as well.
The dial doesn't have any of the sub-dials, windows, fancy fonts, or visible complications on it, the better to avoid distracting a pilot. The yellow second hand adds an unexpectedly nice touch to the look of the watch, contrasting with the black dial and the blue barrel alike.
All of its features combined give the watch has the sort of restrained elegance that you expect to see in British watches, only enhanced. According to Bremont's founders, that is exactly what the company was going for when they made this timepiece. They also wanted to make the watch very, very limited. Only 30 of the MBII/TWG will ever be produced, which might in time make it even more exclusive than the MBI, and you have to eject from a plane to get that one.
The founders have referred to this watch as "the definitive aviation chronometer", and it has definitely earned a claim to that title. It's accurate, exclusive, elegant, and decidedly British. What's not to love?