Calibre de Cartier Automatic Watch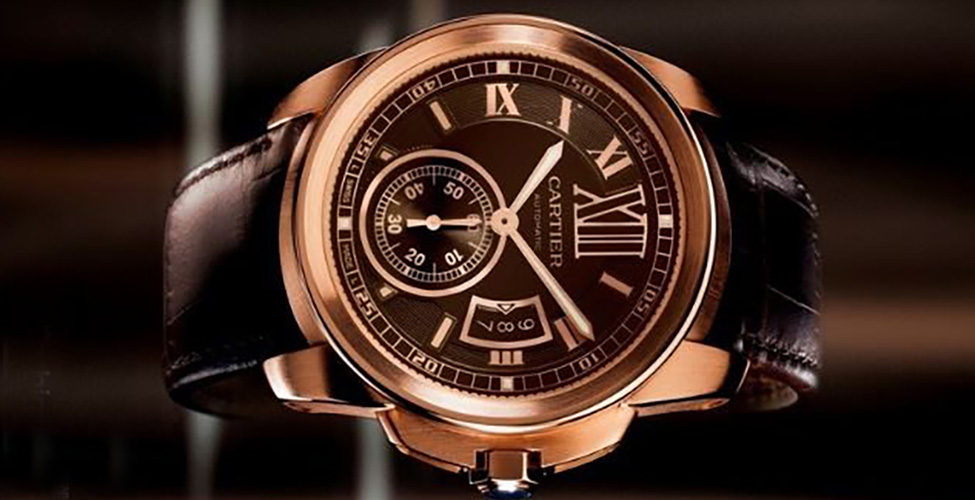 Cartier is a luxury French jeweler and watchmaking manufacturer. Some of the most beloved and sought out timepieces come from Cartier. Prestigious, luxurious, and stylish all accurately describe this deep rooted brand. Cartier's Calibre de Cartier Automatic wristwatch in pink-gold is a beautiful addition to their line that is sure to gain the attention of horology enthusiasts.
The Calibre de Cartier Automatic is a masculine wristwatch in classic style with contemporary touches. The dial is housed in 18K pink-gold and features a traditional round shape. The dial itself presents a lot of function in a clean and uncluttered fashion. Customers can choose between a white and black color scheme or brown and gold, with the white and brown representing the dial color and black and gold representing the numeral color. The Roman numeral hour markers are large and define. Minutes are represented in an outer ring as line markers with numerals in increments of 10.
The Calibre de Cartier Automatic features a second-counter subdial above 6 o'clock and date window at 3 o'clock. The dial hands are luminescent sword-shaped steel in a pink-gold finish. The wristwatch is pulled together with a brown leather strap. An exciting aspect of the Calibre de Cartier Automatic is that it is powered by the new Manufacture Cartier movement; the 1904 MC. Collectors will be delighted to own a watch featuring a new movement, especially those who prefer new movements and complications. Overall this is a fantastic dress watch for business or special occasions that is casual yet luxurious. It isn't a standout piece. Instead it is refined, elegant, and doesn't seek attention. It seeks to complement your outfit and serve your needs.