Cartier Delices 18K White Gold Diamond Watch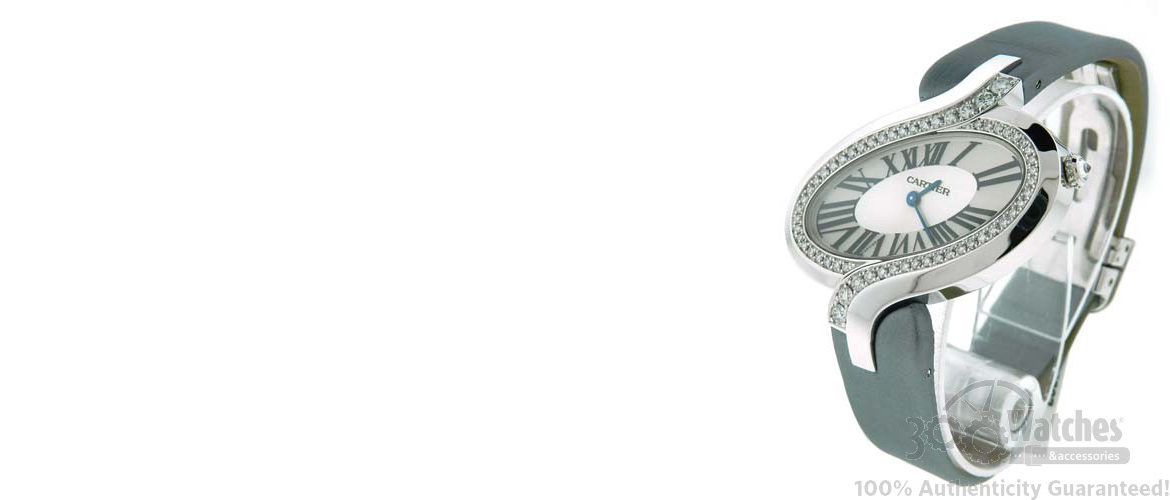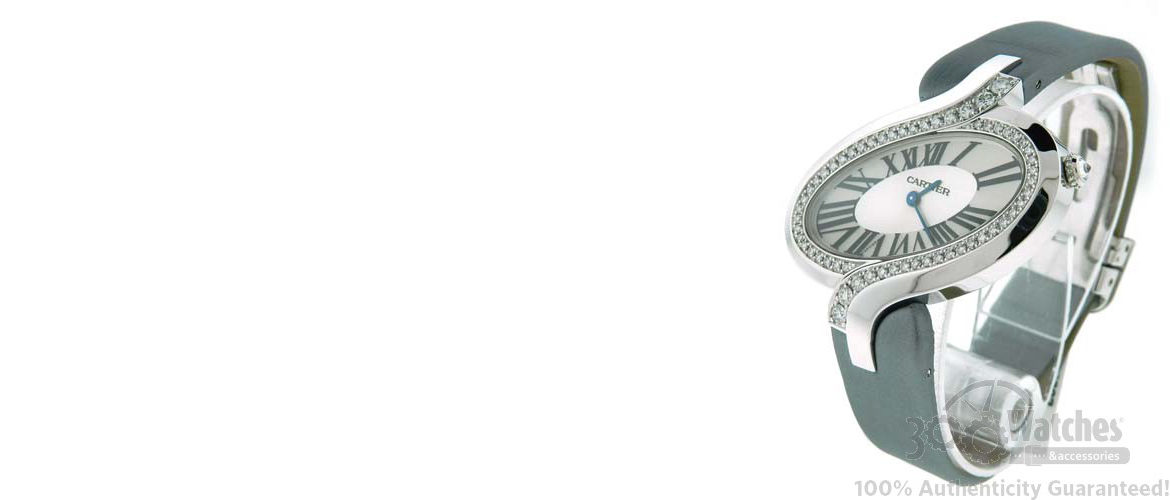 Everybody knows that Cartier watch brand is one of the leading international producers of the jewelry and watches. Today the largest boutiques of this company may be found in such great cities and places like New York, Milan, Beverly Hills, Rome, Boston, San Francisco, Tokyo, Paris, Shanghai and Vancouver. Wristwatches from Cartier became classics long ago. For this reason it is not only fine accessory but also an evidence of good taste and high status of its owner.
 Délices de Cartier is an amazing collection with mouth-watering wrist watch models, that tempt human brain like a most succulent delicacy. Délices de Cartier watch line includes luxury watches with smoothly tapered cases, curved transparency, diamond links at twisted oval case. Délices de Cartier models are mischievous touch of real femininity. Audacious and feminine, the Cartier Delices collection perfectly demonstrates the creativity and the know-hows of the Cartier brand.
 Delices de Cartier, model WG800018 is a large ladies luxury watch and one of the most appropriate example of the mentioned watch line. Its extravagant oval case is made of 18K white gold with a rhodium cover. Two links of white diamonds decorate the edge of the case and lugs. This feature makes this wrist watch to look even more luxury and elegant. Circular grained crown is also made of 18K white gold, besides it has a diamond cabochon. The twisted oval watch sits across all the length of the ladies wrist. The magnificent gray sateen strap responds for it. The sweeping tapered curves of the gold case catch the light with even slightest movement of the wrist.
 A quartz movement from Cartier – caliber 157 responds for work stability of the sword-shaped hour and minute hands made of blued steel. They move on perfect silver toned guilloche dial that has Roman numerals as hour markers. The water resistance of this Cartier Delices is 30 meters. It isn't something formidable but who sends a real lady under heavy rain or even under water?
 This womanly and designing courageous wrist watch Délices de Cartier shows whole experience and creativity of the Cartier house within just a one little timepiece. Its refined and bright case carries lady's mind away to the magic world!