Cartier Pasha 18K White Gold Diamond Watch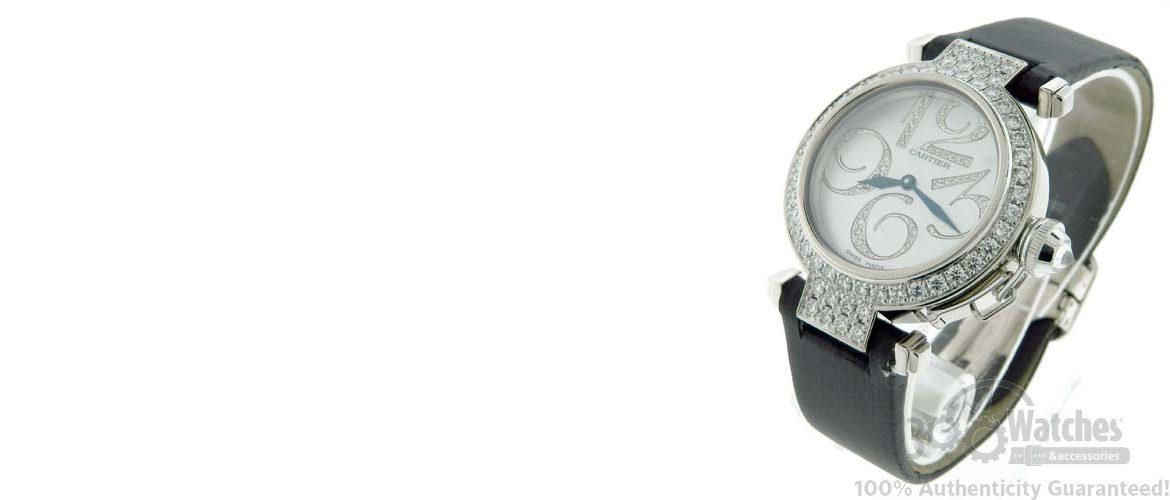 Let's begin with a famous French brand of Cartier. Though, in fact, there is no a great need to add a lot about this brand. Watch quality of Cartier timepieces is outstanding from the beginning of brand's wrist watch production. As for design and jewelry – Cartier is the same measure of historical and modern success as Facebook among social networks of Internet.
As for Pasha – this is a whole model line of beautiful luxury watches with formidable preciseness and function sets. The very word of Pasha means in this case that we speak about wrist watches for those who wish – and are able – to get these watches as kind of high social status marks.
However, we should notice that general Cartier watch concept is dedicated especially for women. Well, it's not an obligatory, core design and functions of these watches are quite classic and universal.
Now, lets' return to the specified Ladies Cartier Pasha model – WJ123221 and its main features,  18K white gold watch case has a "Mother of pearl" dial. Watch bezel is covered by various diamonds. Female nature of this brand new luxury wrist watch is realized within its 32mm watch case diameter. It's not something big in case of dimensions (with 9mm of thickness) – but is really something to feel and enjoy.
A powerful quartz movement supply the work of dark blue minute and hour hands. These hands mark the time flow clearly when they cross huge diamond numerals that are placed 3, 6, 9 and 12 o'clock positions.
The watch strap is made of dark violet satin and with quite adjustable deployment of 18K white gold clasp it allows the watch to be kept well on the lady's wrist up to 6.5 inches. It as a firefly weight of 2.7 oz. The body of this wrist watch model has as enough water resistance for all the lady's situations.
In case of Cartier Pasha WJ123221 watch purchase you may see the photos of this model at the shop side of our site – they are 100% authentic for the certain goods item. The wrist watch is now actually and practically in "new watch" condition. All its functions work as they should work. Our retail price is 36,500 USD and it's one of the most adequate prices for such a beauty – if not the lowest one.