Cheap Artwork with Great Concept: Design Masterpieces of December 2018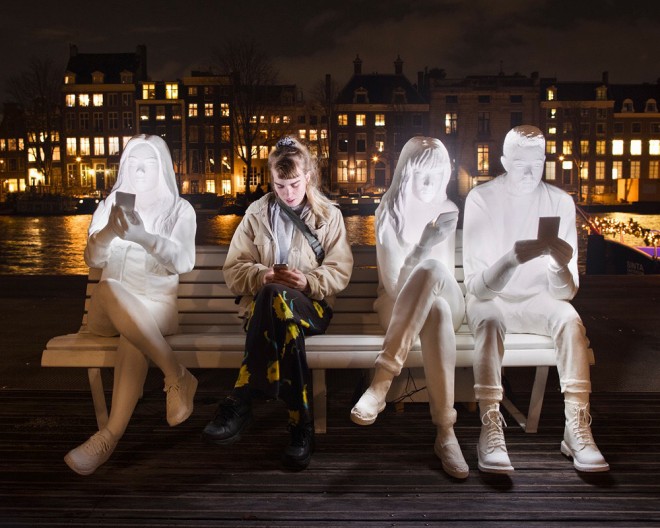 Although December has recently ended, taking away the previous year, it was full of incredible art works and unusual art gallery installations. The most remarkable art and design news of December 2018 proves: cheap artworks can also hold the greatest value and the most captivating idea.
In 2019, the world of art and design enters with contrasting but not contradictory themes: conscious consumption and inclusiveness, imperfection as a decorative technique, interest in tradition and artistry, a sense of humor that does not infringe on functionality.
One of the most global problems of our time – the excessive attachment to the screen of the electronic mobile devices – was depicted in the open-air art gallery installation called "Absorbed by Light," set in Amsterdam as part of the Amsterdam Light Festival. This cheap artwork with profound idea represents a sculptural group of three characters sitting on a bench who enthusiastically look at their smartphones, with their faces illuminated by glowing screens. The authors of this outdoor light installation are British sculptor Gali May Lucas and the Bureau of Bridge Design.
Five silk tapestries from the series called "Unravelled" by Israeli designer Erez Nevi Pana is a spectacular example of ethical production. Despite silk creations can hardly be considered cheap artworks, these exact masterpieces are incredibly eco-friendly. When creating them, Nevi Pana, being himself an adherent of the vegan lifestyle, used Ahimsa silk, during the production of which the caterpillars of the silkworm are not killed immediately after the construction of the cocoon. Instead, they are allowed to turn into a butterfly and leave their cocoons. The designer combined two methods: he contrasted the surface of smooth silk with textured strands created in the traditional sumakh technique and supplemented the compositions with parts of wicker baskets that are used for breeding silkworms.
The consciousness of modern designers and technological progress have reached the point when the furniture is produced not just from conventional recycled materials but use from all kinds of industrial waste. One of the novelties in this field is the peculiar furnishings created from nylon powder, which remains during printing on 3D printers. Using Nichrome wire and quartz sand, London designers from the Studio Ilio make tight flexible tubes from which they can get sculptural furniture and unique lamps. It is another excellent example of cheap artwork containing an environmentally friendly message.
One more impressive novelty of December 2018 that can be regarded as both furniture and statue is this simple, elegant, asymmetrical table created by the talented American designer Michael Felix. Such a stylish sculpture represents a great gift for a collector of contemporary art and design with good taste.