Chopard Happy Diamonds Designer Watches – 40 Years of Excellence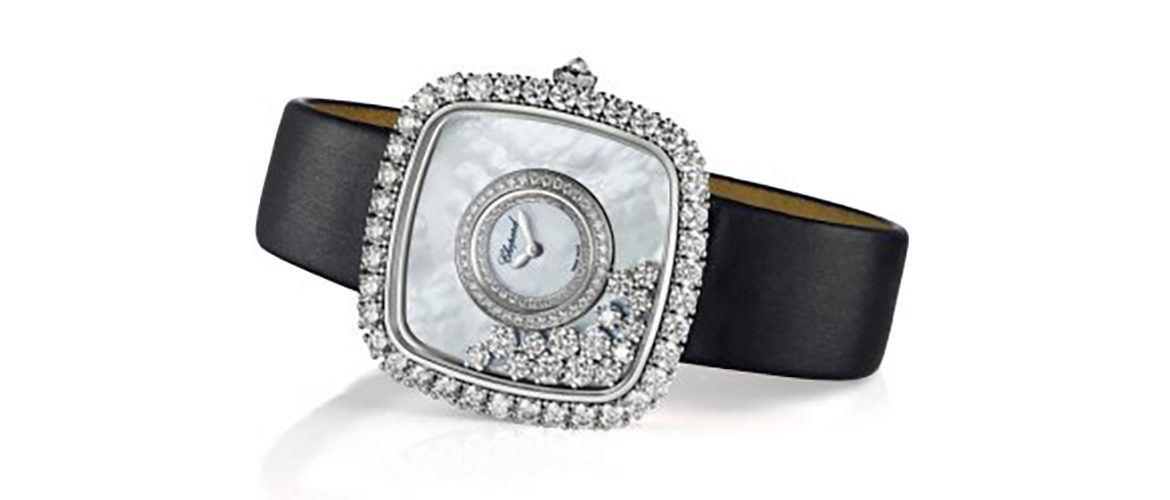 The iconic Chopard collection of exclusive jewelry and high-end designer watches is turning 40 this year! Happy Diamonds, an instantly recognizable Chopard's signature line, represents a bold series of masterpieces with their joyful light-hearted charm that has become a true legend in today's world of luxury accessories. Since its very creation, this exceptional concept has been an embodiment of a distinctive branded lifestyle. That was true 40 years ago, and that is true today.
Birth of a legend
The unique collection of watches with floating diamonds was born in 1976 thanks to a talented designer Ronald Kurowski. Being fascinated by the game of light in the thousands of water droplets he saw walking near a waterfall, Ronald decided to reproduce that magic in high-end luxury watches. Thus, the idea of leaving diamonds free between sapphire crystals so that they could whirl sparkling with all of the rainbow colors was born. Since then, each gemstone housed in a special capsule with a beveled base has been left unfixed to move in any direction. The success of Ronald Kurowski's innovation was recognized in 1976 when the first Chopard's floating diamonds watch won the highest award for watch design, the Golden Rose of Baden-Baden.
Variety of Happy Diamonds styles
Originally introduced as a gentlemen's luxury watch, Happy Diamonds has expanded to numerous transformations including absolutely unique jewelry pieces and fantastic ladies fine watches. Over the years, this iconic Chopard's concept has been interpreted via such renowned collections as Happy Sport that includes a diverse range of high-end watches for any taste starting from bold chronograph watches for men and women to stylish yet elegant oval-shaped models, Happy Fish distinguished by its bright colors, eye-catching Happy Spirit, and some other emblematic series. Although each collection has its own charisma and style, all of them are endowed with the recognizable Happy Diamonds aesthetics and inimitable Chopard's lifestyle.
Happy Diamonds 2016
In 2016, Chopard is continuing its Happy Diamonds tradition by introducing the new piece of this outstanding collection of designer diamond watches. Moreover, to celebrate its 40th anniversary, the company has demonstrated even more generously sized moving gemstones featuring a new prong setting. Besides, the new Happy Diamonds luxury watch was inspired by the very first cushion-shaped men's model released in 1976. However, this one is designed specifically for women. Its trendy 18k white gold case is complemented with a beautiful mother-of-pearl dial that contains shining diamonds free-moving in the space between two reliable sapphire crystals. In addition, there are more floating gemstones on the luxury watch dial than in previous models, and they also vary in size. Thus, this precious and joyful ladies watch is the quintessence of timeless elegance that perfectly combines contemporary feel with outstanding vintage charm. Furthermore, the model is also available with a classic round-shaped case. Both of them are vivid representatives of the iconic Chopard's collection. Happy Diamonds are indeed forever!