The Clock Clock White By Humans Since 1982 – Truly one of a kind clock design!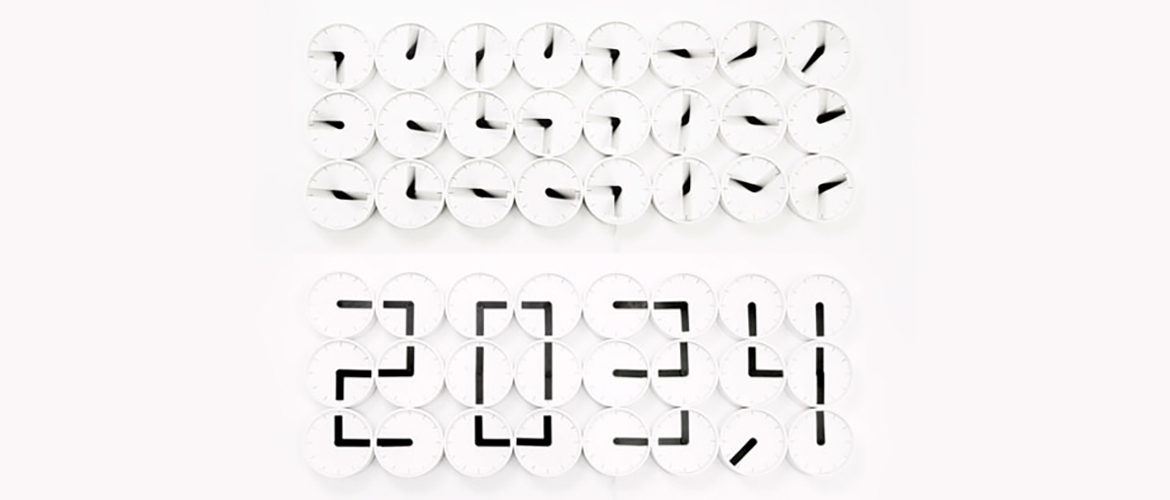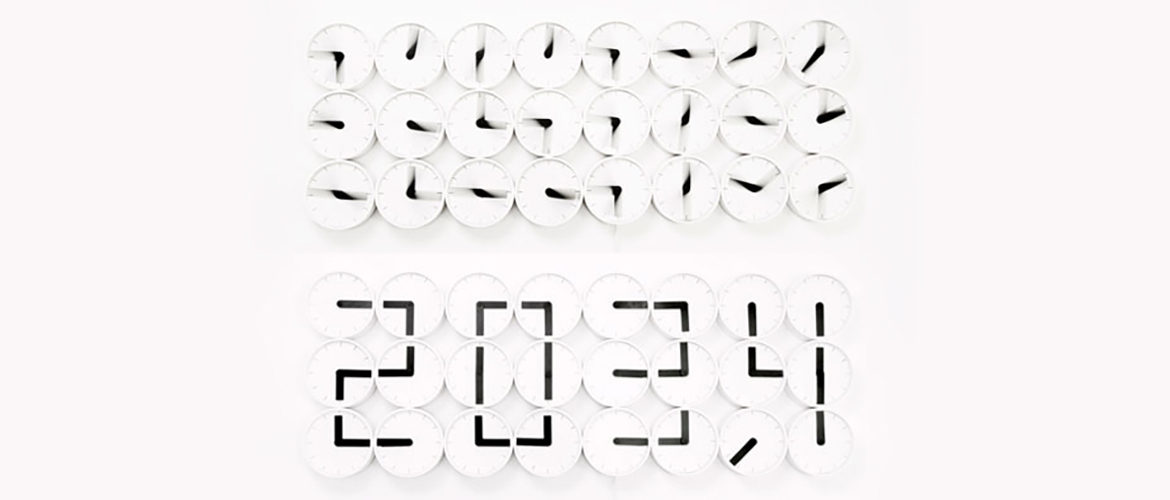 Humans Since 1982 is a Swedish firm known for their unique designs that are notable for the vision that goes behind their creations. They have been engaged in aesthetically crafted designs created for various locations that they worked in the past. Some of their creations in light fixtures as well as chandeliers are truly unique in nature. They do have a couple of interesting clock designs to their credit as well.
The clock clock is a design that is certain to keep you engrossed to it for a long time. Humans Since 1982 created this clock by combining 24 two hand clocks and choreographing them to dance to their creative design. The hands of these individual clocks dance in such a way as to display the time in entirety. The overall effect is akin to what you get to see from a digital clock or watch. Each clock hand acts as a piece of the liquid crystal display numeral. If you are familiar with the number 8 on an LCD display, then you will know that it is made up of 7 parts. In the clock clock, the 12 hands of 6 clocks make up a single digit. These two handed clocks dance in unison to come up with the accurate time. The designers came up with the clock clock white for the very first time in the year 2011. The video available at their website shows you the working of the unique clock.
In its simplest form, the creation is a matrix of 24 clocks arranged in a 3 x 8 format. 6 clocks and their 12 hands are necessary for the creation of a single digit. All the 24 clocks together are able to come up with the 4 digits of the time that needs to be displayed at any given time. The clock displays time in a 24 hour format with the help of the synchronization of the 24 individual clocks. You get to know the time by looking at the entirety of the 24 clocks on display.
Is it easy to force this many clocks to dance in sync? It is not an easy task. In fact, the designer firm was forced to seek the help of an engineer named David Cox based in Australia to get the synchronization correct. The artistic manner in which the hands move around after every minute to come up with the new time is really pleasing on your eyes. Some of you may think about the Harry Winston Opus Eleven in action.
The Swedish designer is creating only 8 clock clock whites and another three special edition ones for their exclusive clientele only. The price is not published for the general public. In case you are interested, you can get in touch with the firm and learn about the price.