Damien Hirst's Artworks in Suite Decoration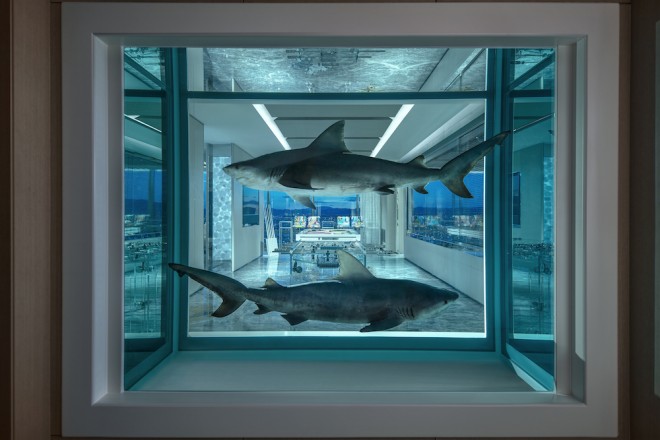 Enthusiastic art admirers can stay for two nights in the new Palms Casino suite in Las Vegas, which was designed by the famous British artist Damien Hirst. The 836-square-meter room is called "Empathy Suite" and costs $100,000 a night.
The design of this impressive suite took a part of the 690-million budget allocated for the overhaul of the Palms Casino Resort. The artist has already made an individual design of the casino's bar. Besides, one of Hirst's artworks – a monumental 18-meter sculpture of a headless demon – will decorate the hotel pool this spring.
However, the two-story villa under the sky overlooking the Vegas Strip, decorated with original Damien Hirst's artworks and custom-made furniture, has become a real gem of this temple of leisure and entertainment. It is also one of the most expensive hotel rooms in the world.
Although the price of 200 thousand dollars for a weekend in this suite can shock the regular art connoisseur, some devoted collectors of Damien Hirst's artworks can afford it. The auction record for the artist's art piece is currently 19.2 million dollars. It was set at the Sotheby's auction in London in 2007 when his famous medicine cabinet "Lullaby Spring" (2002) was sold.
In addition to the art installations created by Hirst, the suite has six original works of art. These include "Winner/Loser" (2018) sculpture – two bull sharks suspended in formaldehyde in a tank mounted in the wall; "Casino Royal" (2018) – a selection of ten panels with butterfly motifs on monochrome glossy canvases; medicine cabinets titled "Vegas" (2018), "The Winner Takes It All" (2018) and "Money" (2018).
The room also features a curved 13-seat bar counter, created by Hirst and filled with medical waste (the appeal of this particular item remains unclear), which contrasts with the carefully ordered distribution of objects in various medicine cabinets. Directly above the center of the bar, there is a Hirst's artwork titled "Here for a Good Time, Not a Long Time" (2018) representing a showcase with a skeleton and a stuffed blue marlin.
The bar is surrounded by two seating areas and a theatre space that can accommodate up to 52 guests. The interior is decorated with draperies and carpet, which was developed by famous British modern artist, and is equipped with Italian leather sofas with a signature Hirst's motif – butterflies. The outdoor veranda has a Jacuzzi (again, with mosaic butterflies) and tablets glued to the surrounding glass. Guests can use the private salt room and two massage rooms.
The Palms Casino's permanent art collection includes Damien Hirst's artworks, as well as pieces of art by such significant contemporary artists as Jean-Michel Basquiat, Andy Warhol, Takashi Murakami, Dustin Yellin, and KAWS.