Daytona Cosmograph High-End Watches – Perfection of Beauty and Functionality since 1963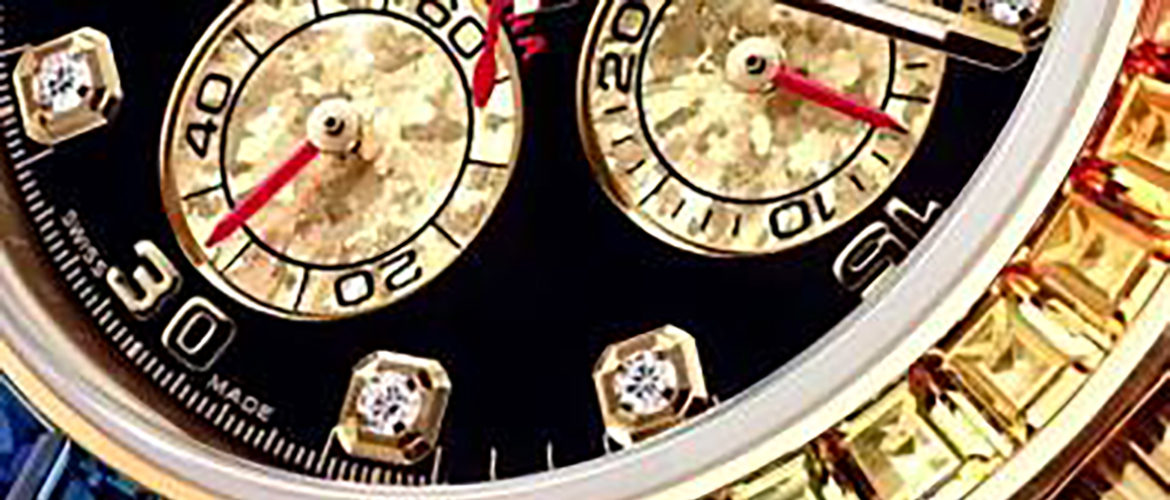 Beautiful, reliable, and functional… these are the main characteristics that fully reflect the essence of Daytona Cosmograph high-end luxury watches that are probably the most favorite models among fans of the Rolex Company and the most outstanding achievement in the sphere of branded chronograph wrist watches. First introduced to the world in 1963, this unique series pleases us even in the 21st century. So what is so special in this legendary Rolex collection?
Reliable caliber. Originally designed and developed for professional racers, these quality watches for men had to be highly reliable and wear-resistant, as their main purpose was to help keeping track of time and speed during the race, when every moment counts… These features, as we know, directly depend on the used mechanism. For this reason, specifically for Daytona Cosmograph high-end watches, the company decided to develop a new caliber 4130. It is composed of just 290 components that greatly reduce the risk of failures in extreme racing conditions. In addition, the mechanism includes the blue parochrome balance spring distinguished by its high resistance to the effects of magnetic fields that is 10 times greater than the shock-resistance of designer watches equipped with a conventional balance spring. In this way, a simple and at the same time high-quality performance has become the guarantor of the reliability inherent to all Daytona Cosmograph luxury chronograph watches for men and women.
Tachymeter scale. Practically every model from the Daytona Cosmograph Swiss watch collection features a tachymeter scale engraved on the bezel. Provided that the length of the distance is known, it helps the driver to determine the average speed in the range of 400 units: kilometers or miles.
Full control of time. Additional registers located at the 3 and 9 o'clock positions count minutes and hours that have passed since the beginning of the movement. A racer or any other driver who is trying to finish the race as quickly as possible use them to determine the time of the movement that can help to plan further actions and maneuvers. As you know, a sound strategy invariably leads to better results!
Beauty. Each Daytona Cosmograph model is an example of good taste! These high-end luxury watches are made of precious metals: 18 karat gold of different colors (rose, white, yellow) or 904L stainless steel. Their unique optical effects are worthy of being admired! Let's just remember the 116598 RBOW model with its amazing gold sub-dials and outstanding pattern of precious stones and crystals. Diamonds or sapphires, stainless steel or gold, elegance or restraint – there is a suitable design for everyone!
High-quality, accurate, easy to use, rugged and reliable, waterproof and automatic, and at the same time very comfortable, elegant, prestige, and timeless… These timepieces are the epitome of the incredible combination of form and functionality as evidenced by their success and fame all over the world. Thereby, we can talk a lot about the Rolex Daytona Cosmograph collection of vintage and brand new watches, but it's better to choose your favorite model and enjoy its superb performance. So what Rolex Daytona Cosmograph luxury watch would you choose?