Dodane Type 23 Flyback Chronograph Watch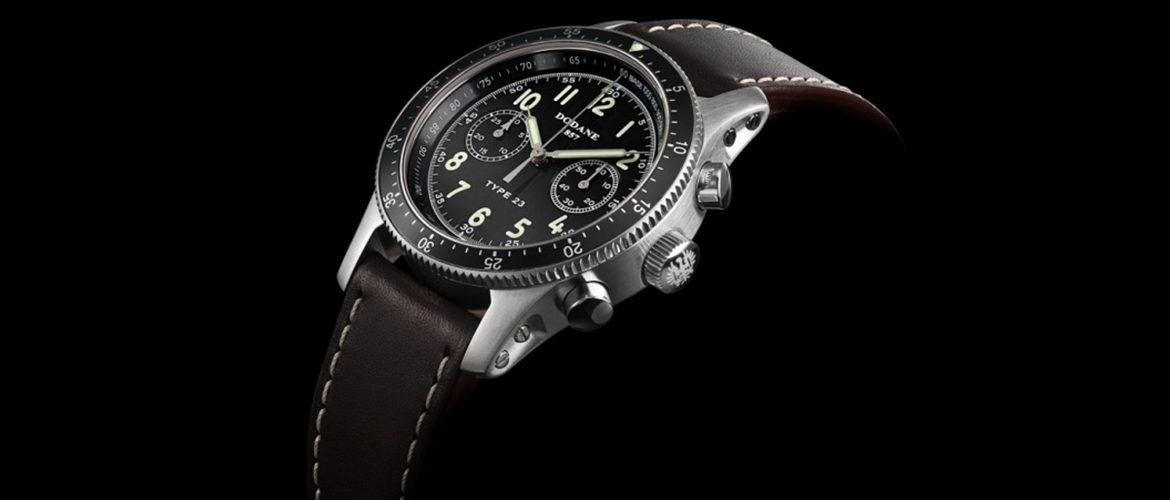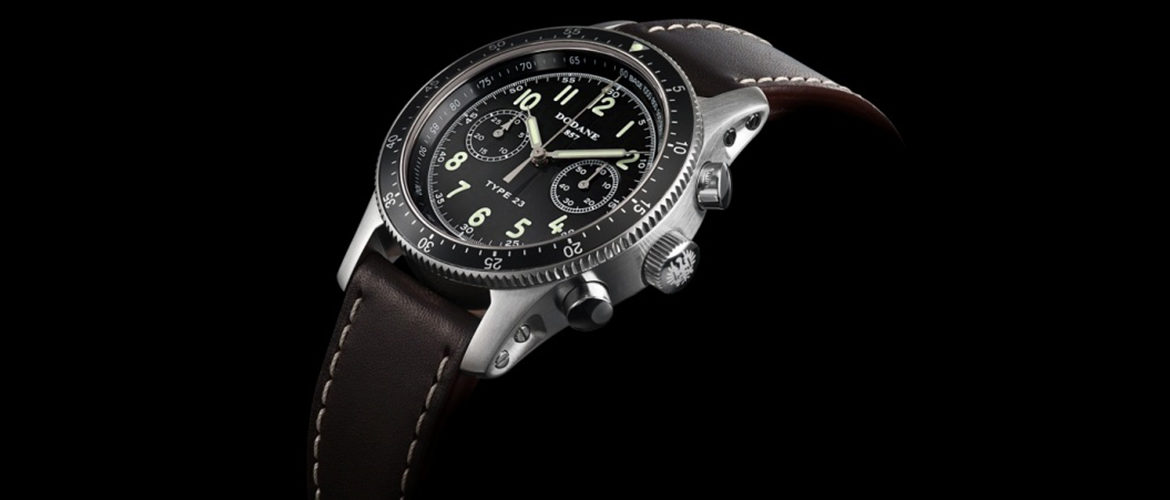 Best known for supplying watches and chronographs for the French Air Force, Dodane produces some of the most precise timepieces out there. Founded by Alphonse Dodane on the banks of a river in Switzerland in 1857, the firm has remained in the hands of the family for years. In 1917, during the war, some of the early missiles and weapons used onboard aircrafts were missing their marks more often than not. Alphonse Gabriel Dodane responded to this problem by producing the most accurate chronograph yet. That was the beginning of the company's long history of building timekeeping equipment accurate enough for aviation. Aside from the French Air Force, Dodane is also a major supplier of timepieces for NATO.
For the last several decades, the firm has been producing the Dodane Type 21 Chronograph, a marvelously precise watch favored by the French Air Force. This durable piece can withstand numerous changes in pressure, temperature, magnetism, gravity, stress, and other problems that come with flying at high speeds and altitudes. The watch has a simple, classic design with large Arabic numerals to make it easy to read in a single glance. The Type 21 has made the name of Dodane synonymous with professional-grade accuracy, and is well-known even outside of the military as it can be worn and used as a regular luxury timepiece, unlike some of the company's military instruments, which are mounted on the dashboards of aircraft. Whether it's military pilots, civilian aviators, or just lovers of machinery, no one debates the precision and craftsmanship of Dodane watches.
Now, Dodane is bringing its professional-grade accuracy and durability to the consumer in the Dodane Type 23 Flyback Chronograph. Though it retains its simple, practical look, it is still a highly reliable watch. The case is 42.5 millimeters in diameter and 13.9 millimeters thick, making it easy to read without it being too large and flashy.
As with the Type 21, the black dial contains fewer frills than many luxury watches. Instead, Dodane seems to have focused on their trademark accuracy and on the legibility of the timepiece rather on creating a dazzling appearance. The watch is far from ugly, however. Its simple look is elegant, with its easy-to-read, large Arabic numerals and its luminescent displays. Being mostly free of for-looks-only extras, the watch has space for three chronographs, located at the three o'clock, six o'clock, and nine o'clock positions, and it still doesn't look at all distracting or crowded. This is good for reading the time at a quick glance, which is less necessary for the average citizen than for a pilot, but still a pleasure. Also featured on the dial is a tachymeter, located around the edge, elegant and useful if you ever need to calculate distance or time.
The bezel can be rotated both ways and is thin with a finish like that of a coin, and has phosphorescent dots around it. If you wanted to, you could use this in conjunction with the features on the dial to calculate things such as speed and distance in relation to time, but most consumers don't need to worry about any of those figures. Still, for many luxury watch collectors, the timepiece is desired for the exquisite craftsmanship of what is inside of it, whether that machinery is needed or not.
So what is inside of the Type 23? Its movement is automatic, with a mechanical fly-back chronograph, favored by the military for its less distracting method of operation. This module is produced by the Dubois Brothers, another family-owned and operated firm that has been providing fine modules and components for the top horology companies for over a hundred years. All of the machinery contained in this watch has been subjected to the most strict and strenuous tests of accuracy in the world. Dodane often comes out of these tests as the number one most accurate, and is never below the top five. The firm is one of only 67 to have the honor of being placed into the "First Category of Chronometry." Other honorifics include the status of "Observatory Chronometer", a title given only to pieces subjected to stringent, unique tests while fully cased.
At less than $5,000, the Type 23 is very well priced. What Dodane lacks in visual appeal, it more than makes up for with mechanical perfection. At this price, the high quality and simple, technical design is a must-have. While the firm is sometimes overlooked in favor of flashier watches, no one can deny that House Dodane has kept its family tradition in watchmaking strong through the years. The knowledge and skill that has been passed through the line really shows in the favored Type 21, and in its consumer counterpart, the Type 23. With their consistent commitment to quality, Dodane watches are likely to remain respected and loved by military and civilians for another hundred years or more.