Fantasy Architecture: First Exhibition Dedicated to Jean-Jacques Lequeu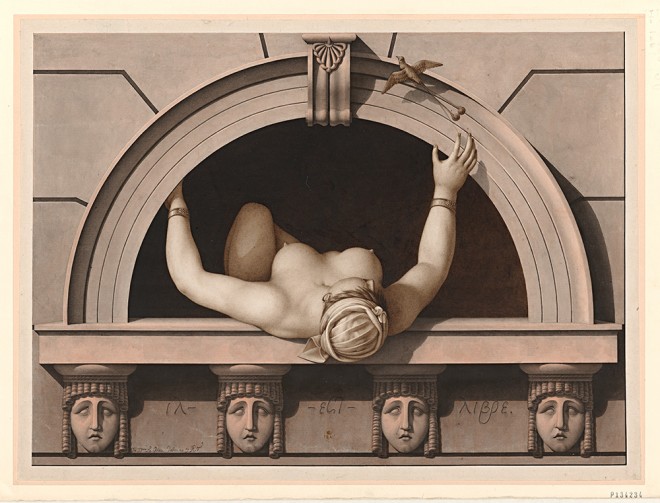 The first exhibition entirely dedicated to Jean-Jacques Lequeu and his fantasy architecture on paper takes place in the Petit Palais, City of Paris Fine Art Museum.
Very little is known about bizarre draughtsman and architect Jean-Jacques Lequeu (1757-1826). He was born in Rouen, in a carpenter's family. He worked with a local architect, studied drawing and was very successful in it. Lequeu visited Rome, and received two awards and then a scholarship from the local Academy of arts. In 1778, the draughtsman went to conquer Paris, where he presented himself as "the architect of the Academy of Sciences, Literature, and Arts of Rouen." However, even in the capital, the ambitious provincial was not realized as a practicing architect. And those small buildings that he managed to construct in the vicinity of his native Rouen have not survived.
Lequeu had to make a living as an employee in the cadastral chamber, the official of the construction, the surveyor and the cartographer. In his free time, the draughtsman worked tirelessly, drawing, creating on paper the artworks of fantasy architecture, which has just entered the fashion at that time. Probably, he delved into it, hoping to succeed after the masters Claude-Nicolas Ledoux and Étienne-Louis Boullée, the leading trendsetters in the French Neoclassical architecture. The fantasy architecture is also called "talking architecture," because the appearance of the project has to fit its purpose.
Unfortunately, this path was also unsuccessful for the architect. Even for connoisseurs of the genre, his architectural fantasies, as a monument to Priapus, resembling a phallus, a farm in the form of a giant cow, a mixture of different styles and non-compliance with proportions seemed extravagant and tasteless.
Lequeu died in poverty and obscurity, bequeathed before his death all his artworks to the National Library of France located in Paris. Only in the first half of the twentieth century, the modernists recalled Lequeu's works. He was especially liked by the surrealists and Marcel Duchamp, who was a big fan of the French architect. The current exhibition is the first show entirely dedicated to the fantasy architecture of Jean-Jacques Lequeu. Having collected several hundred drawings and engravings of the visionary architect, it aims to finally rehabilitate him, even after almost two centuries after his death, putting on a par with such masters of the genre as Ledoux and Boullée.