We Help You Find the Best Price for Your Watch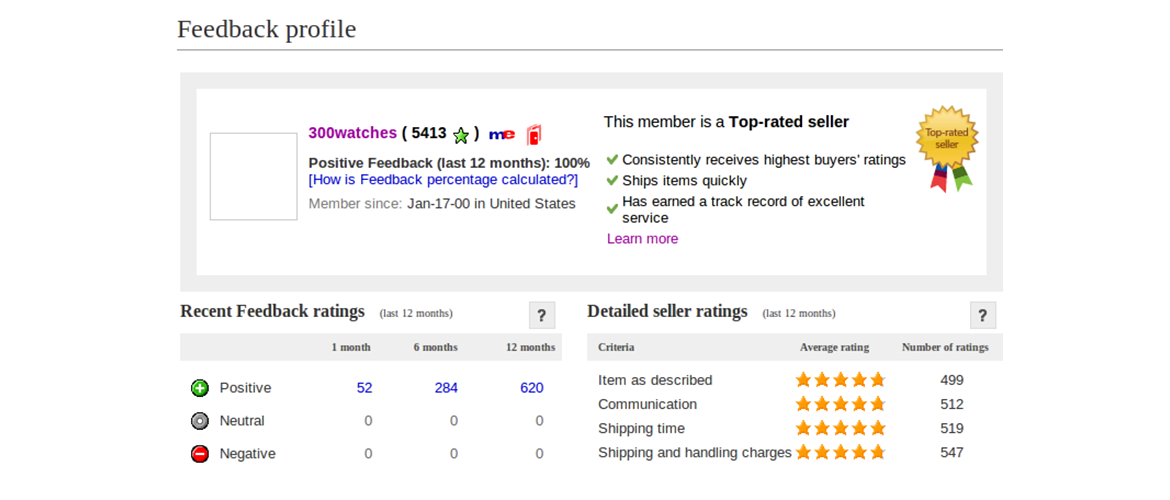 Looking for the best price on the web? Tired of surfing from site to site looking for affordable high quality?  Working hard to compare prices? Relax! We are here to help you find your dream watch and help you get it at the best price.
300watches has been proudly selling watches on eBay since 2002, and has sold over 5000 pre-owned and/or new watches in over ten years, all with at a 100% client approval rate.
Now that you know you can trust us, let's explain the price issue as seen from the customer's point of view.  The normal practice is that the eBay's commission rate is charged to the sellers and, in turn, the seller passes it on to the buyer. The rates usually vary and depend mostly on the product and on the price, but they are usually 10% or more.  If you buy regularly from eBay or Amazon you can do the math, and you'll see that, in order to buy from them, you have to pay a considerable amount!
If you want to lower that commission rate, you can buy your watch directly from the 300watches.com website.  In here you'll find the best prices and, since security is extremely high on our list of priorities, we guarantee full confidentiality.
You'll get the same stock, the same customer service and the same 100% service, everything but the high commission, and that means you'll save a little more. But if you still feel you must buy from eBay, then we can sell you a watch on eBay as well.
We are fully aware that big names such as Amazon or eBay offer a level of trust and confidence that cannot be offered by every small online seller, and that is way we want to make clear that 300watches is able to offer that same level of security and trust, but we also understand that you might find that our prices are too amazingly good and you just want to do a first trial purchase form the best known online dealer, or you just feel more comfortable with them.  It's Ok, we understand, and we'll also be glad to help you there.