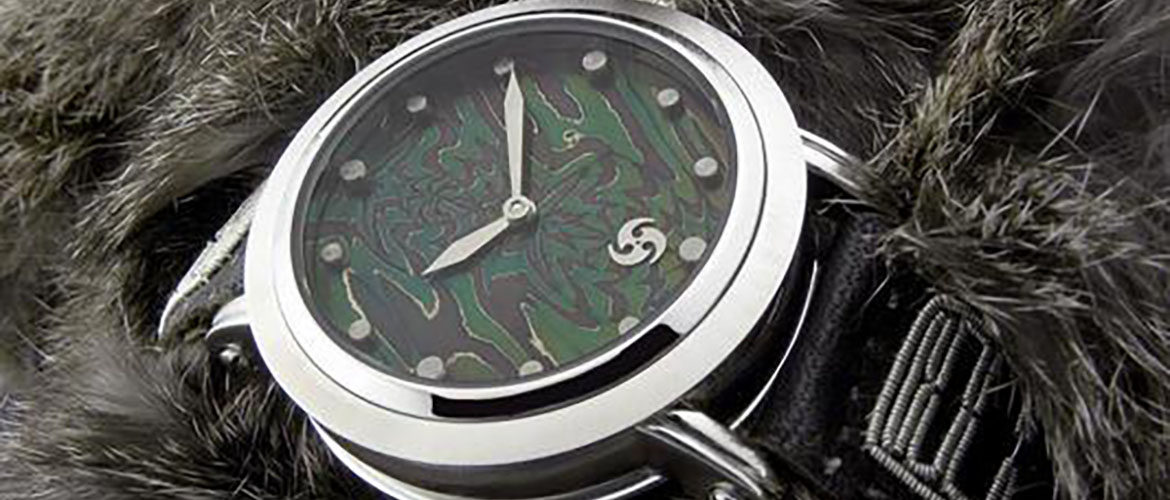 If you haven't noticed, we have reviewed quite a few GoS wristwatches lately. This luxury Scandinavian brand brings a refreshing approach to the art of watchmaking. With hand forged Damascus steel and traditional Scandinavian elements, we can't help but want to share this unique line of wristwatches with our readers.
The Aurora wristwatch incorporates all that is mystical, mysterious, and magical into a refined men's wristwatch. Inspired by the famous Aurora Borealis, this watch boasts a shimmering Damascus steel dial in green and black. The dial incorporates several different finishing techniques giving this watch a luxurious look. Every collector knows that the details make the watch. The Aurora is full of fine details that precision-seekers will enjoy.
The dial uses non-traditional markers to represent the hours. They are steel, circular markers with a 3D appearance. Sapphire crystal protects this masterfully crafted dial and the open case back. If you flip the watch over you'll get a good look at the Unitas/ETA 6498 pocket watch movement with fine detailing that powers this piece. The back is also marked with the name of the piece and other information.
The Aurora is pulled together with a traditional Scandinavian leather of choice-Reindeer. Yes, black, tanned reindeer leather with lightly texturized pattern was used to create the straps. GoS only reveals pricing to interested customers who send them an inquiry email. So, if you find this watch as enticing as we do, check out their official webpage for the contact form. Remember, all of their wristwatches are created in incredibly limited editions, some as low as 5 pieces.