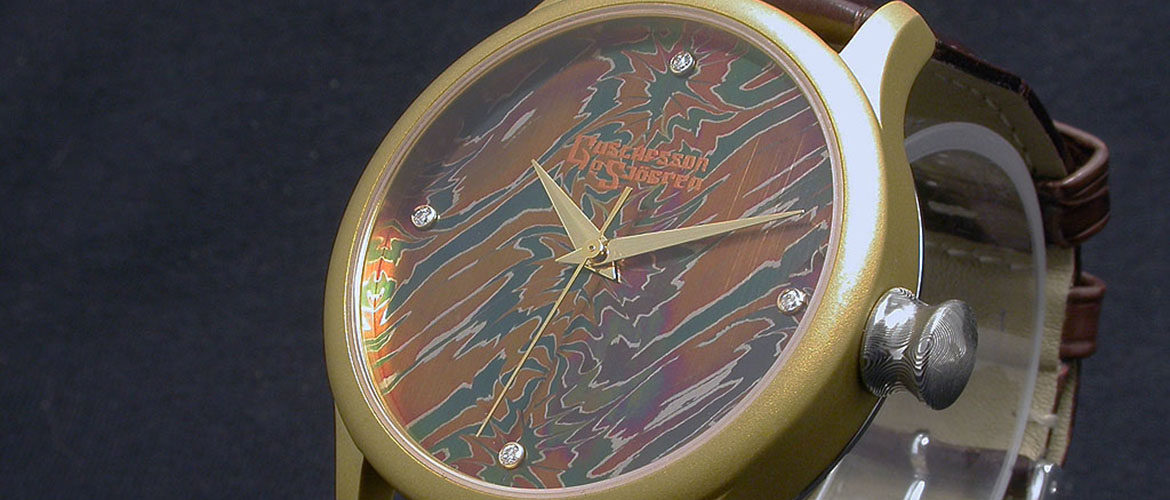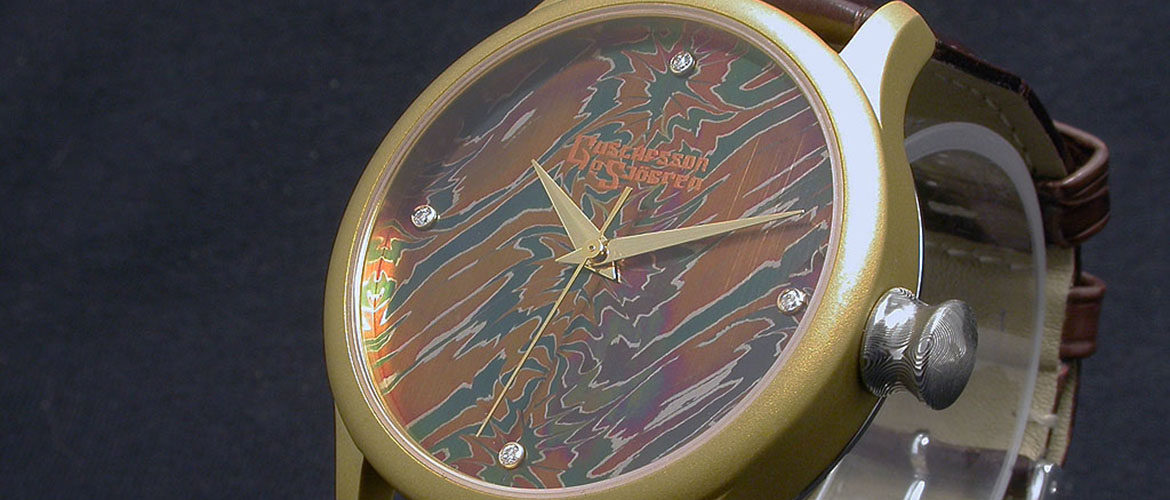 Gustafsson & Sjögren, called GoS for short, is a luxury Scandinavian watch company. Founders Johan Gustafsson, a professional blade smith, and watchmaker Patrik Sjögre created GoS in 2007. Their dedication and passion for their Scandinavian crafts inspired them to create an incredibly unique and delightful line of watches. Of particular interest is the Explosion wristwatch.
The Explosion watch is a men's model that is both abstract and classic. A key component of this piece is that it has a hand forged firestorm pattern on the dial. This pattern is multi-colored giving the watch a very artistic and abstract look. The dial hands are dagger-shaped and gold in color. Four gems represent hour markers for 12, 3, 6, and 9 o'clock. Flat sapphire crystal covers the beautiful dial and provides clear readability under most lighting conditions.
The back of the dial is equally as intriguing as the front. The Damascus steel movement can be seen. It is engraved in a traditional Scandinavian lightning pattern adding to the folk feel of this piece. GoS's trademark crown, as seen on all of their pieces, is made out of Damascus steel and is then twisted. The Explosion watch is powered by the Swiss ETA 2824-2 movement. Some extra perks of this piece is that the watch casing is glass-blasted and covered in industry strength PVD coating.
GoS wristwatches are handmade timepieces that incorporate traditional Scandinavian craft and style. Many of watches produced are reminiscent of folk-lore. The Explosion is more of an artistic and abstract piece that will standout to fans of the arts and those seeking a unique watch to add to their collection.