Herculaneum's Archaeological Museum Is Finally Open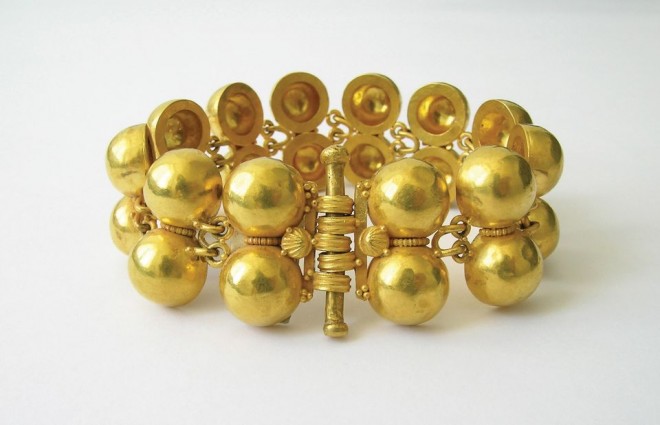 Although Herculaneum is not as popular among tourists as neighboring Pompeii, the archaeological value of the local excavations is equally high.
The building for the Herculaneum's Archaeological Museum was ready more than 40 years ago, but only recently the Antiquarium has opened its doors. Now there is an exhibition of jewelry and other precious relics found during archaeological excavations. Francesco Sirano, appointed as the director of the museum near Naples in April 2017, calls the recent discovery "experimental intervention" and the first significant victory of his new team.
The V-shaped building in modernist style, built with the approval of the Italian government under the project of three Neapolitan architects, was completed in 1974; its cost was about 12 billion lire (approximately €6 million). Later, the Herculaneum's Archaeological Museum was rebuilt several times, but despite this, the Antiquarium never opened. In 2015, Sirano's predecessor and the Italian Minister of culture announced plans to build a new museum building. It was to be designed by the famous architect Renzo Piano and built at the expense of the American linguist and philanthropist, philologist David Woodley Packard. The Packard Humanities Institute continues to support the public-private Herculaneum Conservation Project, founded in 2001, but negotiations with Renzo Piano have stalled so far.
According to Sirano, in preparation for the Herculaneum's Archaeological Museum opening, he adhered to the "strategy of reducing costs… seeking to find application to everything that was created or acquired over the decades." A partial renovation was carried out to make the halls and offices comfortable for visitors and staff. New CCTV cameras and energy-saving systems were installed in the building. The reconstruction cost about €400,000.
At the first exhibition "SplendOri: Luxury in the Ornaments of Herculaneum" (open until September 30) are presented both exhibits found in the early twentieth century at the excavations in Herculaneum, and artifacts discovered later on the beach. They were left there by the inhabitants trying to escape from the eruption of Vesuvius, which destroyed the ancient city in 79 A.D., along with neighboring Pompeii. The exhibition of antiques includes jewelry, coins, candlesticks, bronze, and glassware, which finally got out of storage. At the show, you can also see the items from the National Archaeological Museum of Naples.
A series of exhibitions dedicated to the 280th anniversary of the beginning of archaeological excavations in Herculaneum will continue outside the Herculaneum's Archaeological Museum. The pieces of furniture made of ebony will be shown at the Villa Campolieto in Ercolano this spring, and in a former Royal residence in Portici, the collection of 2000-year-old foodstuff will be on display this fall – preserved in hardened lava after a volcanic eruption.