Hublot King Power Gold Unico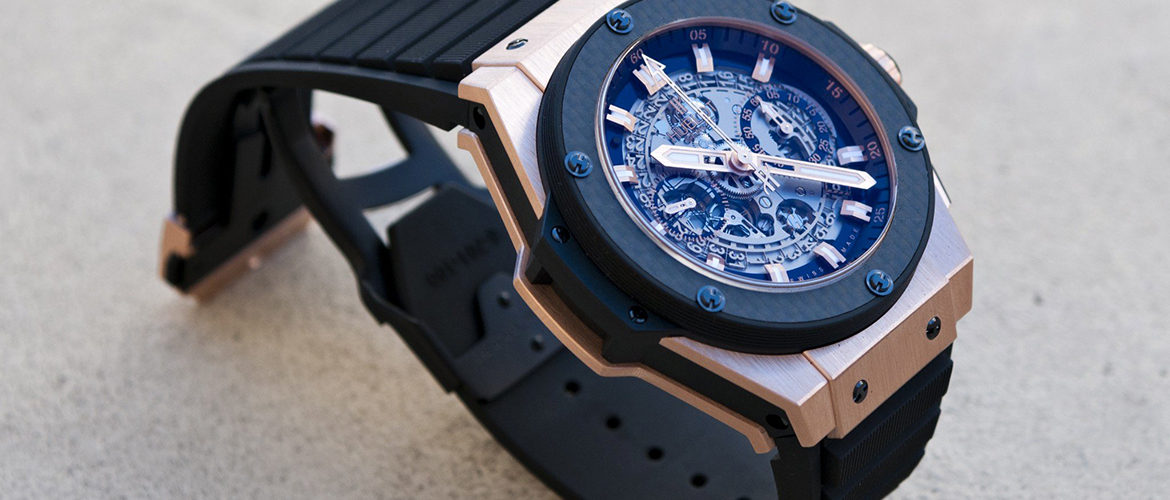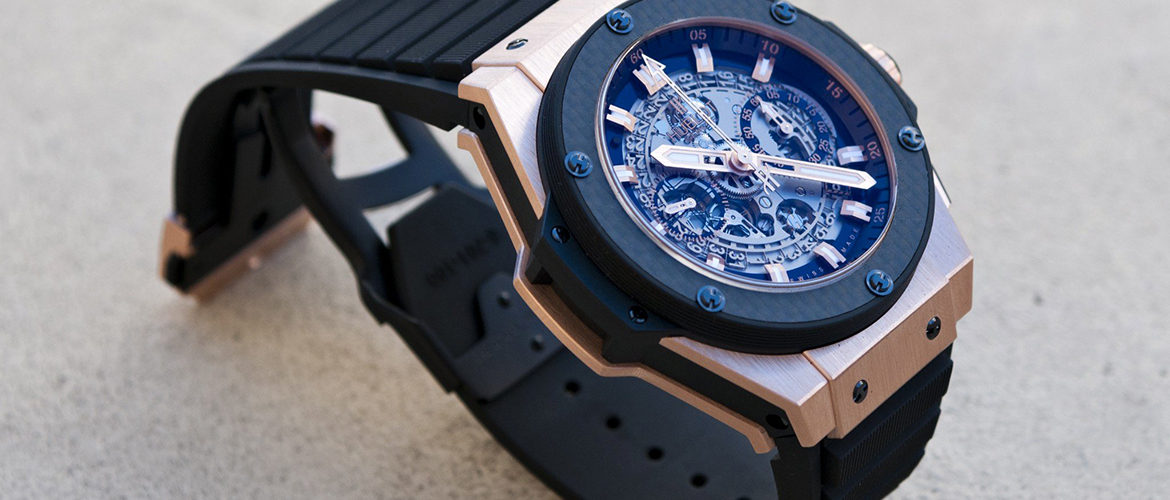 When it comes to watches, some people like them big. Hublot has made quite a few large watches since the 1980's, and delivers once more with the King Power Unico. At 48 millimeters (more if you measure it at the lugs!), it's a behemoth of a timepiece, making it easier to read the time from all of the exciting stuff happening on the grey carbon dial. Whether in black, metallic colors, or the lovely "King Gold," this watch is a delight to the eye, for its aesthetics as well as for the patented movement system inside.
The movement inside is an HUB-4144 Unico automatic (in-house) and features a chronograph. It is housed by a case made of black rubber and "King Gold", a type of rose gold that's mixed with lots of copper and platinum to make it brighter without making it loud. The rubber helps to make the gold case more durable, as the rubber can handle stresses that the gold is not flexible enough to hold up to. The watch glass is sapphire crystal, with a bezel made of black rubber and more king gold. Though one might expect a watch like this to come with a leather strap, the King Power Unico comes with a black rubber strap that is fastened with a deployment clasp.  Hublot has always liked to use gold and rubber together, pushing the limits of luxury. The dial is made of carbon and it has a lattice-like structure that allows you to see the inner workings of the watch.
Like many Hublot timepieces, this watch has a look that's very avant-garde and somewhat resembles a porthole (the French word for porthole is hublot). The rich yet wholesome red of king gold sets off the other features of the watch and lets the world know that it isn't just another timepiece, while the black rubber of the bezel and the various dark-colored parts lend a touch of "sporty" to the appearance. In this piece, Hublot has continued its habit of challenging tradition in beautiful ways, a habit you too can adopt by wearing this watch.