Hublot Watches Comes Up With the Oceanographic 1000m Dive Watch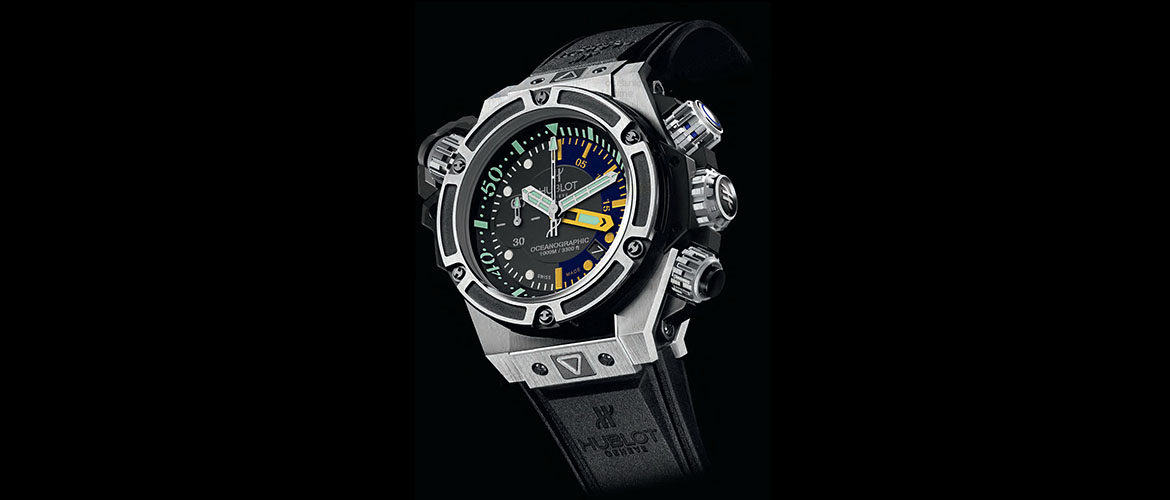 Hublot Watches Are Known For Looks & Technology
Throughout the past many decades, Hublot watches are known for the design aesthetics as well as the technology incorporated in to them. Proud owners of these luxury watches have held on to their creations for a long time now. They came out with the Hublot Oceanographic 4000m Dive Watch in the year 2011 at Basel World, and it was well received among their discerning customer base. This one was definitely an impressive addition to the collection from Hublot watches.
In 2012, Hublot came out with a variant of the Hublot Oceanographic 4000m Dive Watch with the name Hublot Oceanographic 1000m Dive Watch. The watchmaker was attempting to make this model in to a mainstream model than the previous version. Here, the Oceanographic 4000 meter model is not a chronograph watch, but the Oceanographic 1000 meter model is a chronograph model.
Hublot Watches Reached a Proud Accomplishment With This Watch
Hublot watches keep true to the aesthetics followed by the luxury brand and came out with a model with a case size of 48mm. Titanium is the material of choice used for its creation. As the name suggests, it can withstand water pressure up to 1000 meters (which is the equivalent of 3300 feet). Above all these features, the fact that it is a chronograph is the most notable one. You are highly unlikely to find chronograph watches that can work efficiently under water. This is a proud accomplishment of Hublot watches and they are hoping to reap great sales numbers as result for their hard work.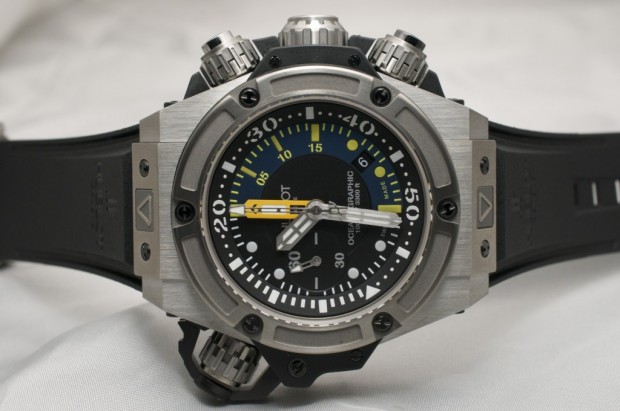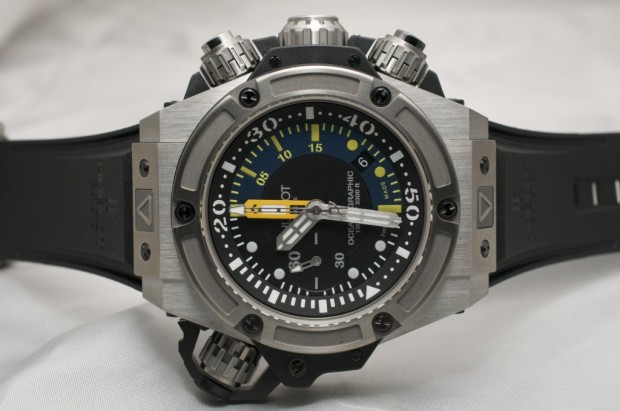 With their Oceanographic line, Hublot watches are coming up with a distinct look and unique features for their creations. The placement of the crown on the left side of the watch, rather than typically seen on the right side is providing it the essential uniqueness of a chronograph model.
Hublot Watches is Always Coming Up With Unique Features for Their Creations
This Oceanographic model from Hublot watches is powered by the HUB4160 movement and is an automatic mechanical one. It can run continuously for 42 hours at one go. Hublot watches have the habit of using watch movements created by other watchmakers, and have continued the practice in this model as well.
Another interesting element of the creation from Hublot watches is the strap mechanism. There is a triangle shaped button to fasten or unfasten the watch on your wrists. You can easily push and secure the watch in position. When you need to remove it, you can just depress the button.