Hublot Red n' Black Skeleton Tourbillon for the Only Watch 2013 Charity Auction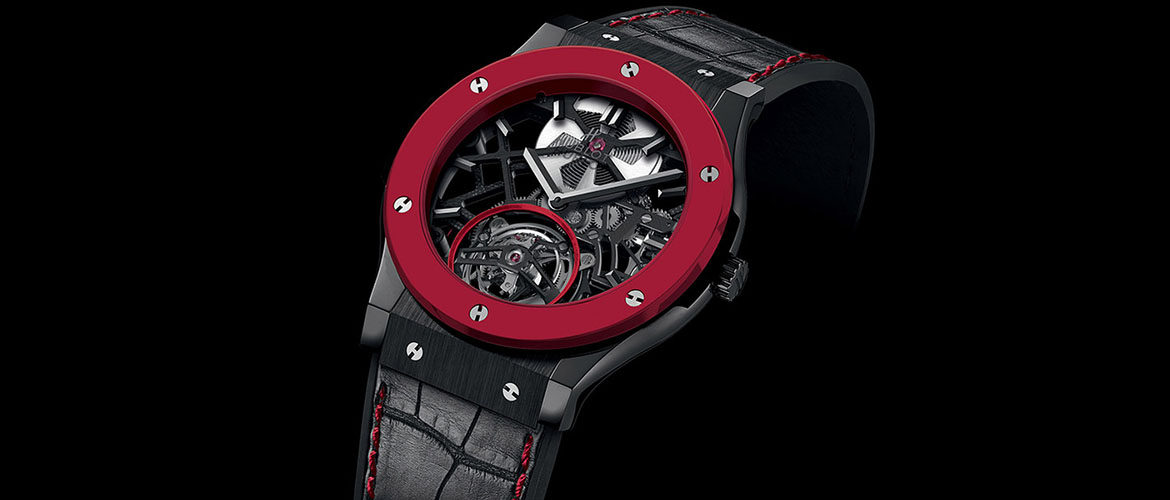 Hublot watches are doing their part at the Only Watch Auction 2013
Luxury watchmakers are known to cater to the whims and fancies of the extremely rich people on the planet. Do they care about the less privileged people of the planet? Yes, they do. Hublot Watches is joining hands with the Only Watch 2013 charity auction to reduce the suffering of the people facing muscular dystrophy. Along with Hublot Watches, there are many other luxury watchmakers who offer one of their unique creations to the auction.
Of late, Hublot Watches has been contributing significantly to the watch industry. Last year, they created a scratchproof gold alloy and named it Magic Gold. This year, Mattias Buttet Senad Hasanovic and his team (the same team who created Magic Gold) again succeeded in making the very first red ceramic material. Ceramic has been in use in watches for some time now. But, the available colors were either white or black. Red is a color that was pretty hard for other watchmakers to be added to ceramic. Now, Hublot Watches successfully accomplished this task.
Maybe Hublot watches and Ferrari will join forces in the future to create a spectacular red ceramic timekeeper
How good is the red ceramic created by Hublot Watches? The watchmaker has done an extremely good job in coming up with a bright red colored ceramic material which is on par with the color seen on the pantone of Ferrari Red. Hublot Watches can be really proud of this accomplishment. The only other brightly colored ceramic was created by Rolex, which was a blue used in the GMT Master II.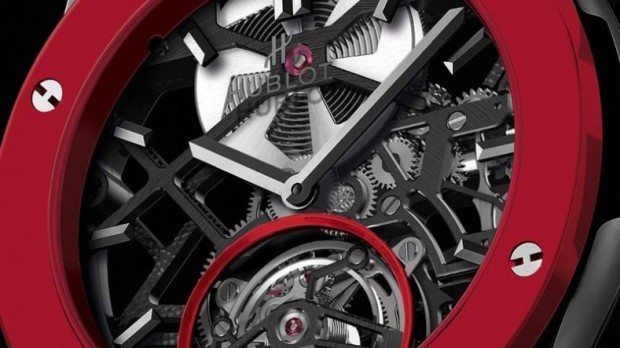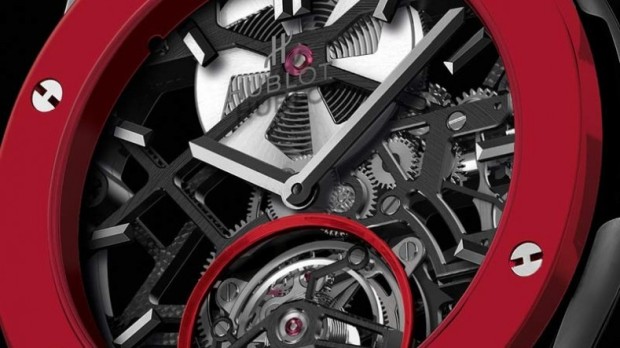 The very first watch that is incorporating the red ceramic in it is the Hublot "Red n' Black" Classic Fusion Skeleton Tourbillon. Hublot Watches is creating it for the Only Watch 2013 charity auction.
Red Ceramic is highly likely to be a hot item and Hublot Watches are definitely going to use the material in many of their future models. You will start hearing about and occasionally seeing them in the next few months itself.
Hublot watches are surely going to release more red ceramic timepieces in the near future
Hublot Watches is creating the watch case in black ceramic. Its bezel is made of red ceramic which is kept in its position with 6 titanium screws. The watch with reference number 505.CI.0140.LR.OWM13 is 45 mm in diameter. The sapphire crystal of the watch is applied with antireflective material on both sides. The crown is made of polished black ceramic and has a Hublot logo on it. The sapphire crystal used for the case back is applied with antireflective coating as well. Hublot "Red n' Black" Classic Fusion Skeleton Tourbillon has a water resistance of up to 30 meters.