Hublot Watches Skeletonized Tourbillon 45mm Watch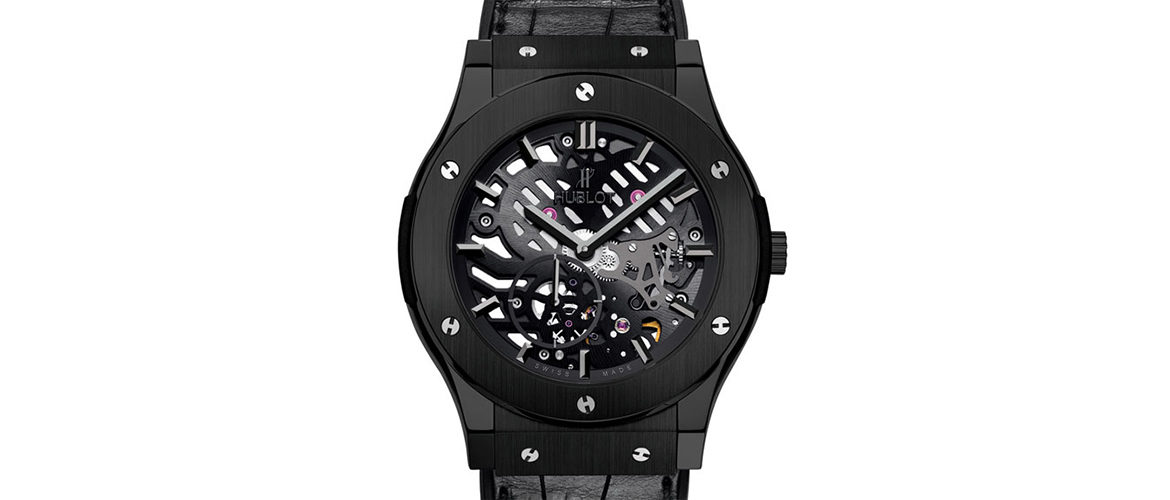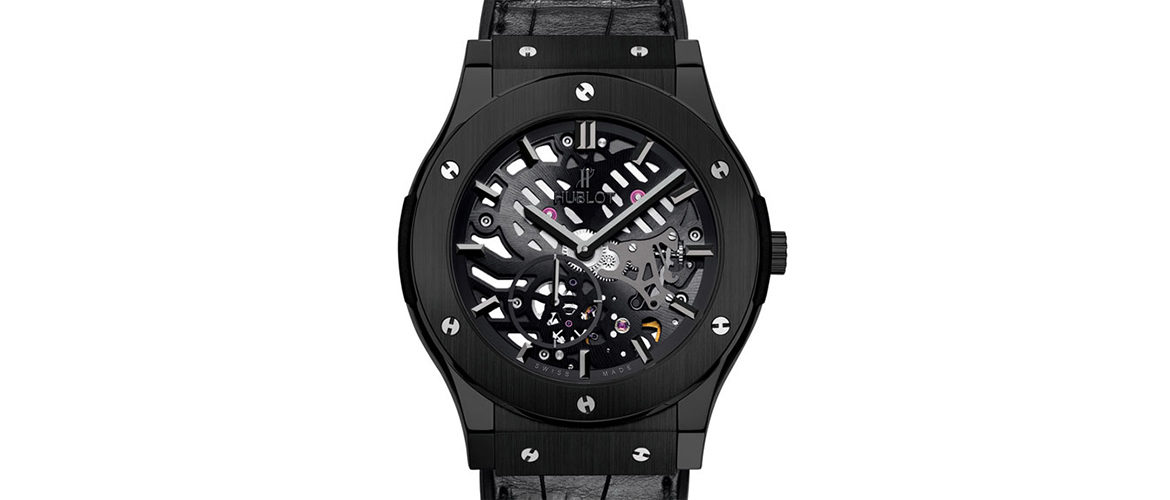 Hublot Watches Love Skeletons
Hublot is best known for their unique take on time and haute horology approach. Hublot watches continue to astound even the most particular horology collectors. Their Skeletonized dials have been Hublot watches main attraction lately. The new Classic Fusion Skeleton Tourbillion wristwatch is a fine men's timepiece that has a refreshing style.
Upon first glance at the Classic Fusion Skeleton Tourbillion, you'll most likely notice the skeletonized tourbillion. What's so unique about this piece is the spider-web like placement of metal pieces incorporated in the dial. The movement is skeletonized and complex, but not as overly complex as other Hublot watches. The Classic Fusion Skeleton Tourbillion features a more refined and modern style. Polished and brushed surfaces add to the futuristic look of this piece. Hublot opted for utilizing 6 screws on the front of the dial that hold the casing in place. The screws enhance the masculinity of this timepiece.
Available in black ceramic or titanium, the Classic Fusion Skeleton Tourbillion is a stunning wristwatch. The titanium model features the Hublot HUB6010, while the ceramic model features the HUB1300. The movements have more similarities than differences. Both feature tourbillions and are manually wound. They also display the time; an often overlooked aspect of high-end skeleton movement watches. The main difference is found in the size of these movements. The ceramic model features a movement that is just about half the size of the titanium model.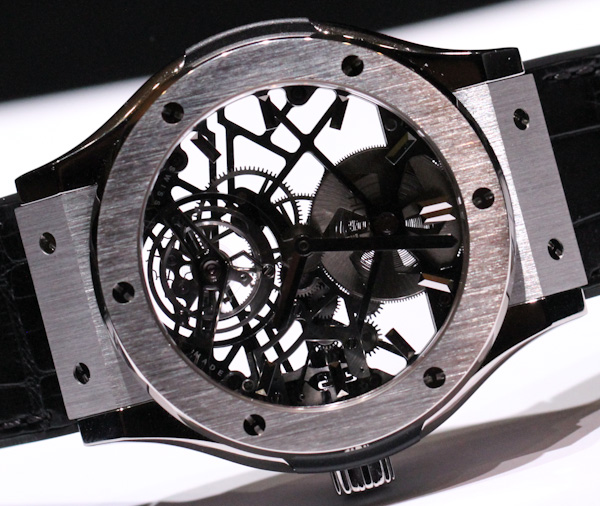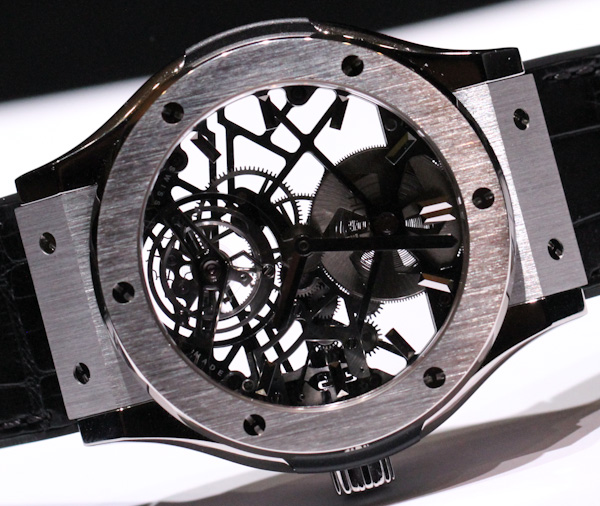 An hour and minute hand are present on this piece. Both are crafted in titanium and have a minimalistic style. There are no hour or minute markers however, making this timepiece difficult to read for some. The dial measures in at 45 mm, making the Skeleton Tourbillion the largest watch in the Hublot Classic series. The mixed material strap is made of leather and rubber with a light alligator texture. Hublot watches have gained global attention for the Hublot Classic line. This new addition is no exception to the recent rise in Hublot watches popularity. The Skeleton Tourbillion 45mm wristwatch is in no way flashy. It is masculine, futuristic, and the dial is in no way cluttered or forced. The transparent casing adds to the high-tech look of this piece. The titanium Classic Fusion Skeleton Tourbillion wristwatch is limited to just 50 pieces at $92,000. The black ceramic model is limited to 99 pieces at $97,700. It is an exclusive watch worthy of its place in any serious horology collection.