Similarities Between an iPhone 5 and a Luxury Watch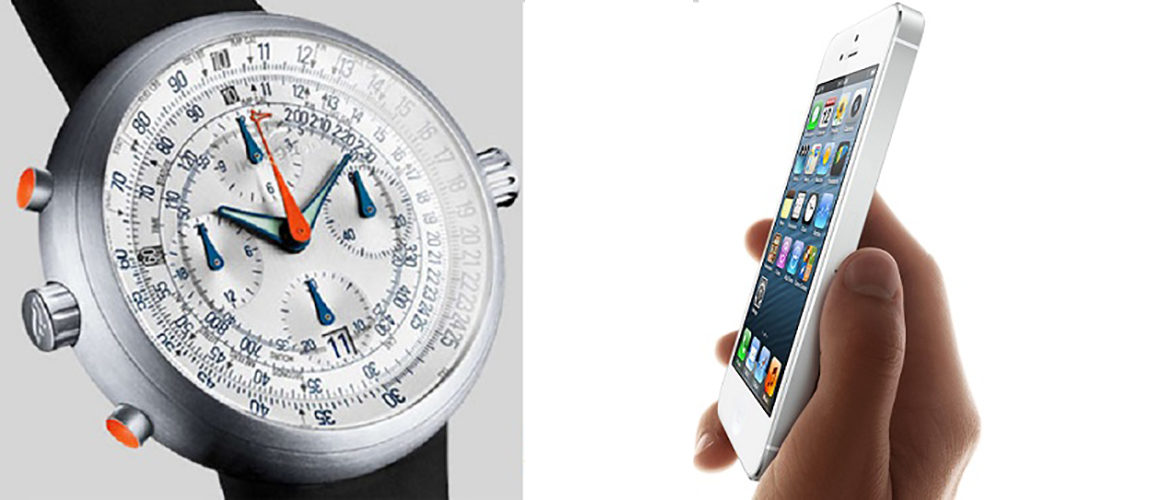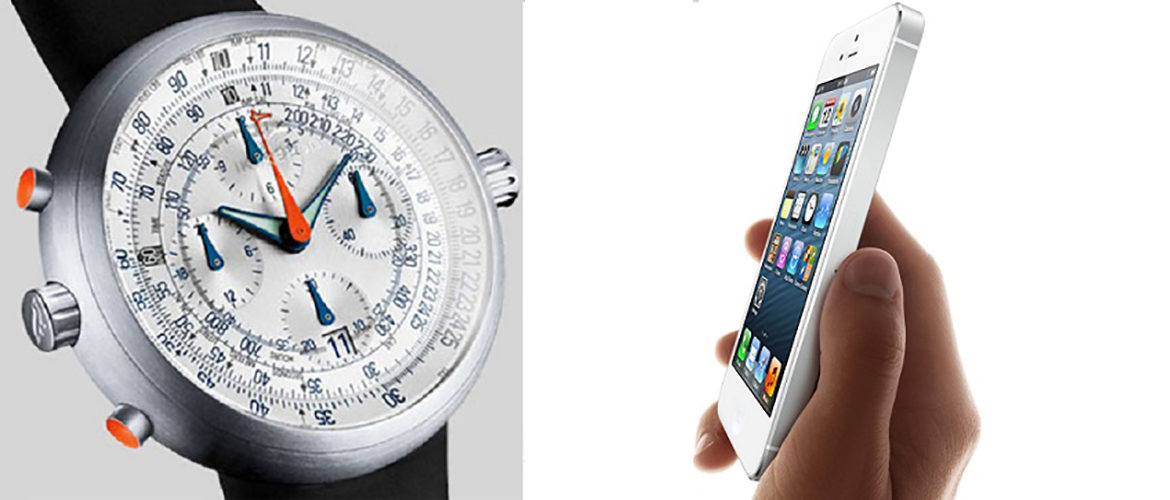 Are there any serious similarities between an iPhone 5 and a luxury watch model? Before coming to that, is there any point in comparing a phone and a watch? iPhone is not like just any other generic phone available out there in the market. For the well to do and the elite of the society, an iPhone is 'the only phone' they want to use for their regular needs. Some of them may have their second or third phones too. But, each one of these people consider their iPhone as the primary phone they want to have in their possession. Steve Jobs and team at Apple created this brand with a lot of thought going into each aspect of its design, user interface and functionality. Apple's predecessors faltered in their attempts to create something eye catchy and worth spending the big bucks on them. The iPhone has turned out to be a game changer and has became an accessory that enhances the status of its owner in the society, and also the ease of his life. Thus, the iPhone has turned out to be a sexy accessory in the arms of its owner exactly like the playmates who adorn the evenings of Hugh Hefner and his mansion. Luxury watches were ahead of Apple in being the most sought after accessory on the rich and powerful of the world. Here, we will look at the similarities of the approach taken by the luxury watch industry and iPhone in reaching their customer.
Among the versions of iPhones that hit the market, iPhone 5 is the numero uno among them all. The finesse and user friendliness created at the Apple design lab is a prime reason for accomplishing this. Did Apple copy the route followed by luxury watch makers to each its present position?
Organic Curves
One of the salient features of a human body is the organic curves that are seen at each body part. As such, it is quite natural for human beings to have an affinity for products that gel perfectly with their body. Apple understood this aspect well and incorporated graceful curves and perfectly rounded edges in their flagship product. Thus, they are able to avoid any conflict with the design of the iPhone 5 and its user's body. Any person who holds the iPhone in their hand will feel the comfort of holding the curvy figure. Now, this is not a very new concept. Prominent designers of consumer goods have been using this technique to improve the market potential of their products for many years now. High end watchmakers have always made good use of this concept to make their brands popular among their clientele.
Beveled Edges
Prominent watchmakers of Swiss origin were known to bevel the edges of watch parts that were engaged in mechanical movements. In those times, this may have been a practical necessity for achieving the right results. Right now, with all the advancements in science and technology in the current times, it may not be anymore a compulsion among watchmakers. Still, beveling is known to add aesthetic value to gadgets made with metal. Edges of product parts that are bevelled are going to be more pleasing on the eyes and it will create a nice visual flow in the final product. The outward perfection and finesse of any product can be increased a lot by beveling the edges. The resultant glow and finish is never seen in non-polished surfaces. This is the sole purpose of the beveling done on iPhone 5 as well as most high end watches available in the market. The clever use of beveling by Apple in their latest iPhone version helped it to improve its luxuriousness by a few notches up.
High-Quality Touch & Feel
The materials that are used in a watch can make it into a luxurious watch or not. You are unlikely to look at a plastic watch as a luxury item. Luxury watchmakers use precious stones, exquisite metals etc. to create their designs and are never searching for plastic materials or parts. Again, these parts need to be perfectly finished to give the best experience for the consumer. Apple has taken its already solid iPhone creation process a step further ahead by using only high quality glass and aluminium. Here, they are in the same league with luxury watchmakers, who also rely on hard crystals and metals to craft their masterpieces. These watches and iPhone 5 ensure the finish of their parts and the perfect gelling of the individual parts to create the final product. The lack of any uncomfortable parts, rough edges, funny feeling surface etc. are some of the similarities among iPhone 5 and high end luxury watches.
Hard Crystal
Synthetic sapphire crystals are an essential aspect of most luxury watches created in these times. With the use of this material, the scratch resistance and shatter proofness of these watches have increased significantly. With the advent of the Gorilla Glass 2 that is used in iPhone 5, they have improved its durability further ahead by a few notches. This glass is lighter and stronger than the glass used in prior models of iPhone. Gorilla 2 glass is commonly seen in certain types of TV screens and cell phones. This glass is as strong as the glass used in previous iPhone models and is 20% lighter. It has a very reasonable hardness of 700 Vickers, while sapphire crystals have a hardness of around 2000 Vickers. iPhone 5 incorporates both these types of glasses in its construction, Gorilla Glass 2 over most of its surface and sapphire crystal over camera lens for extra protection.
Wide Viewing Area with a Slimmer Size
The all new iPhone 5 is thinner than its immediate predecessor, the iPhone 4S. Providing thinner products for its customers has been a habit of Apple Inc all throughout its life. At the same time they constantly try to provide additional viewing area for their consumers. They have accomplished this by increasing the surface length of iPhone 5. The story has been the same in the case of the mechanical watches of yesteryears as well. They used to compete to come out with the thinnest watches available in the global market. Right now, the high end mechanical watches are engaged in such a competition and Piaget can be considered as the winner for the time being. The stress is in reducing the bulk/thickness of the gadget while increasing the viewing area.
The visual pleasure derived by its user by the mere sight of an iPhone 5 is Apple's biggest achievement. Such a stylish gadget deserves the company of a high end watch to add to its owner's pride.