Meet the Virtual Version of The Atlantic Code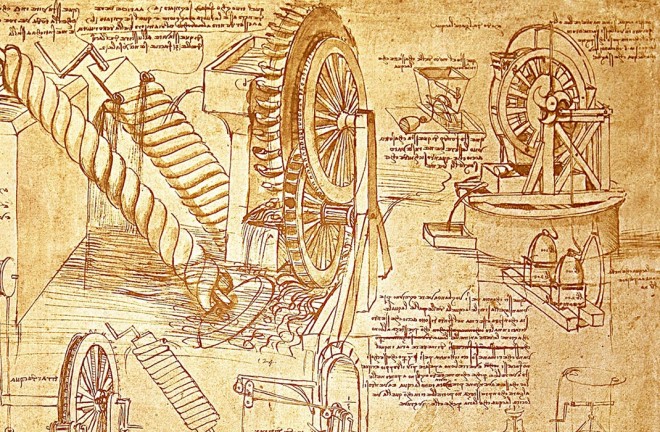 An information design agency from Milan called "The Visual Agency," which specializes in data visualization and infographics, has presented an interesting project to honor the 500th anniversary of the death of Leonardo da Vinci. The agency's designers developed a concept and innovative tools that allow users to independently study one of the famous Renaissance manuscripts of the Italian artist – the Atlantic Code.
A bilingual website created by the agency is already available online. It offers a virtual version of the Atlantic Code and is equipped with detail and analysis functions for a more detailed study of this grandiose manuscript. The ability to move and filter the pages of this outstanding example of antique works will help to understand the evolution of thinking and professional interests of Leonardo da Vinci.
The virtual version of the Atlantic Code will also be available on the touch screen in the Biblioteca Ambrosiana in Milan, where the only permanent exhibition of selected pages of the manuscript is located. Thus, visitors to the museum will be able to use the interactive application and study the document on the website as well.
Visitors to the website can view the virtual version of the Atlantic Code, starting with an indication of the topics and the years the pages were created. By selecting one specific subject or topic, one can filter and highlight pages of particular interest. The possibility to reorganize the pages of the Renaissance manuscript in accordance with the chronology of their creation is especially appealing. By choosing a particular page, one may view its front and back sides, study additional information, and then go to pages with similar content.
An electronic database, which "The Visual Agency" specialists created with the help of Augusto Marinoni's work "The Atlantic Code" by Leonardo da Vinci: Alphabetical index of objects," served as the basis of the virtual version of the Atlantic Code. In this work, the historian cataloged the content of each page according to its theme and time of creation. He has formed an extensive information base that allowed designers to use their interactive application to detail the fragments of each page, the creation time, topics and sub-topics.
Responsive website design allows users to visit it via mobile devices and tablets. The resource has free access and does not require registration.
The Atlantic Code consists of 1,119 pages dating from 1478 to 1519. They contain Leonardo da Vinci's drawings and notes on various topics – aerodynamics, combat vehicles, musical instruments, geometry, botany and so on. The sculptor Pompeo Leoni compiled the Renaissance manuscript from the scattered sheets, which were at his disposal.
Ten years ago, the Atlantic Code was first introduced to the public. It was exhibited in small parts of 50 pages. Each exposition lasted for three months. The first opened in Milan in September 2009, and the last – the twenty-fourth exhibition – was held in 2015.