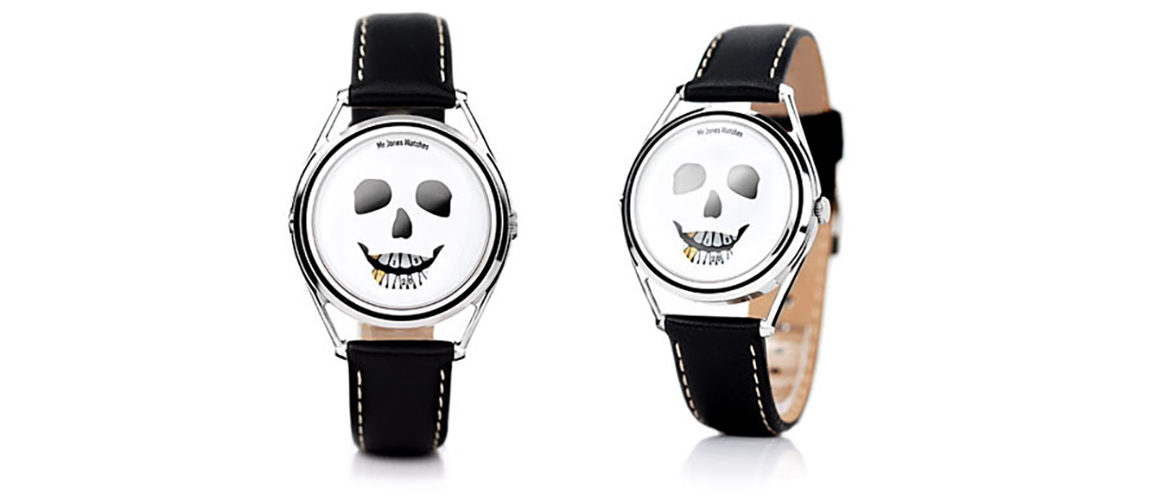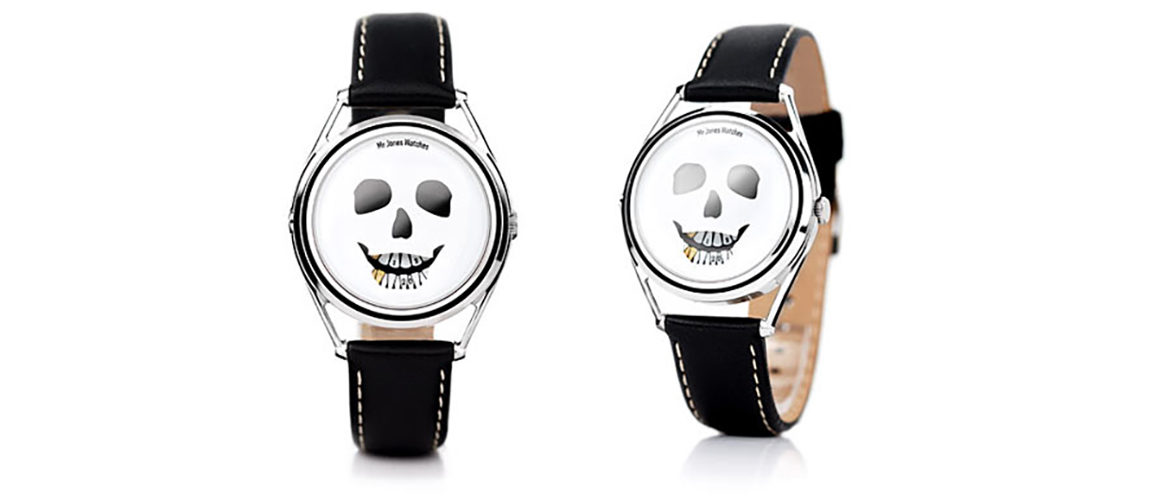 Mr. Jones has been truly been working hard to innovate their own watches. These new watches that we are featuring are the Last Laugh Skull and the Last Laugh Tattoo Edition. Both of these timepieces are jumping hour mechanical watches.
These watches have a very fun and particular way to display time.
Let's start off first with the Last Laugh Skull. Time is displayed on the front side of its teeth. The two front teeth of the upper jaw display the hours while the minutes are on the front teeth of the lower jaw. This watch is a direct link to the Latin tradition and phrase memento mori that means: remember you are going to die (direct translation) or a reminder that we are all going to die someday and how brief is a person's life.
The beautiful artwork was done by Adrian Willard. Adrian Willard is a British artist that specializes himself in designing and printing tattoos. He says that this design was inspired by the death's festival that is celebrated each year in Mexico.
This festival is to commemorate those family members or friends that have died.
This watch is powered by an automatic movement, along with 20 jewels. This mechanical movement is self-winding and also is privileged with a jump hour feature.
The jump hour feature means when time is at 59 minutes, it will jump to 00 minutes as a transition.
Another nice plus is that Mr. Jones has a 12 month guarantee, which is amazing.
The Last Laugh model is practically the same, just without the tattoo. It has a plain white and black skull.
The case has 37mm of width and 46mm of height.
The cases of these two watches are privileged with a PVD coating and are made of stainless steel. Both of them have elegant black leather straps, along with a beautiful stitching. They are both 5ATM waterproof