Richard Mille RM 59-01 Tourbillon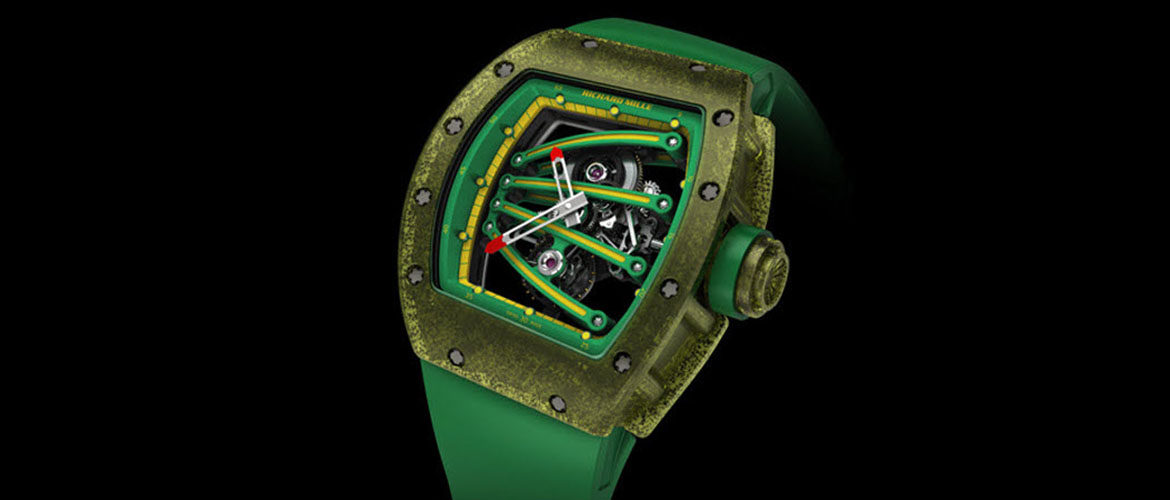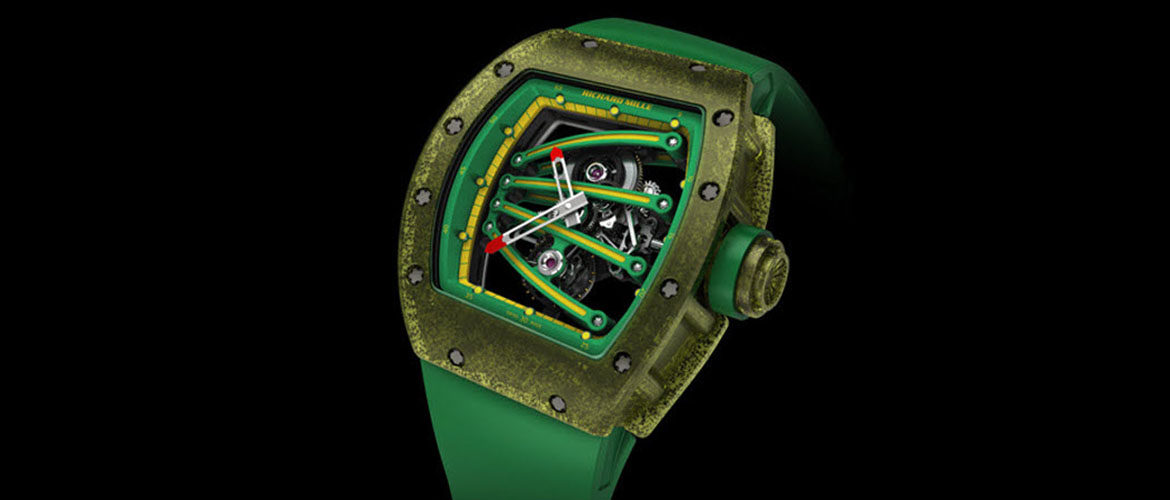 This watch is created exclusively for world class athlete Yohan Blake, who participated in the sprint events in the last London Olympic Games. Richard Mille incorporated a few specific elements in to the watch to suit the needs of this sprinter. Those of you follow his accomplishments on the track would know that he likes to wear the watch on his right hand. So his watch is thinner on the left side to improve its aerodynamics. Is that a legitimate concern that the wind blowing against your watch can affect your chances of winning a sprint event? At first, you can be skeptical or scornful of the prospect. But, you must remember that Yohan Blake participates in 200 meter race where the victory margin can be as small as 0.1 second or less. In fact, the last Olympic 200 meter final was decided around this margin.
The sprinter got his nick name, 'the beast' due to his habit of running with wide open hands. The watchmaker has added this look in to the bridges of the watch. You may or may not be impressed by this. But, only a Richard Mille would ever dare to come up with something like this and succeed in accomplishing this.
At the extreme speeds and force accomplished by Yohan Blake, the watch is definitely going to experience intense turbulence. The watch is crafted with tourbillons to withstand this pressure, and they are visible through the two bridges on the bottom.
The watch case made with carbon nano tube composite is going to provide it with a toy like feel. Some people are going to hate the design. But, there would be many more who would love to get hold of such a design. Even with the toy like elements, this watch is not a toy affordable for any children. Only millionaires and billionaires would be able to afford this rich man's toy.
Is this the best watch creation from the watchmaker's stable? Not really, Richard Mille certainly has some other better looking watches in his stable. But, the Richard Mille RM59-01 Tourbillon is definitely going to turn heads in its direction. The great thing about the watchmaker is his ability to come up with such a unique concept of watchmaking and successfully implement it in to a reality. Throughout the history of the watchmaker, he has been personalizing watches for specific individuals that we are familiar with. This particular model has the name and persona of Yohan Blake written all over it. Thus, this would be the most personalized watch from the house.
If you have the opportunity to see and feel this watch, you must make use of that opportunity. There is a good chance that you will change your initial opinion of the watch. If the watch is within your budgetary constraints, you are highly likely to end up buying it as well.
Only 50 pieces of the RM59-01 will be made at a price of $ 620,000 each.