The Romain Jerome Space Invaders Yellow – A Nostalgic Walk Back to Childhood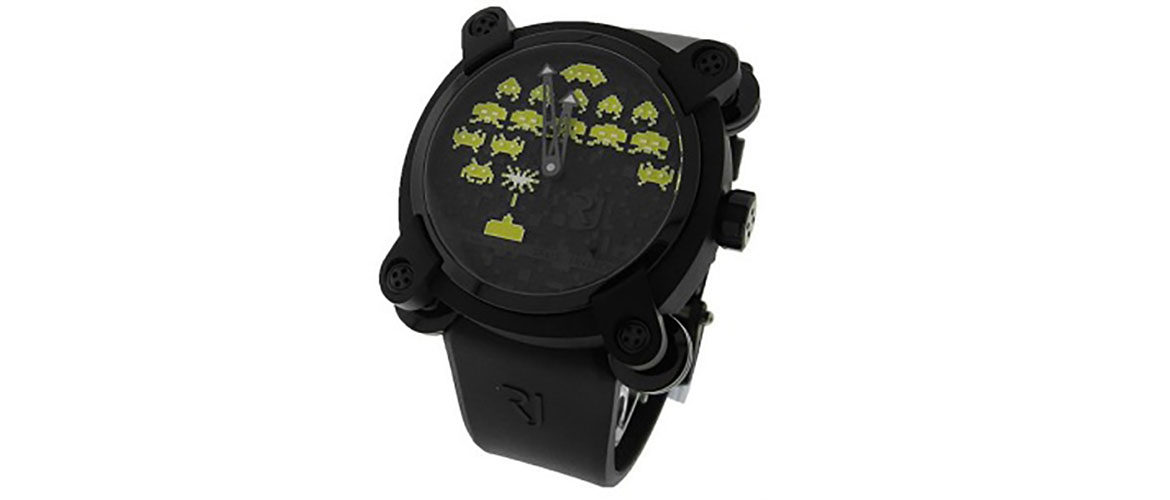 One of the great things about the Romain Jerome luxury  brand is that it's not as serious as other watch brands, and it caters to other people who are looking for a more fun, hip kind of watch. Sure, you can have the classic look that you can wear to a formal dinner, but if you're going to buy a watch online for something that you can wear on a daily basis, show off to all your friends, and maybe get a little bit nostalgic over, then the Romain Jerome Space Invaders Yellow watch is the perfect watch for you.
                Have you ever played Space Invaders as a child? Did you spend countless hours trying to destroy those never-ending waves of space invaders with your space ship? If you loved those memories and want to bring back a little piece of your childhood to have every day, the design on this Romain Jerome watch is exactly what you are looking for when you buy a watch online. You will find each and every one of those space invaders that you once tried to vanquish on this watch face, as well as the mother ship that you once fought valiantly to destroy. The gorgeous yellow shade stands out perfectly against the black watch face, so you can see every detail of the 8-bit glorious game. Plus, there is a bezel that surrounds the dial, which is also an allusion to the design of the original game.
However, it's not just the design of the watch that ties into the space theme; the inner gears of the watch are made from parts of one of the most famous space crafts: the Apollo XI. The Apolo XI is part of one of the most significant events in human history: the Apollo moon landing. This makes this watch a double whammy for both nostalgic video game lovers, as well as space history lovers.
                Like the Apollo XI, the Romain Jerome Space Invaders Yellow watch is strong and durable, because it is made of PVD steel. It has a black rubber wrist strap, so it can be worn even if the wearer's wrist gets sweaty or wet. It can also be easily cleaned by simply wiping it with warm, soapy water, then wiping it dry. The watch boasts an automatic movement, as well as luminous hands, so you can see the time even during the night.
When you're buying a watch online, you want to make sure that the watch also stands up to everyday wear and tear, and the Romain Jerome Space Invaders Yellow watch is water proof for up to 30 meters, so you won't have to worry about it when you're cooking, or washing your hands. This is a great everyday watch that you can be proud to wear, anytime, anywhere.