Scintillating 4C Leads Alfa Romeo's US Return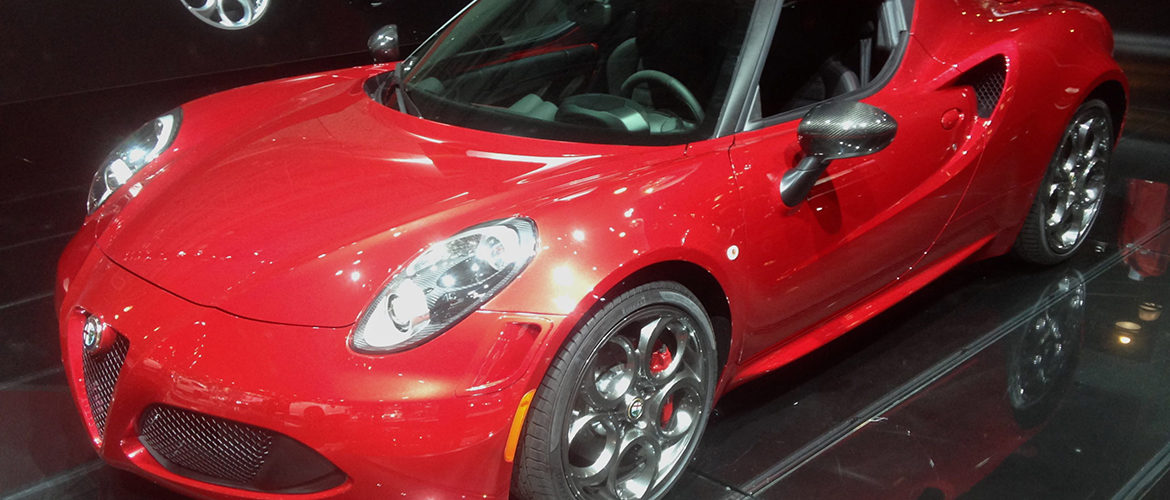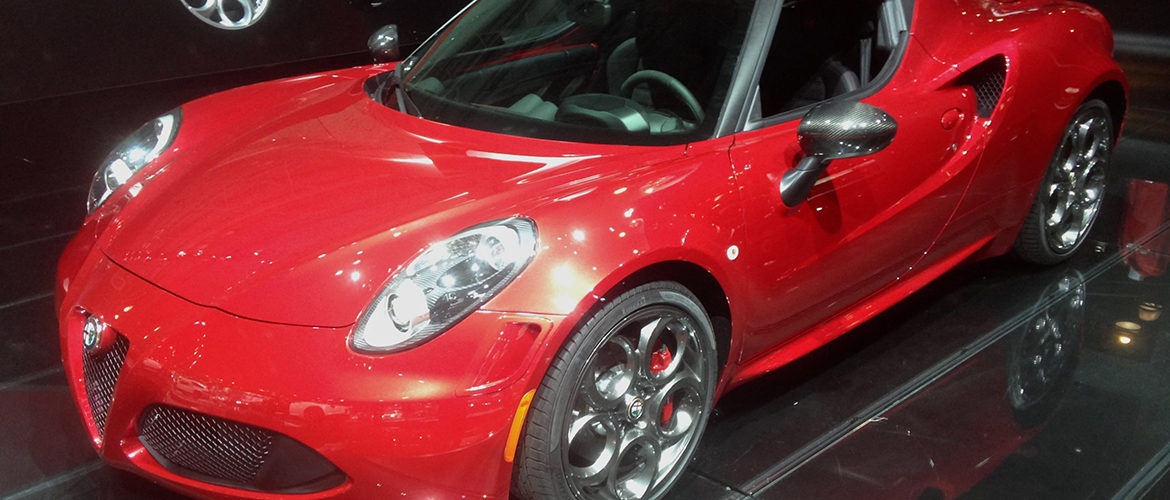 Legendary Italian automaker Alfa Romeo returned to the United States market Wednesday, April 16 with its debut of the stunning 4C Coupe at the 114th New York International Auto Show in New York City. The new coupe will be the first series-produced Alfa Romeo automobile to be imported to the United States market since the Italian marque departed the USA in 1995.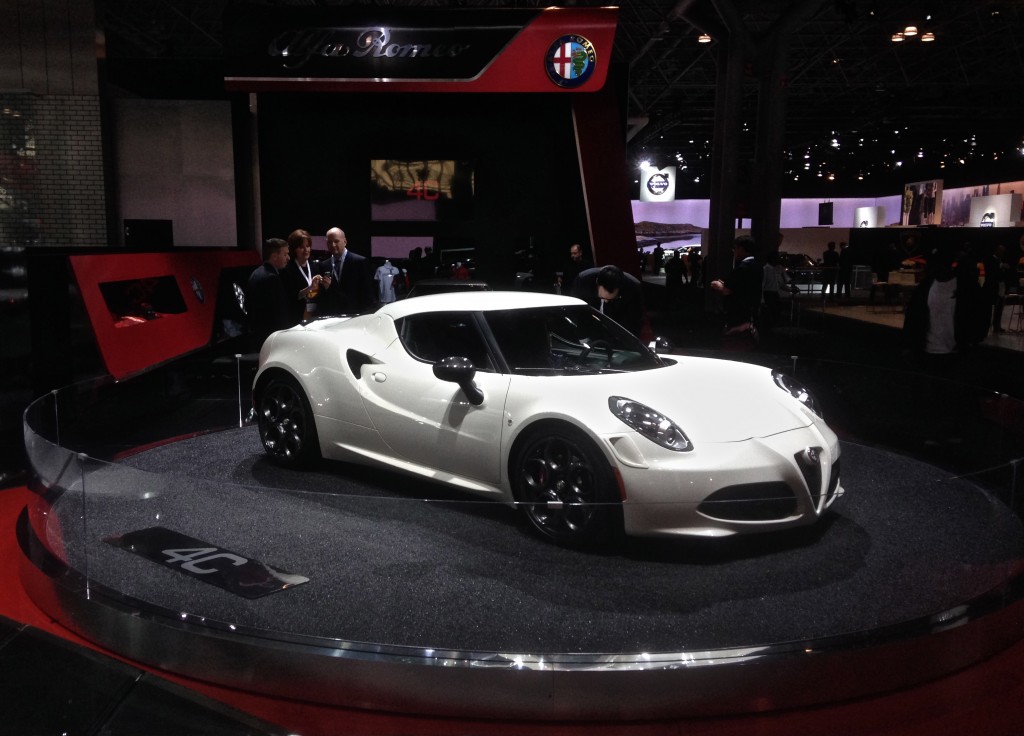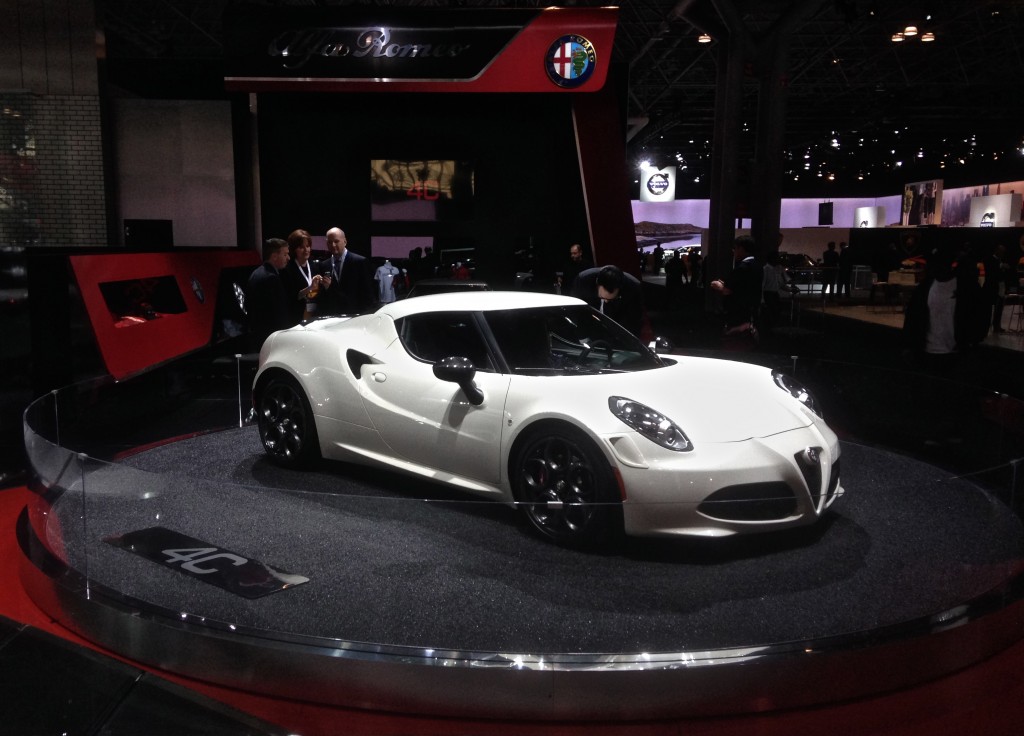 Alfa Romeo executives presented two versions of the car to the press: the 4C Launch Edition and the 4C. Due to the long-standing special relationship between U.S.-based "Alfisti" enthusiasts and the Italian firm, Alfa has designated the first 500 U.S.-bound cars as "Launch Edition" models, and the Alfisti were engaged in the planning of the car's special equipment.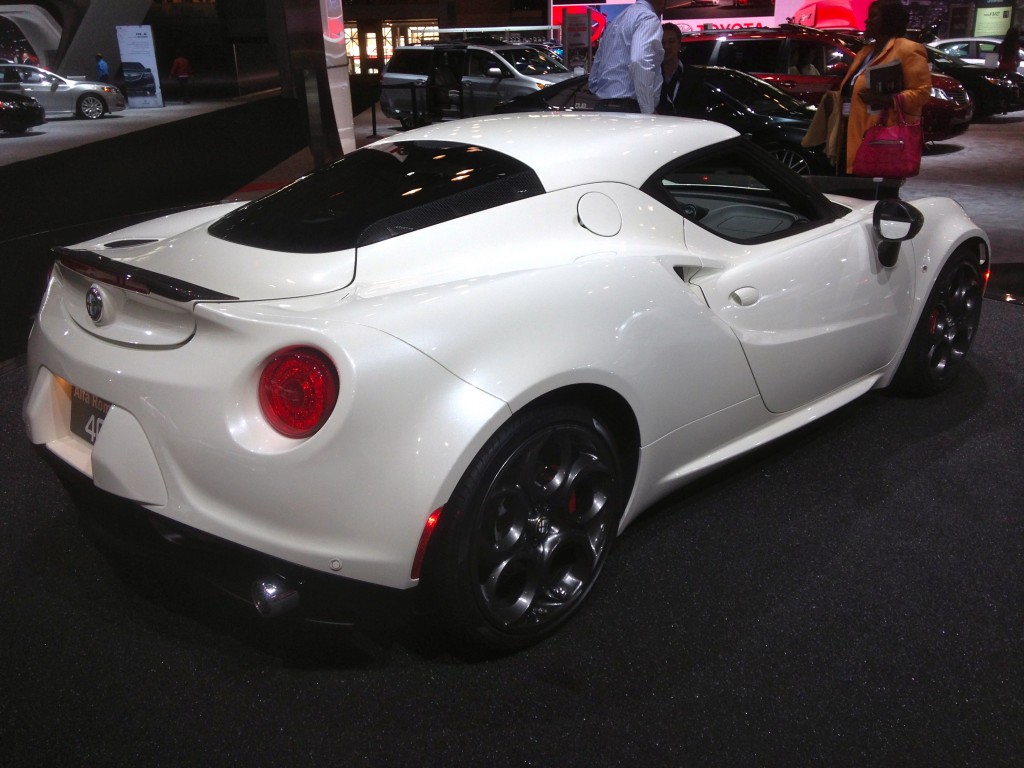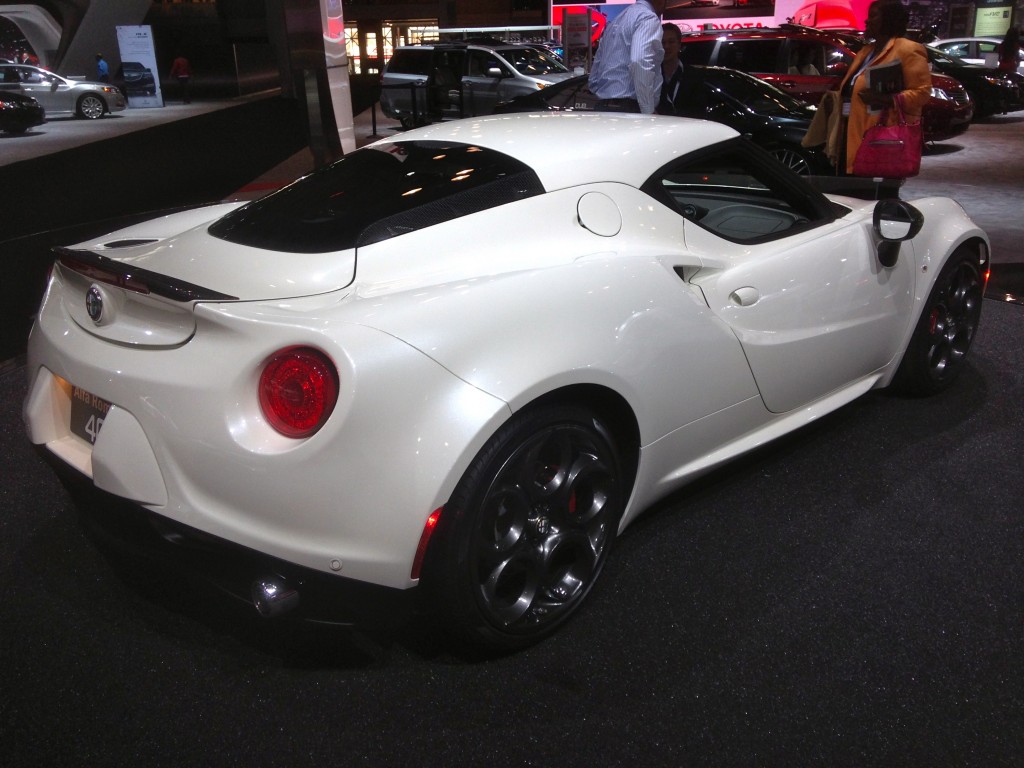 Launch Edition 4Cs will be available in three exclusive colors: "Alfa Red," the darker "Rosso Competizione," and a metallic hue called "Madreperla White." The car's special equipment includes larger charcoal-colored alloy wheels, low profile Pirelli summer performance tires, firmer suspension, high-intensity discharge headlamps, low-backpressure exhaust, a full stitched leather dashboard with contrasting thread to match the body color, a carbon fiber front splitter, and rear fascia upgrades. Each Launch Edition 4C features an individually numbered center console plaque commemorating each car's place in the 500-unit build sequence.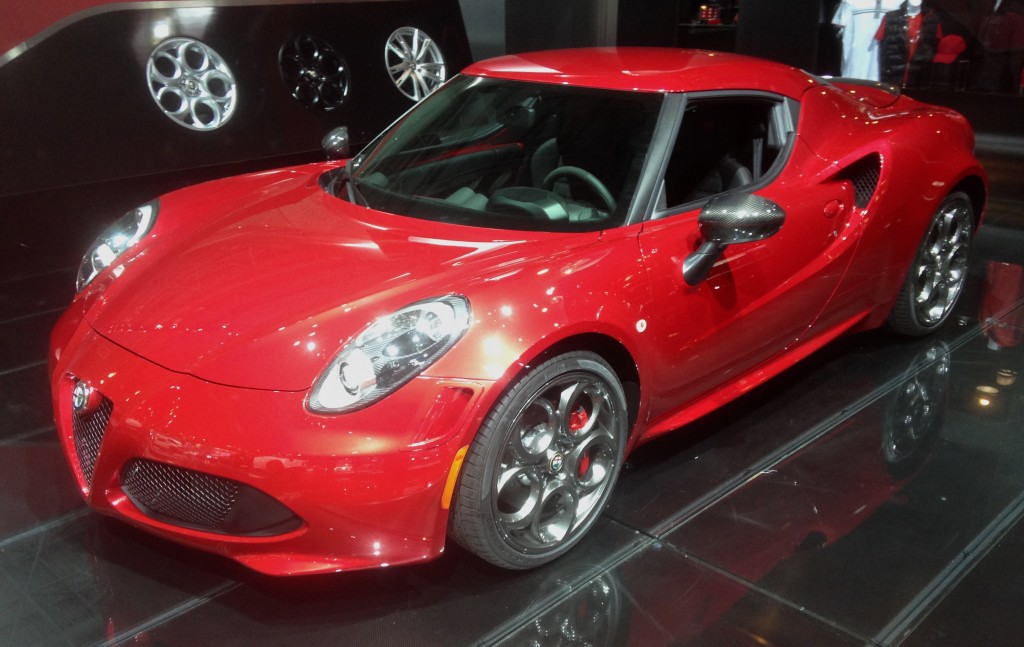 However, the 4C Launch Edition's greatest exclusive perk may be priority delivery. While the standard series 4C will not arrive on U.S. shores until September 2014, Launch Edition deliveries will begin in June – the heart of the North American summer driving season. Moreover, as few as 850 4Cs may be bound for the U.S in 2014, and this figure includes the 500 units of the Launch Edition.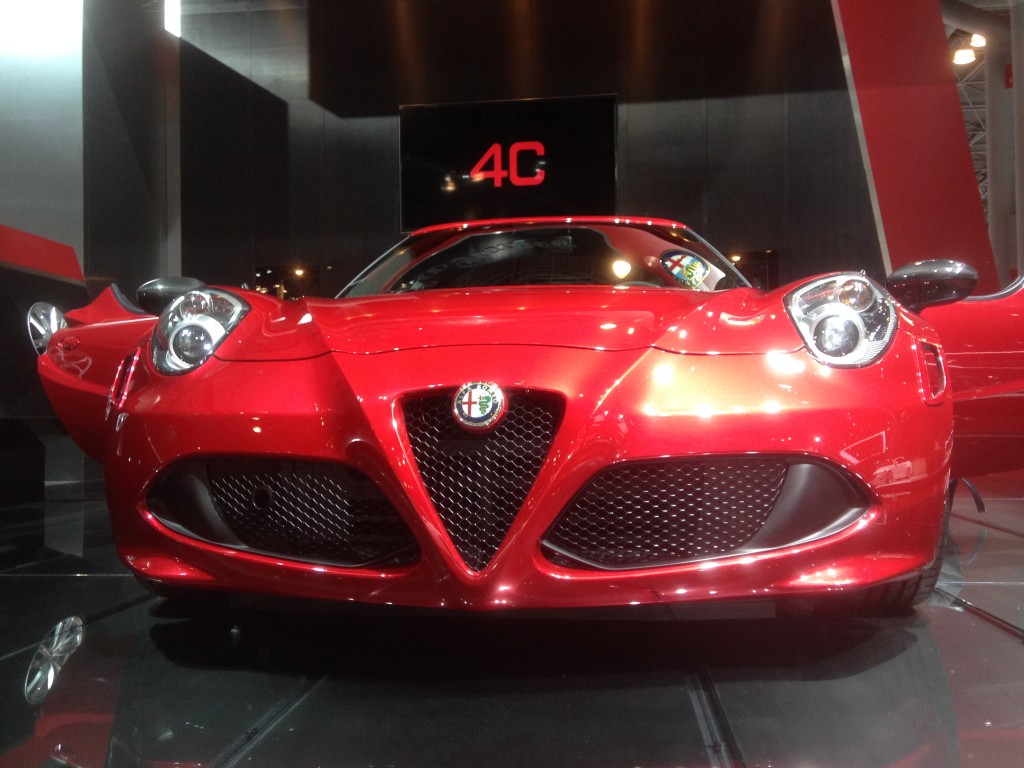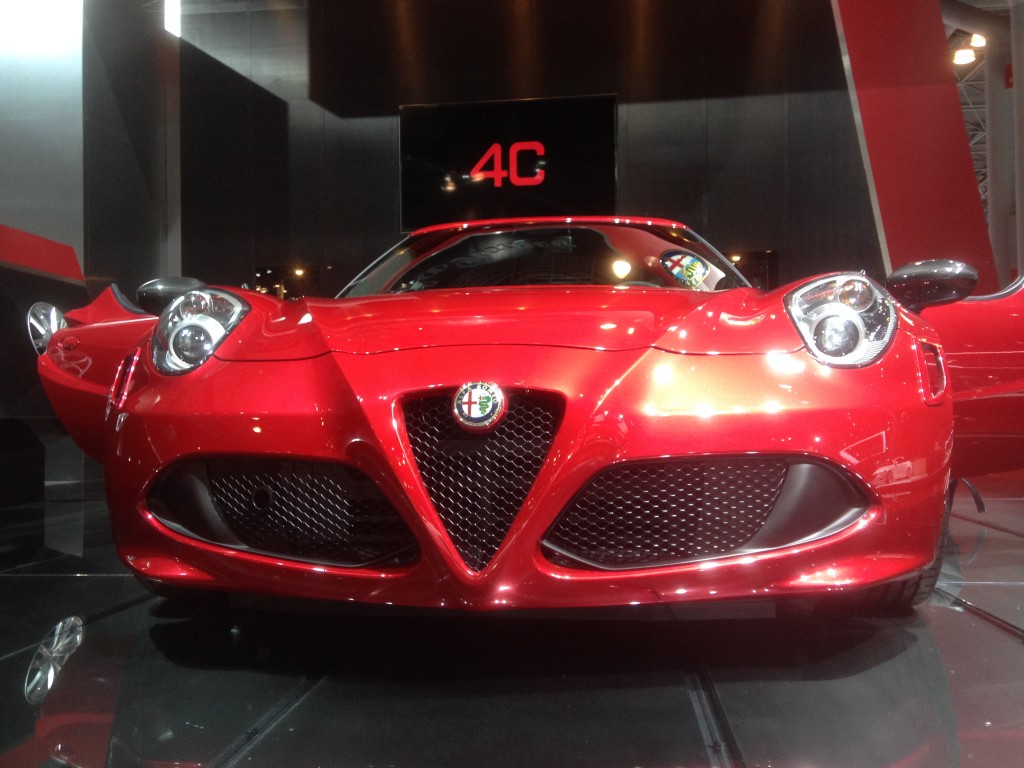 All 4Cs will receive the same direct-injected 1.75-liter turbocharged four-cylinder engine, Brembo brakes, dual dry clutch paddle-shift transmission, and carbon-fiber monocoque frame. The standard and Launch Edition 4Cs boast peak output figures of 237 horsepower and 258 lb-ft. of torque.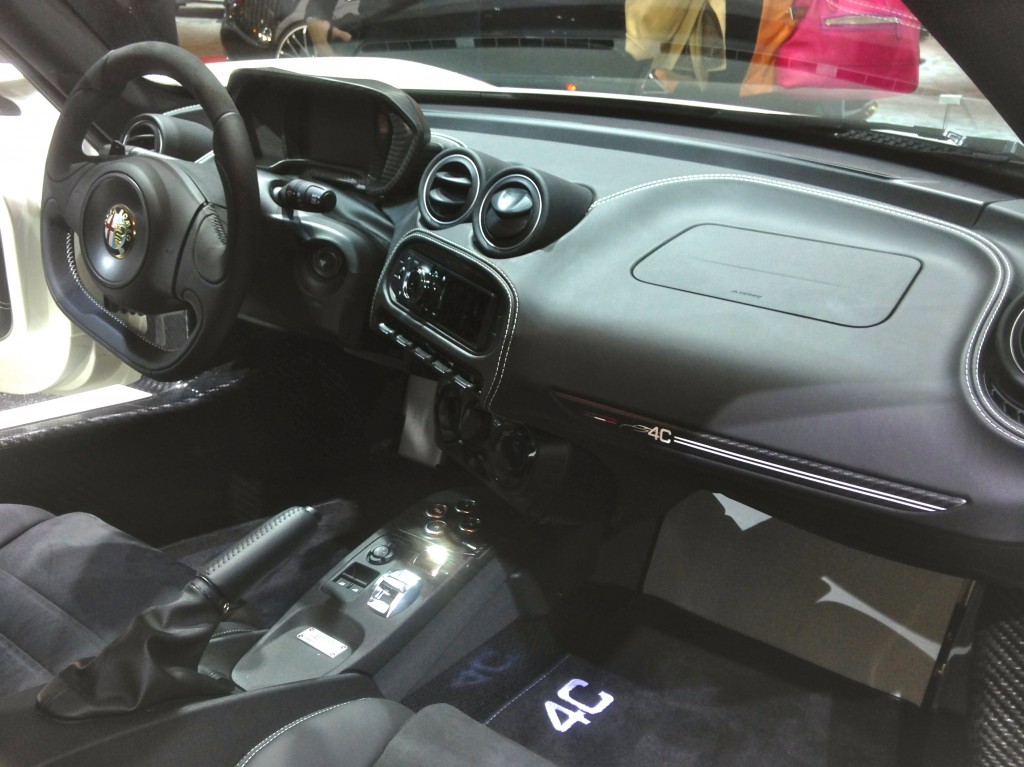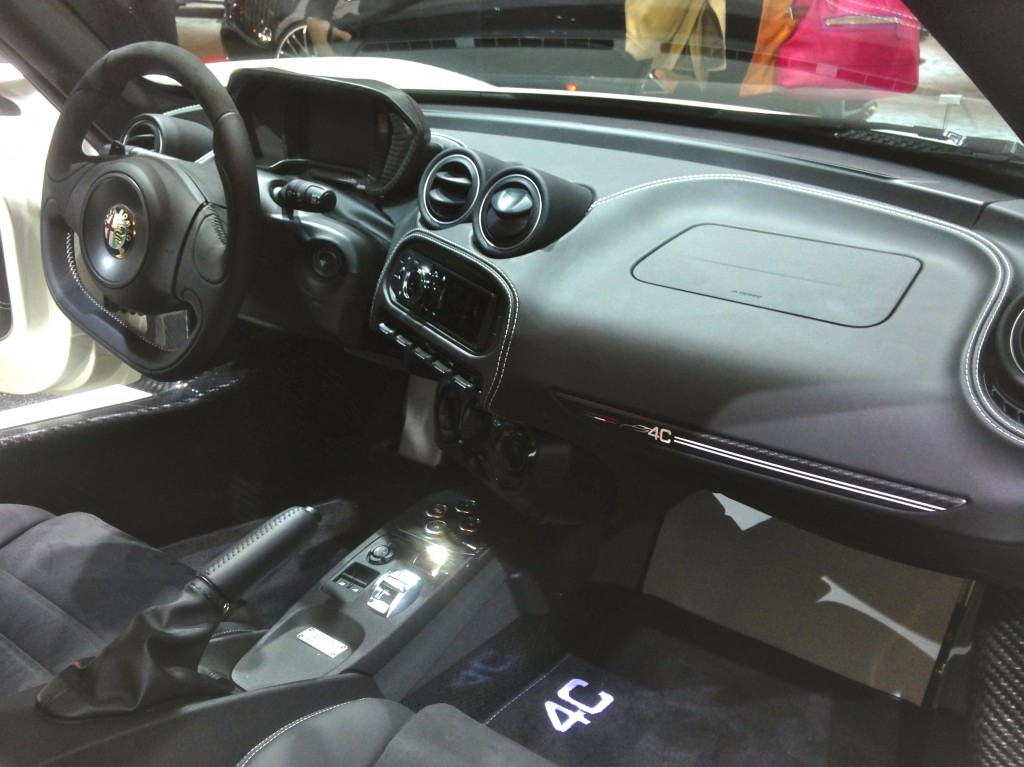 Significantly, the torque peak occurs at only 2,250 rpm, and 80 percent of peak torque is available from 1,700 rpm. The engine's broad torque curve means that the throttle response of the little Alfa will bear more similarity to a high-displacement performance machine than comparably sized sports cars. Alfa Romeo offered conservative performance estimates that included a 4.5 second 0-60 sprint and an aerodynamically limited top speed of 160 miles per hour. Expect those figures to be toppled once magazines and owners get their hands on the cars.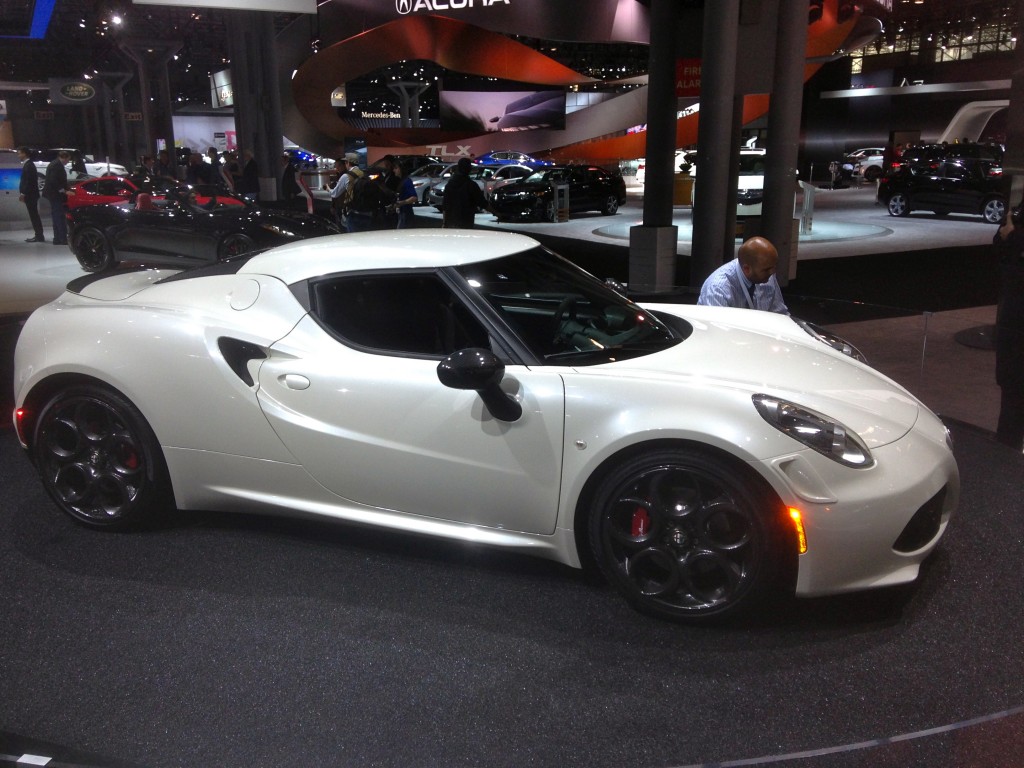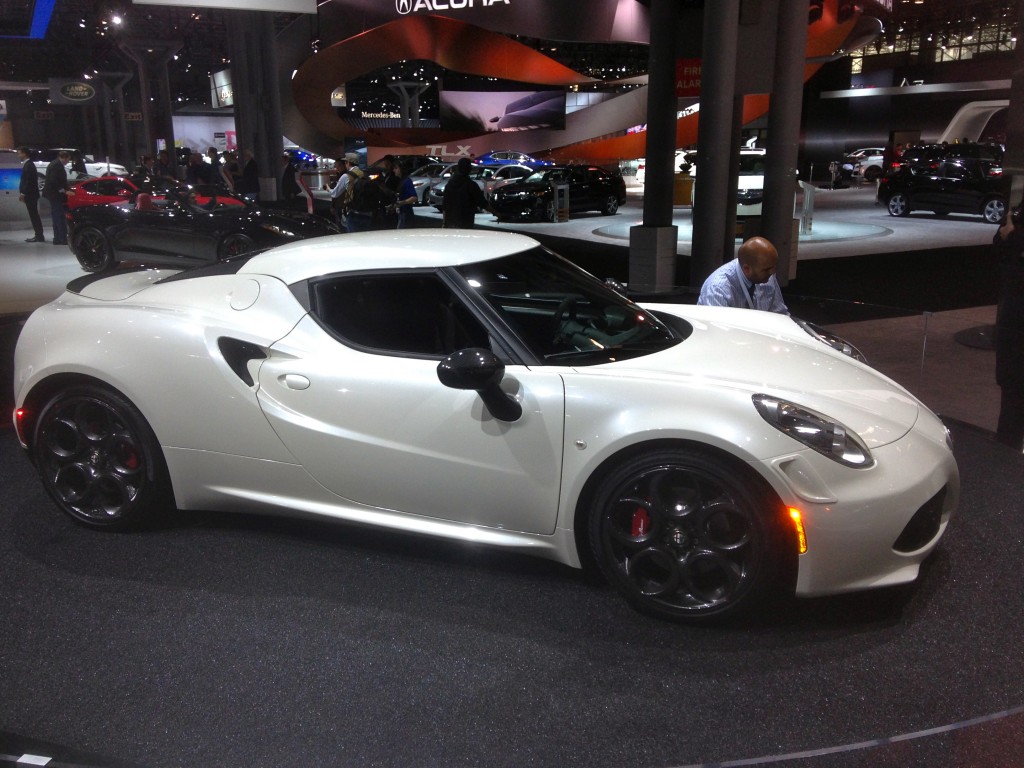 300magazine was able to obtain press access to all facets of the new 4C and was impressed with the style and substance of both models. The first impression upon encountering the 4C in person is a sense of surprise at the car's diminutive dimensions. Lotus' late Elise roadster and Exige coupe are the only comparably sized cars to hit the U.S. market in recent years. With a total U.S. curb weight of less than 2,300 lb. and an overall length of 157 inches, the 4C is roughly the same length as a Mazda MX-5 but measures three inches lower and weighs hundreds of pounds less.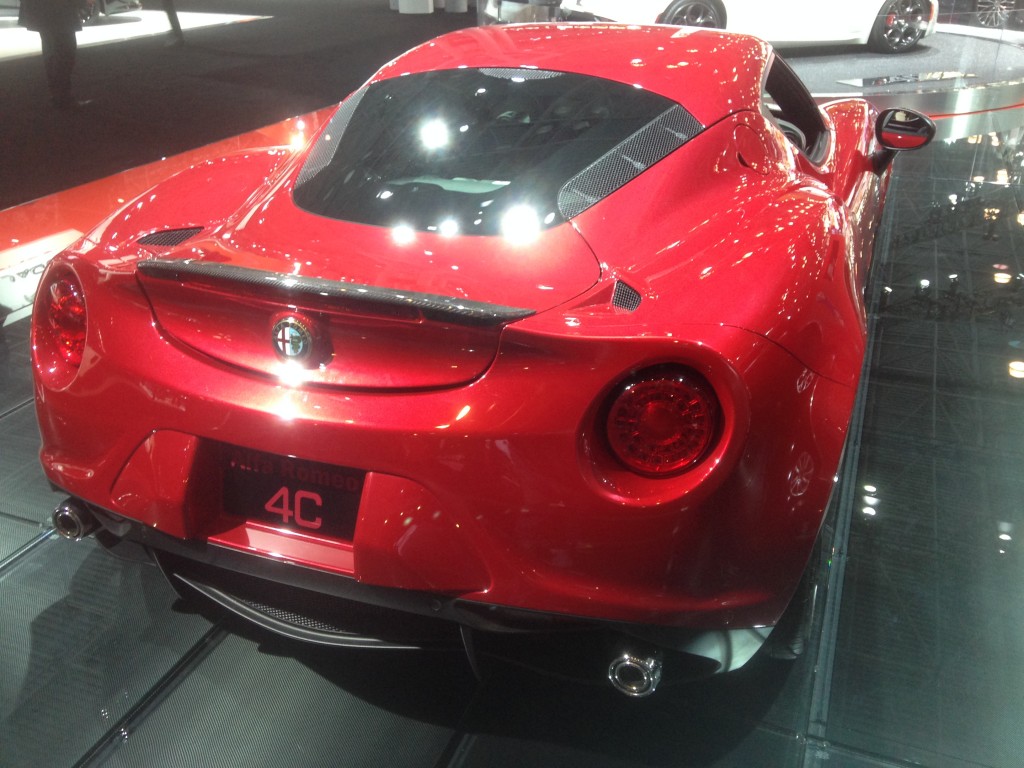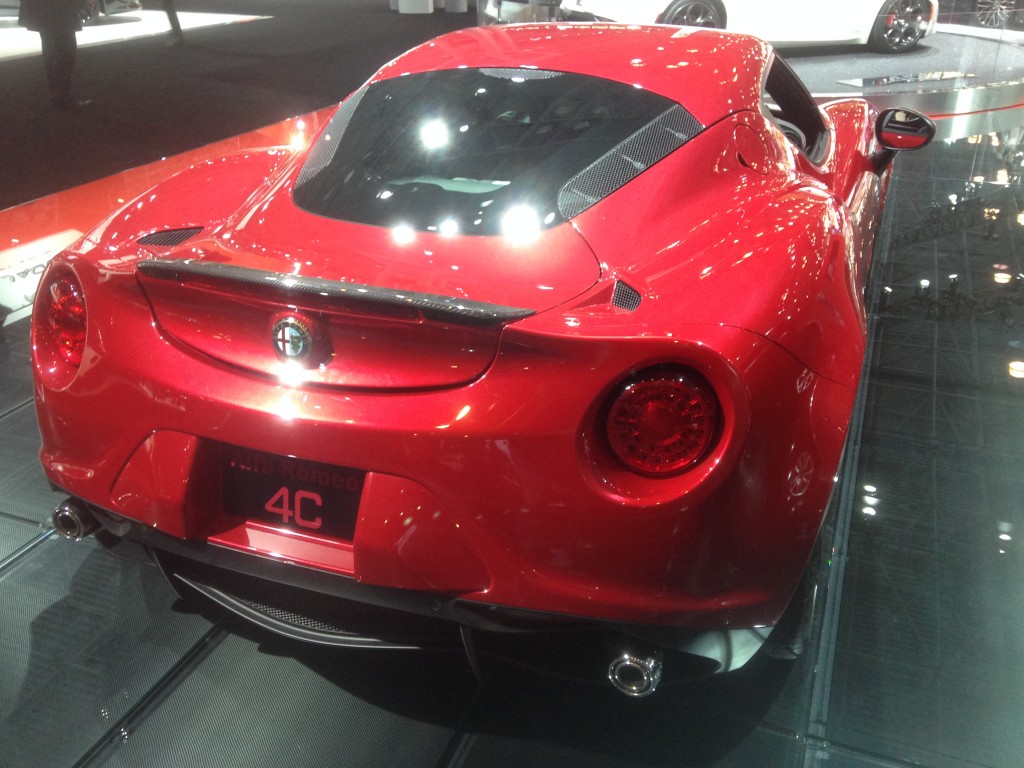 Inside, the Alfa features a surprisingly complete suite of standard equipment that includes power windows, power mirrors, climate control, knee-bolster airbags, MP3-compatible stereo, reconfigurable LCD instrument screen, paddle-actuated dual-mode transmission, selectable engine and transmission performance profiles, and a navigation system. The switchgear has been pared to a bare minimum, and the 4C offers something of a window into the near future of automotive interiors; multi-function displays absorb most of the traditional toggle-and-knob tasks.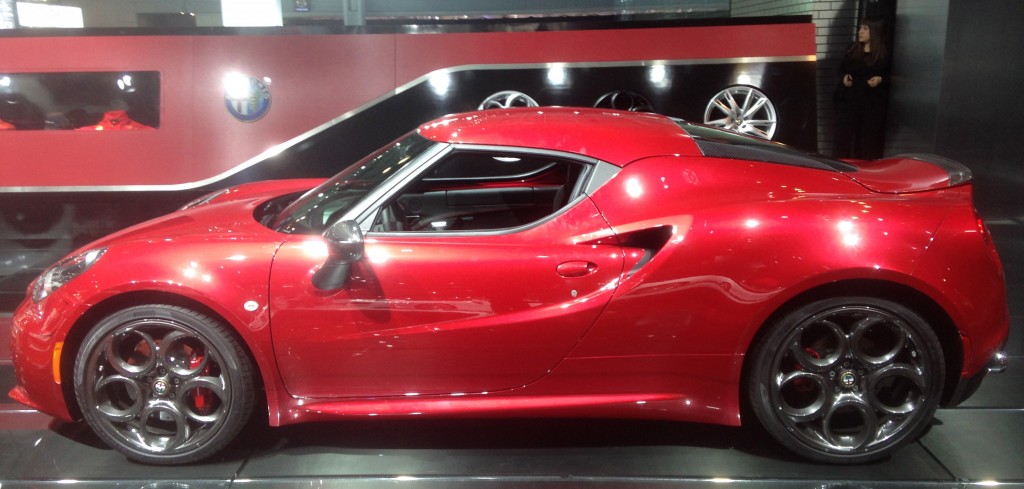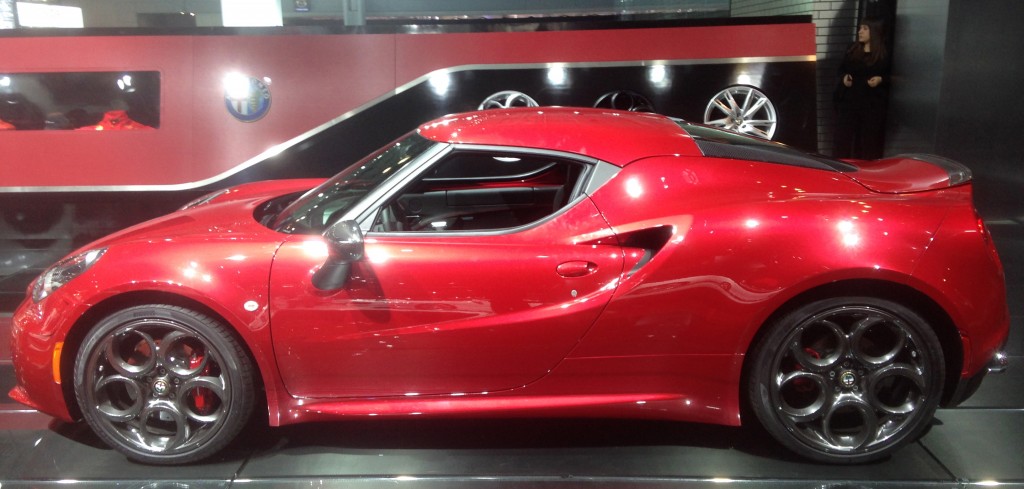 Ingress and egress are complicated somewhat by the high sills which double as the carbon fiber chassis' integrated frame rails. Large or heavy drivers may experience trouble in gaining access to the car's interior, but the 4C's heavily bolstered seats offer a comfortable embrace once seated, and the little Alfa offers abundant headroom for drivers up to at least 6'4" tall. Although the foot wells are narrow, ample fore-aft adjustment allows long-legged occupants to find comfortable positions.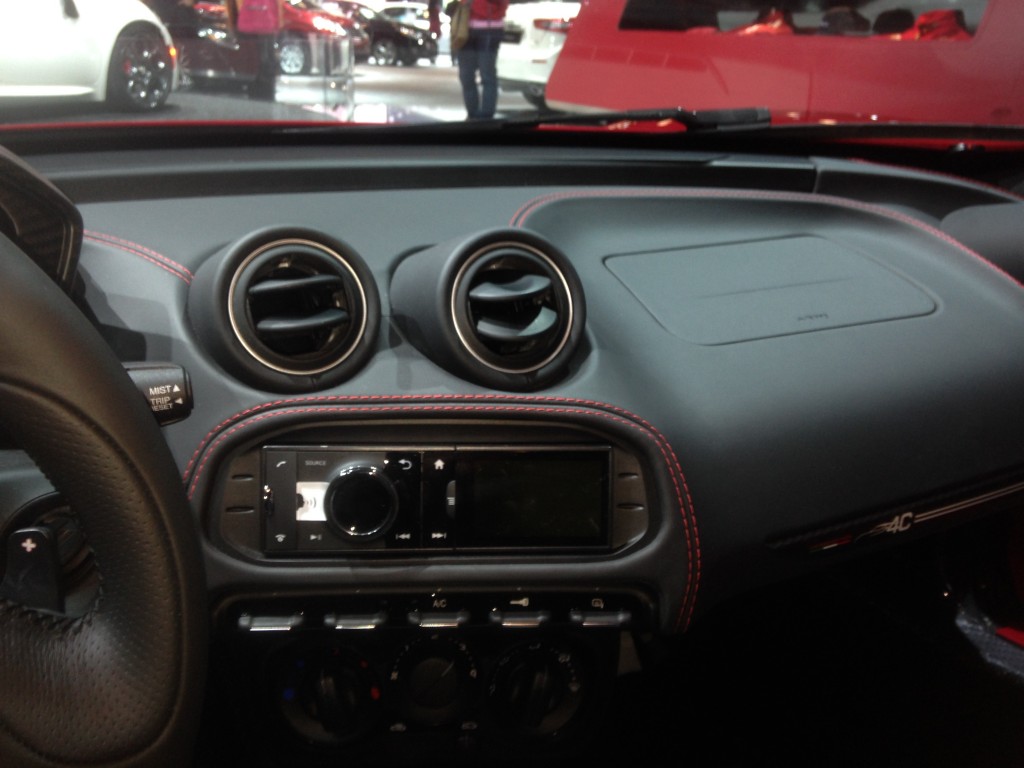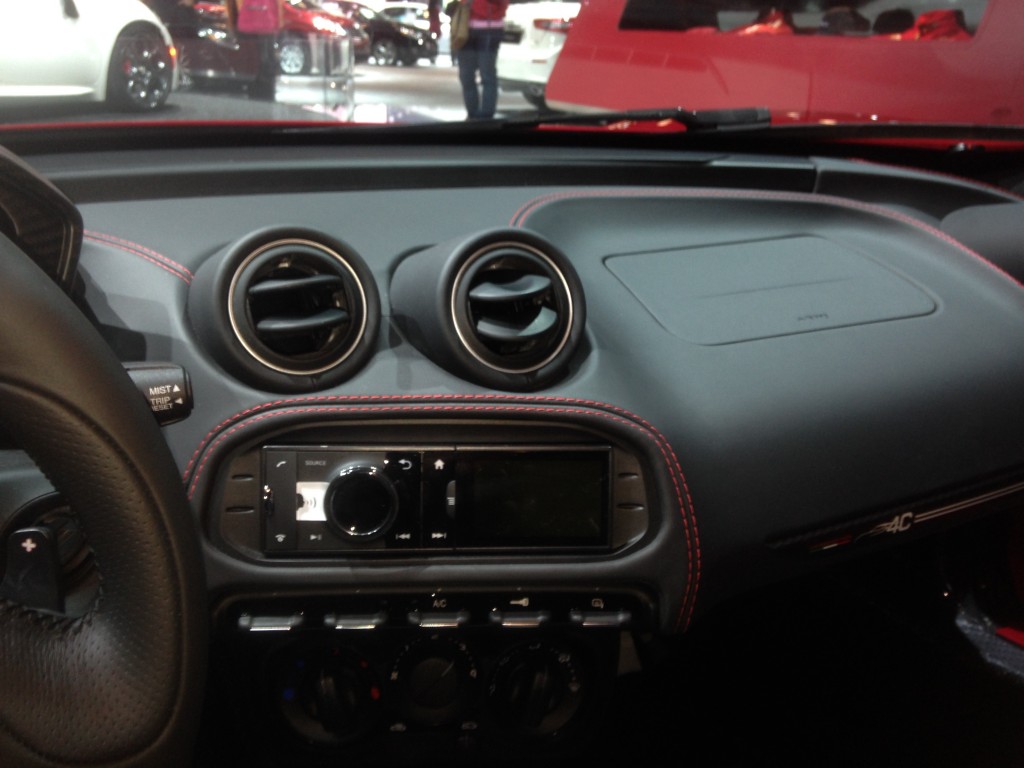 Evidence of the 4C's minimalist design ethic is omnipresent. Large swaths of bare but well-finished structural carbon fiber lie exposed. Even the shells of the seats feature carbon fiber monocoques with limited tilt adjustment and exposed carbon weave backsides. The steering is completely mechanical and devoid of powered assist. Under the rear-deck, which doubles as the trunk cover and engine hood, a simple manual strut serves to prop the panel, and a tire-sealant kit with inflator replaces the mass of a spare tire.
The overriding impression conveyed by the 4C is one of undivided dedication to an involved driving experience. This isn't a road trip car, and it isn't a commuter, but neither is it a one-dimensional track weapon. Although quick by almost any conventional measure, the 4C seems tailor-made for magnifying the sensation of speed during spirited driving on side roads, winding mountain passes, and B-roads.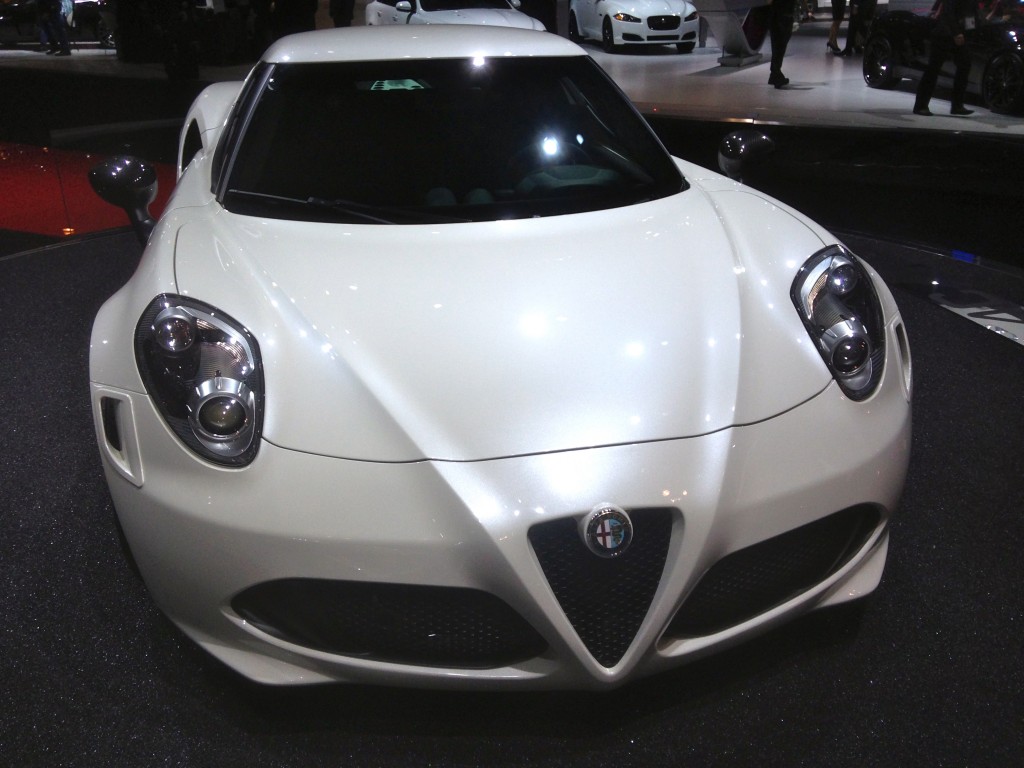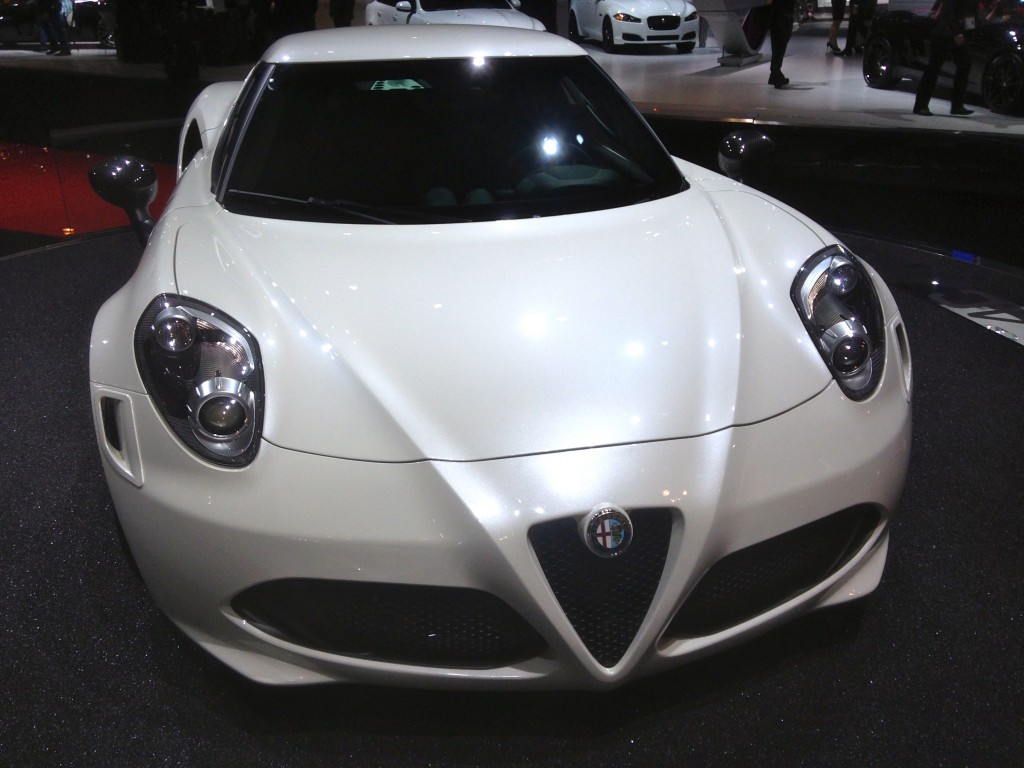 While federal compliance certification for U.S. sales and approximate arrival dates have been finalized, the precise dealer structure for Alfa's return remains a work-in-progress. As a division of Fiat-Chrysler Automobiles NV, Alfa falls between the price structures of Chrysler, whose dealers distribute FIAT cars in North America, and Maserati, whose U.S.-distribution is linked to Ferrari dealerships.
At the 4C's New York debut, Alfa Romeo and FIAT press officers suggested that both Chrysler and Maserati dealers may have access to the 4C, and the precise allotment of cars may be a function of dealer volumes and ability to provide dedicated showroom and sales personnel to the Alfa Romeo vehicle line.
U.S. pricing for the 2014 Alfa Romeo 4C Launch Edition was announced at $72,000 while the standard 4C will list for $54,000 before optional equipment, taxes, dealer fees, and registration expenses.