Sotheby's Annual Spring Auction 2012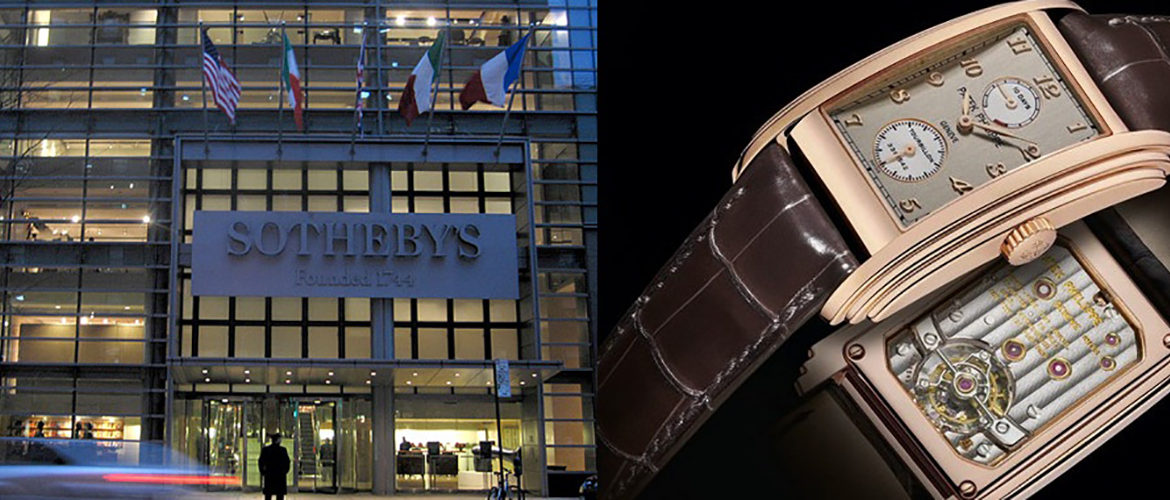 Sotheby's Annual Spring Auction in NYC
Sotheby's annual spring auction will take place on 14th in New York City. Sotheby's is guaranteeing the most incredible selection of timepieces which are considered to be among the best that has ever been presented in an auction house in the Big Apple.
Here are some of the most expensive pieces on the block. One of the rarest watches of Patek Philippe, with the reference number 5033P-010, It is part of the very limited edition that consists of only 11 watches, and it was created by the request of a Middle Eastern royal family. The series consists of ten platinum watches and one made of titanium, was originally made in 2002, and presented at the Baselworld fair four years later. It has a tonneau-shaped case and is equipped with an automatic mechanical movement with 44 jewels. It is, without any doubt, an extremely refined product that has a silver dial with guilloche engravings, a small second counter and dauphine-styled hands. The estimated price of this extremely rare minute repeater is between $380,000 and $480,000.
Another very interesting watch by Patek Philippe is the 18K yellow gold chronograph with the reference number 1518. This product is made with a hand-wound mechanical movement caliber 13 with 23 jewels. It has a silver dial that utilizes applied gold Arabic numerals and feuille-styled hands, and includes a small second counter, a 30-minute chrono sub-dial, as well as apertures for month and day at the top, and a moon-phase display that also shows the date at the bottom. It is estimated that this chronograph with register, moon-phases and tachometric scale will reach the price of somewhere between $250,000 and $300,000.
We can mention as well a great timepiece from the same Swiss watchmaker, its the watch with the reference number 5101R, a watch with one minute tourbillon fashioned in Art Deco style. The watch is fitted into a special rectangular housing with triple-stepped sides and chamfered ends. Inside the complex 18K pink gold case beats the hand-wound mechanical caliber TO 28-20 REC 10J PS with 29 jewels which consists of 231 components. The nickel lever tourbillon movement with free-sprung Gyromax balance is supplied with twin mainspring barrels which enable it to have a power reserve of ten days. Speaking of the dial, it is executed in a pink champagne color and includes small second and power reserve indications. Sotheby's connoisseurs have appraised that the minimal value is $220,000, and the maximal price is $280,000.
The next Patek Philippe is an oversized chronograph 530 from 1949. This timepiece has been owned by the same family ever since 1950 and is among the top unrestored and unpolished Patek Philipe's 530 that ever appeared on the market. This timekeeper with hand-winding caliber 13 movement is estimated to $200,000-$300,000.
Image courtesy: google images, sotheby's NYC
[info]Call Right Now! 1-877-842-5760[/info]
Look at our "News" section to help you make the right buying decision.