The Art Exhibition in Frankfurt: Venetian Color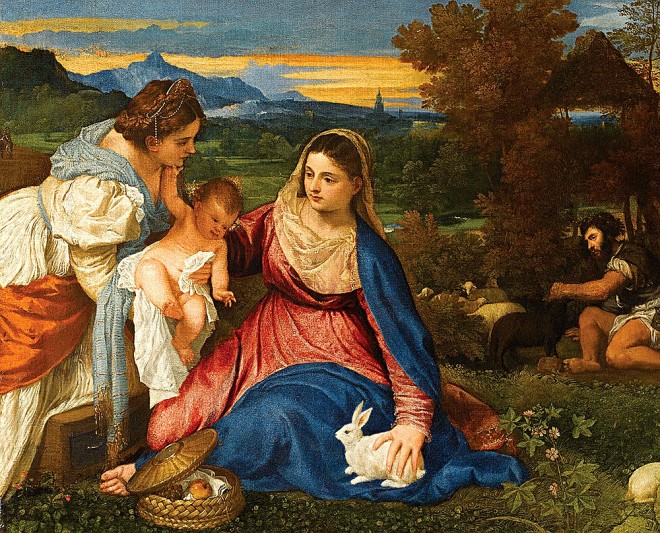 The art exhibition in Frankfurt brought together artworks from 60 museums. Among them are 20 paintings by Titian, as well as art pieces by Giovanni Bellini, Paolo Veronese, religious paintings by Jacopo Palma the Elder, Sebastiano del Piombo and, of course, artworks by Tintoretto.
The Venetian painters of the Renaissance were spoilt for choice of bright colors. Venice, the port city, was the center of trade in glass art and textiles and imported a wide range of paints and pigments. If Florentine artists used to buy paints in pharmacies, the Venetian Renaissance painters could purchase them in specialized shops. Titian even created a portrait of his paint merchant Alvise Gradignan dalla Scala (1561-1562), depicting him with a palette and a graver in his hands.
The art exhibition in Frankfurt presents pieces of art from over fifty fine art museums. It features landscape paintings, portraits, paintings on mythological subjects and religious artworks. The visitors of the Städel Museum, where this art exhibition is held, are greeted by an enormous engraving of the late XV century as if welcoming you to Venice of that time with its canals and palaces.
The art exhibition in Frankfurt itself consists of several thematic sections, one of which is devoted to the famous Venetian color, and another one – to portrait painting, including "Portrait of Alfonso d'Avalos, Marquis of Vasto" created by Titian in 1533. Titian's masterpiece was brought from the Louvre and shares museum space with the "Portrait of a Young Woman as a Wise Virgin" (1510) by Sebastiano del Piombo from the National Gallery of Art in Washington.
Another theme is the influence of Tuscan painting on Venetian art. It is especially true of Michelangelo's influence on the depiction of naked male figures by Venetian Renaissance artists. It is evidenced by the sketches of "St. Sebastian" (1520) by Titian and "St. Jerome" (1571-1572) painted by Tintoretto. And finally, the last section of this art exhibition in Frankfurt examines the mark left by Venetian Renaissance artists in the artworks of the next generations of great masters – from El Greco and Théodore Géricault to contemporary artists like David Hockney and Luo Li Rong.