The Walters Art Museum in Baltimore, MD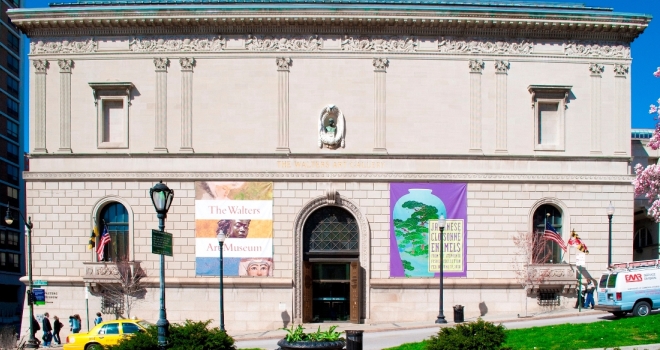 While the Walters Art Museum is not one of the most famous art museums in the United States, it is definitely one of the most distinctive, which makes it a must-visit place in Baltimore, MD. Opened in November 1934, this beautiful public museum is aimed at bringing people and art together for learning, discovery, and enjoyment.
The Walters Art Museum or the Walters Art Gallery, as it was known previously, was founded by the reputable philanthropist and collector Henry Walters, who inherited an impressive collection of Asian and European art from his father William T. Walters and further expanded it by adding unique and rare pieces of ancient Near East, Islamic, and Russian art. At the time of opening in the Palazzo building on North Charles Street, the Walters Art Museum featured 22,000 objects, but now its collection includes more than 36,000 exceptional objects from the ancient Mediterranean, Middle East, East Asia, Africa, and the Americas. Among the highlights are Chinese porcelains, Japanese arms and armor, ancient American native art, authentic Egyptian statues of the lion-headed fire goddess Sekhmet, rare Islamic manuscripts, and a truly unique medieval collection of art, which is considered one of the best in the United States.
As for European Baroque and Renaissance art, the Walters Art Museum is a proud owner of some of the most valuable paintings and sculptures by such artists as Giovanni Battista Tiepolo, Raphael, El Greco, and Gian Lorenzo Bernini. The collection of 19th-century art is no less impressive as the Museum features amazing works by Edouard Manet, Claude Monet, Asher Brown Durand, Joseph Mallord William Turner, and many other celebrated artists.
It is also worth noting that visiting the Walters Art Museum is like transporting through time and the architectural history of Baltimore. The fact is that the Museum's collection is housed in several buildings, each with its own character and style. In particular, these include the iconic Palazzo building opened in 1909, the 1974 Centre Street building in its distinctive Brutalist architectural style, and the 19th-century 1 West Mount Vernon Place situated in the heart of Mount Vernon, which has been recently opened after a multi-year transformation.
The Walters Art Museum is indeed a must-visit place in Baltimore, MD. Moreover, it has free admission year-round, giving everyone an excellent opportunity to enjoy numerous works of art without charge. Highly recommended!