Top 5 Contemporary Street Artists You Should Know About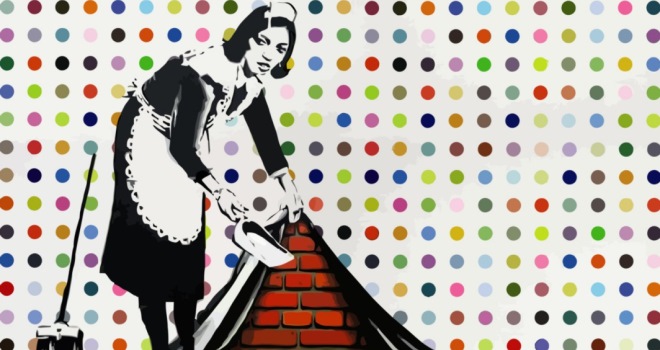 Long gone are the days when street art was considered the lowest form of visual art. Today, street art is recognized as full-fledged fine art, just like Pop Art, Cubism, and Impressionism. Moreover, some pieces of street art can even compete with the most expensive paintings by world-known artists as they are now being sold for millions of dollars at the leading auctions worldwide. Let's just remember the untitled work by Jean-Michel Basquiat, which was sold for a record $110.5 million at Sotheby's New York Contemporary Art Evening Auction in May 2017. Street art is indeed an influential and important form of art, with many talented artists creating true masterpieces throughout the world. Here are some of the big names you should know about!
1. Banksy
You will hardly find a more famous contemporary street artist than Banksy. This elusive British artist, whose identity is still unknown, is a true stencil genius who has managed to develop an entire subculture devoted to his artworks, many of which are now being sold for hundreds and millions of dollars.
2. 108 (Guido Bisagni) 
Guido Bisagni, also known as 108, is an Italian artist famous for his impressive mysterious figures painted in public spaces. His minimalist and abstract works inspired by Jean Arp and Wassily Kandinsky are now displayed in many art galleries around the world.
3. Pablo Arraiano
Paulo Arraiano is a talented contemporary Portuguese artist, known for his large-scale, organic works distinguished by splashes of color. Made in various media, Arraiano's creations can now be found not only on the buildings but also in many reputable European art galleries.
4. Ozmo (Gionata Gesi)
Gionata Gesi, known as Ozmo, is an Italian contemporary artist, whose works are characterized by a very distinct style of painting. His installations and murals represent somewhat ironic and strong messages, many of which are focused on the idea that people care about fame and money only.
5. Blu
Blu is another Italian street artist you should know about. His incredible, large-scale paintings with humanoid characters can be found throughout the globe, from Central and South America to Europe. Plus, this anonymous contemporary artist is known for making short films and animated videos.
This list is certainly not exhaustive as there are many talented street art and graffiti artists around the world. You do not even need to visit museums and galleries to see their creations. Just look around, and you will definitely find plenty of powerful works in your own city too!