Ulysse Nardin Caprice Butterfly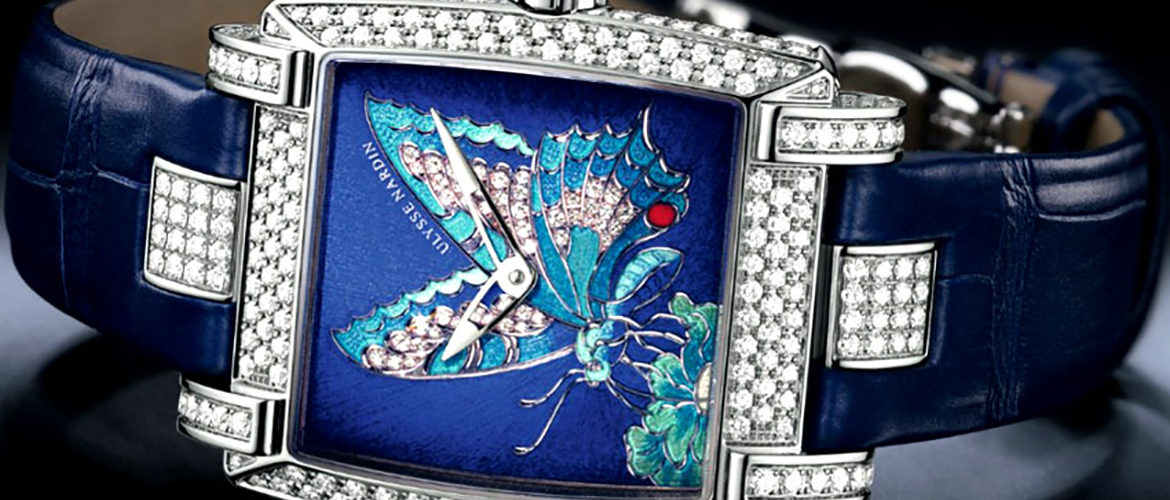 Ulysse Nardin is a notable Swiss manufacturer. This company was founded in 1846 by Ulysse Nardin in Le Locle, Switzerland. Their headquarters is still based in this location even today. Ulysse Nardin is a company that has stayed true to its roots. The modern company still focuses on achieving the standard of excellence set by the founder. Ulysse Nardin marine chronometers are still considered the most reliable ever made. They were originally manufactured for ships and then made available to the public.
Ulysse Nardin watches are still in the forefront of watchmaking technology. They continue to pioneer new materials and seek out the highest quality and precision movement components. After quite some downtime they have finally released a new model called the Caprice Butterfly. This collection is very limited in quantity and is designed for "playfully glamorous woman" as said by the company. It is so limited that in fact there are only 28 available to the public right now.
The Caprice Butterfly is an exquisite work of art. Each model was handmade by leading watchmakers at Ulysse Nardin. The process used for creating thee butterfly is called Enamel Champlevé. It consists of several cavities engraved by hand. Each cavity was then filled with powder enamel and then fired. Experts then delicately sand off the excess enamel by hand which is an extremely difficult and time consuming process in itself. If done incorrectly the piece is ruined and will need to be restarted from scratch. When the sanding is finished the enamels brilliance can shine through creating an ethereal sheen. This time piece is encrusted in 3.8 carats of diamonds and boasts 353 diamonds on each piece. It also has 18ct white gold housing the UN-13 movement. This timepiece is truly all about glamour and elegance.  It also features a unique self-winding butterfly dial which is very rarely done in the watchmaking world.
Numerals were kept off the face of this luxury watch so the butterfly could stand out on its own.  Besides the lavishing details this watch is also surprisingly quite sturdy. A bright jewel toned blue leather strap contrasts beautifully with the diamonds. The strap features an 18 carat white gold folding buckle. The timepiece is also water resistant up to 50 meters. Owners will have little need to worry about this piece being delicate. The anti-reflective sapphire crystal dial conceals scratches on the glass and provides completely clear visibility. The Caprice Butterfly truly is a rare gem in the watch world and remarkable piece of art.