Vacheron Constantin Traditionnelle Calibre 2253 L'Empreinte Du Dragon – New Insights into Watchmaking Traditions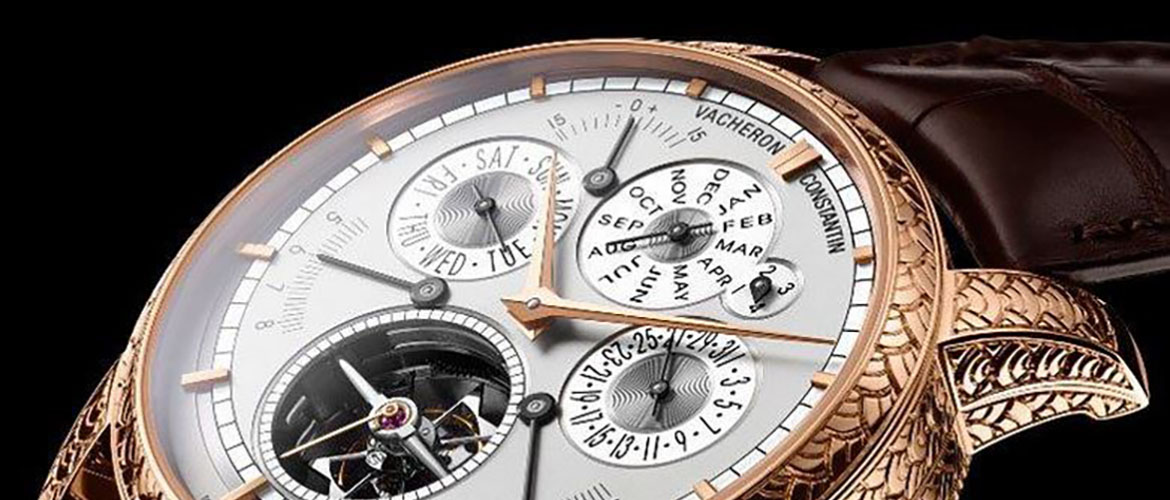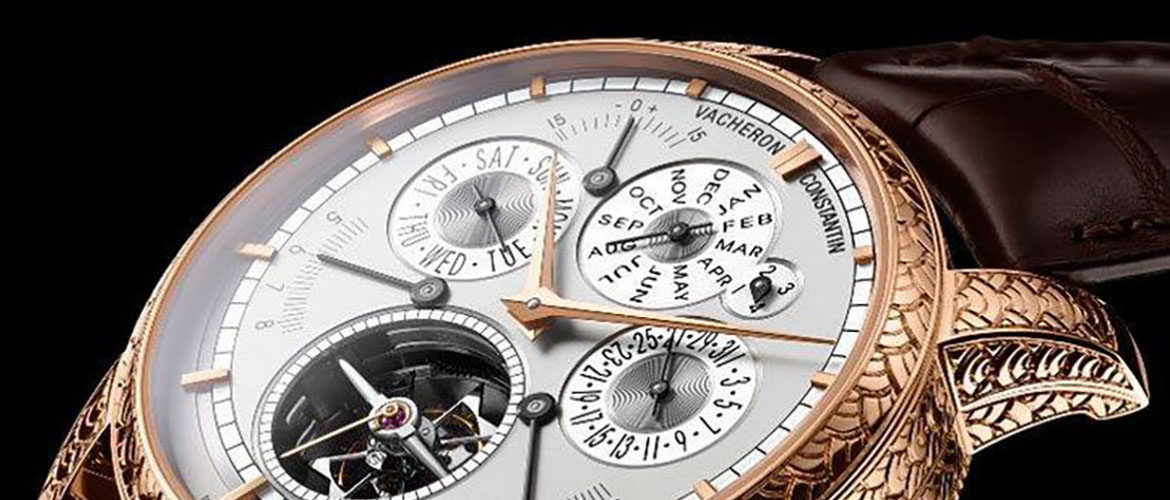 Vacheron Constantin presents its new Vacheron Constantin Traditionnelle Calibre 2253 L'Empreinte Du Dragon luxury watch with an entirely hand-graved watch case, bezel, and lugs.  This is a designer watch from Métiers d'Art Series. The engraving of this watch is hand-made by "Meilleur Ouvrier de France", or "One of the Best Craftsmen of France", which is a unique and prestigious award in France among professionals. The result of cooperation between Vacheron Constantin designers and this talented craftsman is an excellent model with a "dragon"-style ornamented pattern that symbolizes Asian imperial power and authority. This outstanding watch, engraved entirely by hand, has been created without any preliminary marking or sketch as a reference with a carving of a 0.4-millimeter of depth. High strength and durability of the 18-carat pink gold alloy of the watch case caused the necessity to create special sharp devices for such complicated engraving. The special dedicated half-moon-shaped cutter was used for this decoration to avoid any risk of unwanted scratch of the surrounding parts of this fine watch. Such ingenious workmanship takes up to 70 hours of patience and highest concentration of the engraving master to create one watch case. The "Unique Piece" inscription on the fine high end watch's case back underlines the uniqueness and exclusiveness of the watch.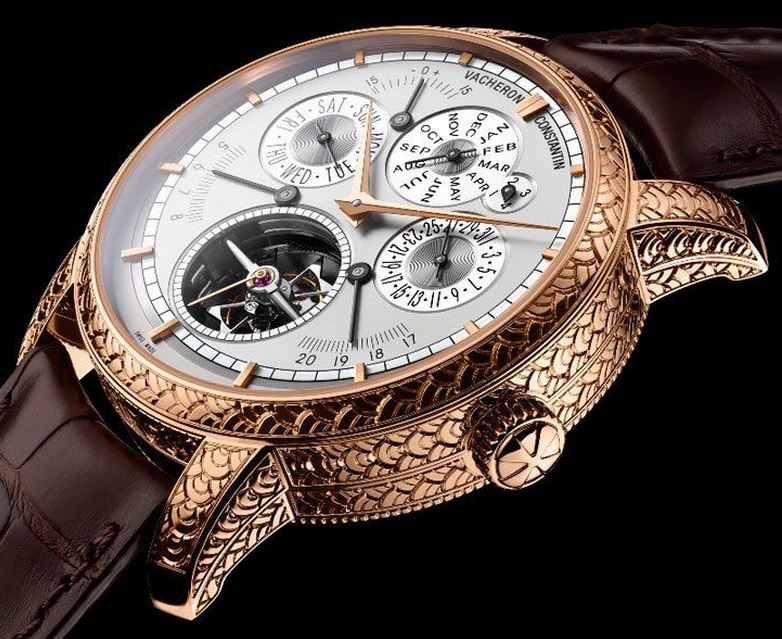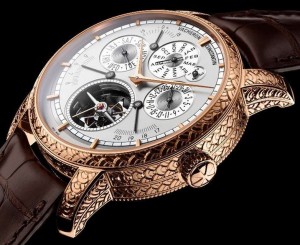 The new Vacheron Constantin L'empreinte Du Dragon luxury watch is created with some complications and corresponds to Swiss traditions of high-quality watch pieces. The core of this luxury watch is the "Vacheron Caliber 2253", which is one of the most prestigious and complicated devices of the Vacheron Constantin manufacturer. This Vacheron Caliber 2253 consists of 457 components inside with tourbillon, perpetual calendar, equation of time, sunrise and sunset indications, and comes with 9.6 mm of thickness.
The equation of time is an exciting complication from Vacheron Constantin, presenting the difference in minutes between true solar time and standard time. This indication is measured in the range from -16 to 16 minutes, and is gracefully displayed in the left part of the watch plate between the 10 and 11 o'clock scale position. Sunrise and sunset indicator is another rare complication of this new VC L'empreinte Du Dragon luxury watch, and displays the sunrise/sunset data in any place on earth that can be chosen by the client. The complex and advanced Vacheron Caliber 2253 also provides a 14-day power reserve.
The 18-carat golden designer watch comes with a 44-millimeter case with a silvered opaline watch dial. The dial is adorned with 18K pink golden hour markers designed without numbers. The folding clasp of this high end luxury watch is made of pink gold and shaped like a Maltese half-cross.
The "Métiers d'Art" watches collection from this Swiss watch brand continues to astonish watch connoisseurs with highest mastership and fine craft decoration. This fine watch from Métiers d'Art Series with such an outstanding engraving will be the rare and unique item in the collection of a luxury watch lover.