Vacheron Constantin Rings in the Year of the Snake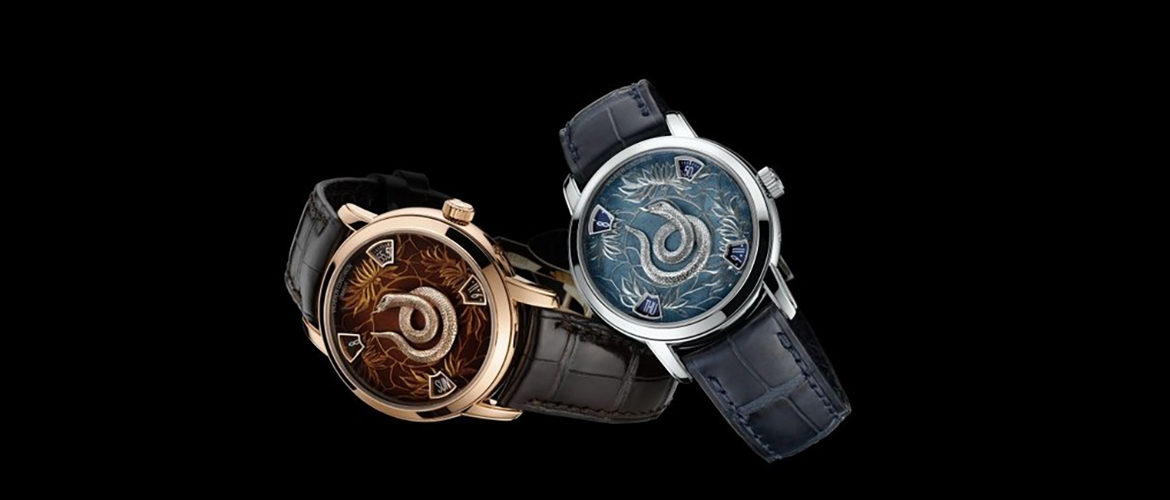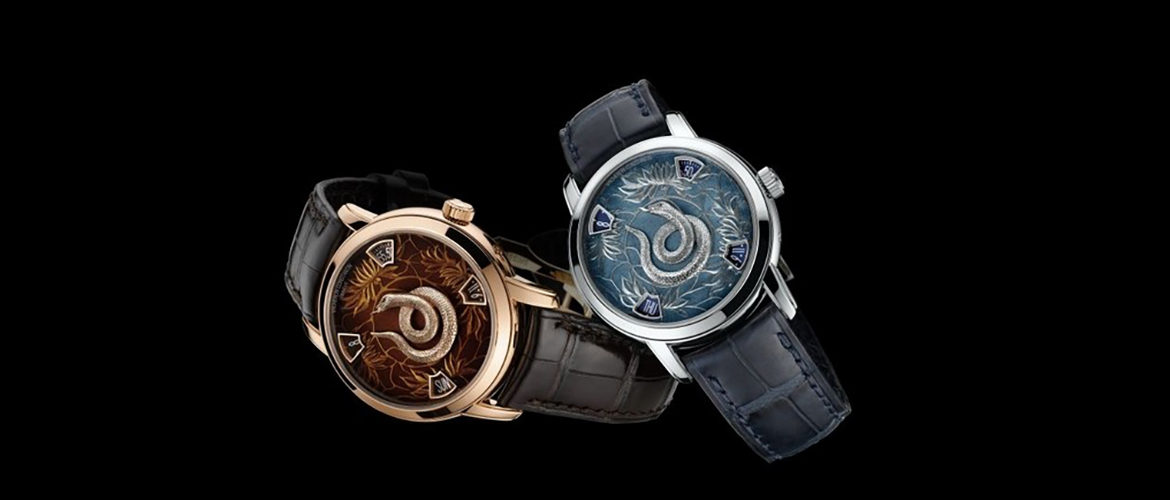 The Chinese New Year is coming up in February, and Vacheron Constantin is ready for it. 2013 has been named the Year of the Snake, and this bold new watch celebrates it with an elegant dial design. There are two different versions, one with a blue dial and one with a reddish-brown dial.
The most striking thing about this dial, obviously, is the snake coiled at its center. It is silver-toned on the blue dial or gold on the reddish dial. Its tongue is sticking out, as if the snake is testing the air. The craftsmen took a great deal of time on it, 30 hours for the scales alone. They give the body of the snake a realistic texture. Around the serpent is a leafy design, silver on the blue dial and gold on the red. This design is engraved in the metal that the dial is actually made out of, with the colored part coated in several layers of enamel using a prestigious technique called Grand Feu.
The snake is obviously inspired by the Chinese zodiac, but the dial colors probably were as well. Aside from just the animal, each year is also assigned an element, metal, water, wood, fire, or earth (the Chinese used different elements from Aristotle's classic four). The blue and silver dial represents 2013, which is the year of the water snake. The reddish brown dial evokes fire (Fire Snake 1977), but its earthy tone could also represent the element of eat.
Interestingly, this watch has no hands. Instead, it has four different apertures that show the minutes, the day, the date, and the hour at one o'clock, five o'clock, seven o'clock, and eleven o'clock respectively. This is quite an unusual display, but it does lend the overall appearance of the watch an added impression of the tranquil stillness of a reptile.
The movement in this watch is a relatively simple Calibre 2460 G4, a superb movement, in spite of its lack of serious complications. Like many watches created by Vacheron Constantin, this watch was examined by an eight-member commission and awarded with the Hallmark of Geneva, which is engraved on the movement itself and is an immediate indicator of an excellent watch. Earning the right to mark a watch with this symbol has never been easy, but recent changes to the official regulations now require the entire watch to meet the highest of standards, rather than just the movement. That won't stop a brand like Vacheron Constantin from earning the mark, though. They have always made high-quality timepieces.