Antique Motifs in Paintings by Lawrence Alma-Tadema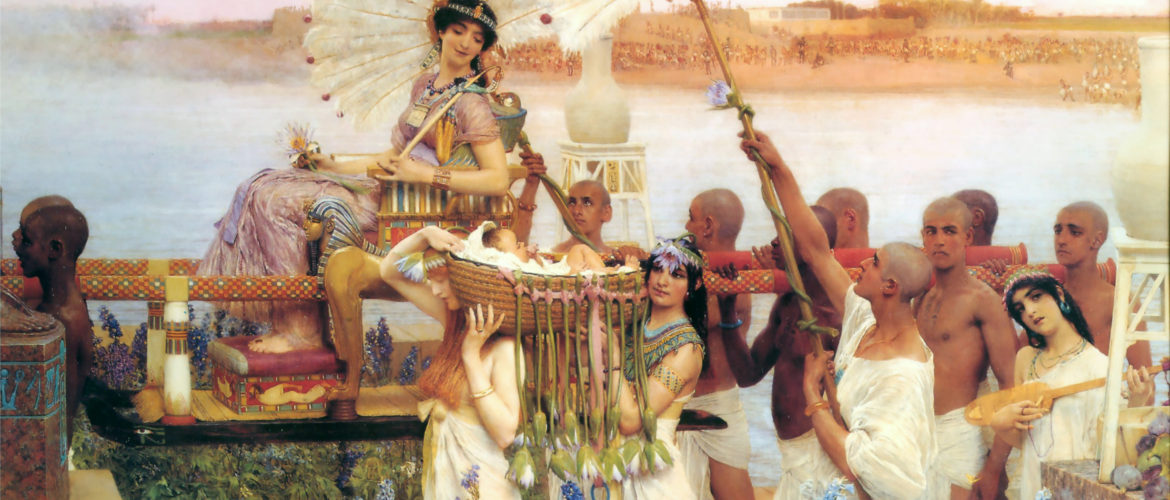 Lawrence Alma-Tadema was a Dutch-born British painter who became one of the most renowned artists of the historic genre of the Victorian era. Antique motifs had a great impact on his work. Most of Alma-Tadema's paintings were devoted to historical, mythological, and biblical plots, depicting the culture and lifestyle of ancient Greece, Rome, and Egypt. These motifs became the artist's trademark and brought Lawrence Alma-Tadema glory and the title of Knight Bachelor.
Antique motifs in the painting "Finding of Moses"
"Finding of Moses" is one of the latest large artworks by Lawrence Alma-Tadema. This plot had been used by artists since the Renaissance time, but in the 19th century, Napoleon Bonaparte's French campaign in Egypt and Syria made this theme even more attractive. Egypt's culture became the object of study and caused a stir among European countries.
As the name suggests, the painting was inspired by a biblical story about the child Moses who was abandoned in a basket in the reeds and found by the Pharaoh's daughter. It depicts the moment of the procession to Memphis. Slaves carry the Pharaoh's daughter in a rich decorated chair and Moses in a wicker basket.
Lawrence Alma-Tadema talentedly depicted the royal robes, white clothes of the slaves, jewelry, and symbols of power. The Pharaoh's daughter's chair is one of the brightest elements of composition. The painter examined various items brought from Egypt to paint the details as accurately as possible.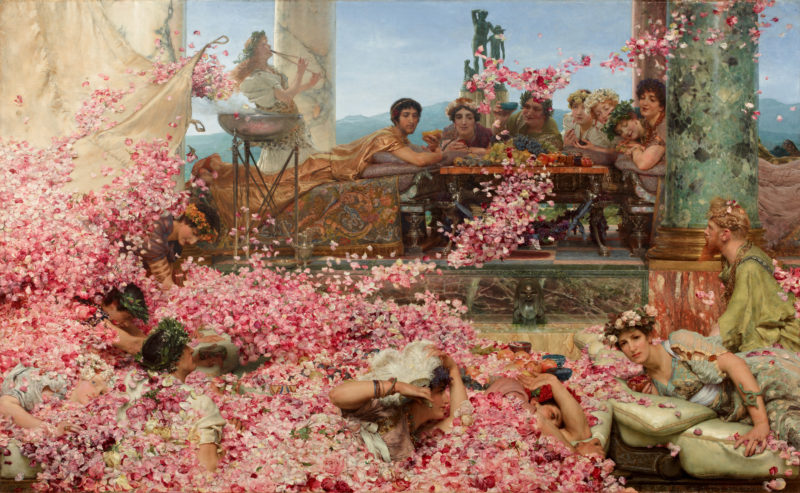 "The Roses of Heliogabalus"
"The Roses of Heliogabalus" is one of Lawrence Alma-Tadema's most famous paintings inspired by antique motifs. It depicts the story about Roman Emperor Heliogabalus who ordered to kill all guests with roses during a solemn feast. It was considered that the strong smell of these flowers could cause death.
"The Roses of Heliogabalus" was recognized as a standard of the golden ratio in composition. There are also a lot of different textures in the painting, and each of them is depicted magnificently, from tender rose petals and cold marble to soft folds of robs. The artwork was painted in winter, and the artist ordered bouquets of roses from French Riviera to paint them from nature.
Lawrence Alma-Tadema was inspired by antique motifs and sought to recreate the lifestyle, furniture, clothing details, and hairstyle very accurately. His works are historical reconstructions, reproducing the culture and spirit of the age.
The painter's artworks are an excellent example of historical paintings of the Romantic period. They reflect the fascination with past ages and their idealization. At the beginning of his career, Lawrence Alma-Tadema referred to various themes from the Merovingian dynasty, but for the most part of his life, he dedicated his work to antique motifs. Some plots of his paintings don't correspond to reality, but they convey the aesthetics of the old times in the smallest details.