Fine Art Shippers Will Be an Onsite Shipper at The Palm Beach Show 2023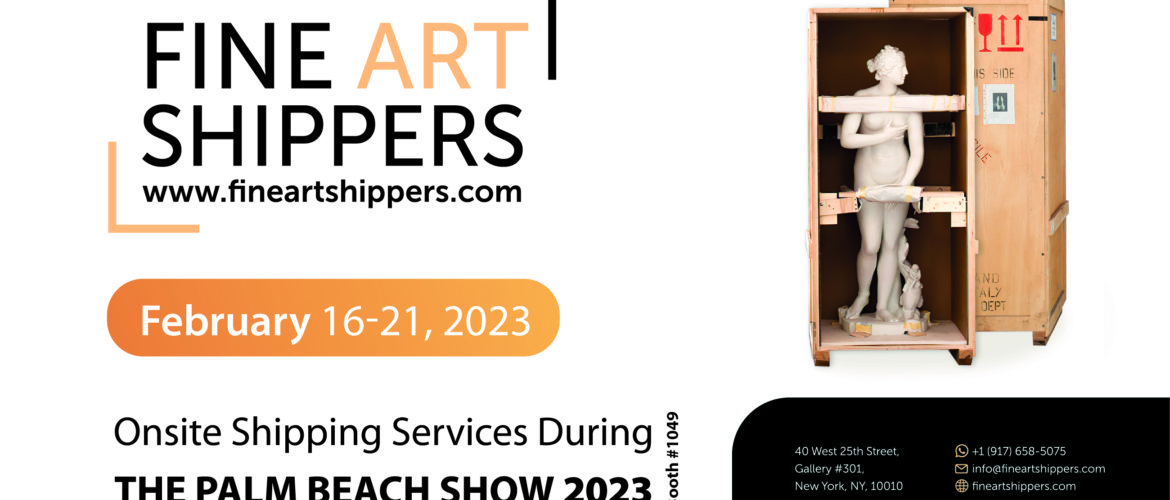 Fine Art Shippers has been chosen to provide onsite shipping services at The Palm Beach Show 2023. The famous art fair will take place at the Palm Beach County Convention Center in West Palm Beach, Florida, from February 16 to February 21. The NYC-based art logistics company will be present at the show from start to finish, helping exhibitors and collectors pack and deliver works of art.
Fine Art Shippers Will Be an Onsite Shipper at The Palm Beach Show 2023
The Palm Beach Show is an annual event that attracts art lovers from across the globe. For years, it has been providing a platform for art connoisseurs to enrich their collections and for artists, galleries, and art dealers to find their clients. The Palm Beach Show 2023 will proudly display works created by both local and international artists, as well as jewelry, antiques, designer furniture pieces, and many more. It is truly the main event of the season for anyone involved in the art world. Besides, guests will be able to get acquainted with the art industry through presentations and lectures by highly-experienced art dealers, art appraisers, and art historians.
This year, The Palm Beach Show will present Contemporary Focus, a new section dedicated solely to contemporary and modern art. The section is expected to feature work in various mediums and styles.
Fine Art Shippers will be doing its part in creating a unique and pleasurable experience that is The Palm Beach Show 2023. The company will provide exhibitors and art buyers with high-quality art shipping and packing services. You will be able to find the team in their designated Booth #1049.
Fine Art Shippers is a well-established company serving museums, galleries, artists, collectors, and auction houses, among other clients. Fine Art Shippers also provides art services at local and international art fairs, and The Palm Beach Show is one of those organizations that the company is especially proud to collaborate with.
The Palm Beach Show 2023 is to hold an opening event on February 16. After that, it will be open to regular visitors until February 21. The organizers of the show encourage their guests to approach the issue of public health and safety with utmost responsibility — wearing masks and practicing social distancing are highly advised.